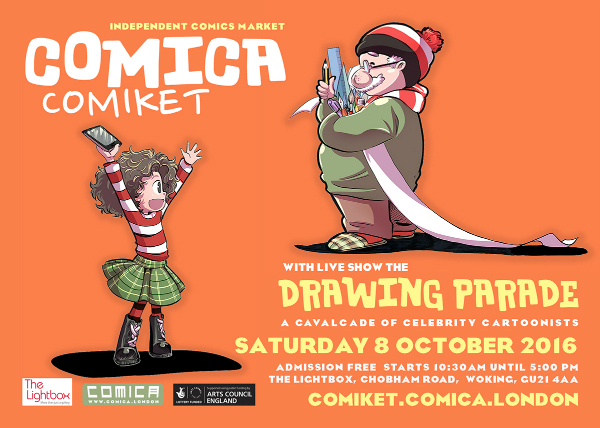 Forget NYCC 2016! Comica's long-running independent comics fair Comiket returns this Saturday at The Lightbox in Woking featuring a select line-up of UK indie comics talent. The venue is currently playing host to the Cor! By Gum! Zarjaz! exhibition, an all-encompassing retrospective detailing the history of British comics so far.

Image Credit: Asia Alfasi and Hamish MacGillivray
Broken Frontier will be there with the Broken Frontier Small Press Yearbook (below left) – our showcase anthology featuring the work of the first 2015 incarnation of our 'Six Small Press Creators to Watch' Rozi Hathaway, Jess Milton, Danny Noble, Emma Raby, Alice Urbino and Adam Vian alongside back-up stories from some more established names on the scene.
We'll have comics too from both generations of the 'Six to Watch' initiatives including books by Kim Clements (Rabbit Thoughts above right), Rozi Hathaway (The Red Road below), Rebecca Bagley and Emma Raby. And you can also pick up work from oft-featured BF favourites Gareth Brookes and Wallis Eates from us on the day.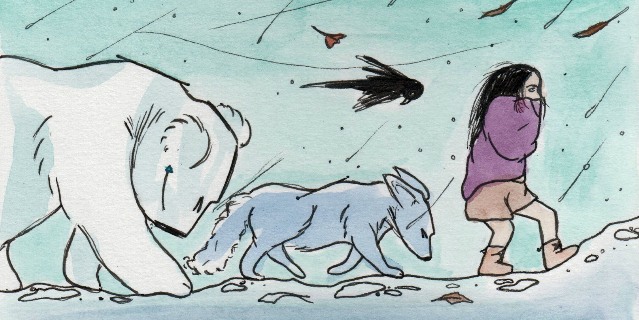 The highlight is undoubtedly the attendance of everyone's favorite Latvian micropublishers kuš comics making a rare UK appearance. Highly regarded for the their flagship š digest-sized anthology, their latest set of mini kuš comics has just been released including one offering by celebrated Canadian comics artist Michael DeForge (below). Read a BF interview with kuš!'s David Schilter here.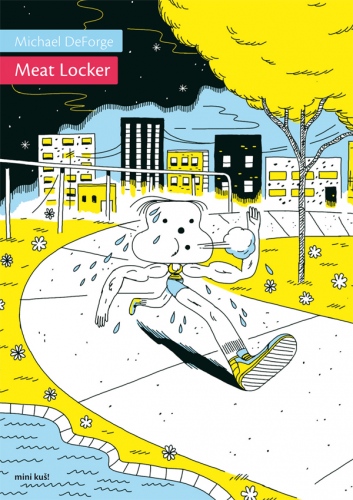 On the bill too is 2015 Broken Frontier Breakout Award nominee Jessica Martin (It Girl, Vivacity) whose retro-styled debut graphic novel Elsie Harris Picture Palace (below) sports a Broken Frontier pull quote endorsement. You can read a full review of the book here and an interview with Jessica at BF here.

You can buy the work of BF Small Press Yearbook contributor Paul B. Rainey (There's No Time Like the Present) – interviewed here at BF – who will be represented by Escape Books, and acclaimed kids comics star Gary Northfield (Julius Zebra, Gary's Garden). The traditional Comica Drawing Parade will also be taking place on the day giving punters a chance to see artists weaving their magic live in front of them. And of course there's the opportunity to visit the 'The Story of British Comics So Far: Cor! By Gum! Zarjaz!' exhibition while you're there.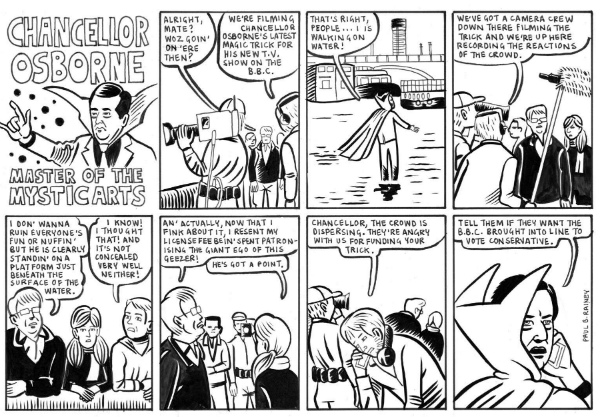 Satirical comics sorcery from Paul B. Rainey
The full list of tabling creators (with links to their Comiket profiles) is below:
Comiket runs from 10.30am to 5.00pm. For full details visit the Comiket site here and for travel guidance go to the The Lightbox's site here.