Last year at Broken Frontier we exclusively announced the formation of Laneha House, the small press dedicated to showcasing the work of artists Lawrence Lindell and Breena Nuñez. Previous coverage of the duo at BF has included reviews of Lindell's From Truth with Truth, the duo's One, and an interview with Lindell here. Their practice has a raw energy, admirable candour and a grassroots vibe that is always appealing. Laneha House is also the title of the imprint's flagship publication, an anthology of the pair's work collecting short autobio comics.
Work created largely for the sake of creating it has an authenticity and an honesty to its voice that always appeals to me. That's very apparent in Laneha House #1 with its variety of approaches to visual storytelling. Take 'Werk' (above) where Lindell talks about how Vogue-ing videos were a comfort in a time of depression – panels and body shaping themselves around each other in silent vigil. Or the abstract symbolism of Lindell's 'Conversations with Ancestors' (below) with its reflections on oppression and self-acceptance.
The contents of each issue can range from smaller but not insignificant human moments – a back and forth about cooking eggs between Lindell and Nuñez in #2 – to cutting social commentary as in the visual metaphor of Nuñez's 'Crocodile Girl' in #2 (below), focusing on their experience of racist violence as a child and ending on a remarkably powerful single image as black and white visuals give way to colour.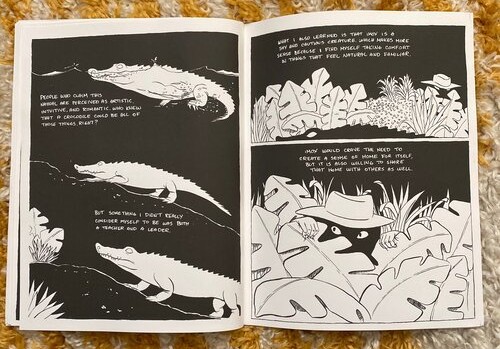 Laneha House is a consistently relevant publication whether discussing biphobia as in Lindell's 'Tacos…' in #2 with its skilful manipulation of speech balloons and lettering to depict character interplay, or his meditations on the Black lived experience in #3 which will be a sobering read to any of us who live in a bubble of privilege. But Laneha House, especially its third issue which is populated with many shorts and single image pieces, is also an eclectic read. Just check out the brilliant use of sound effects in that issue in a two-pager about an intrusive boiling kettle, or Nuñez's '24 Hour Comic' where we're invited into their daily routine for a few pages.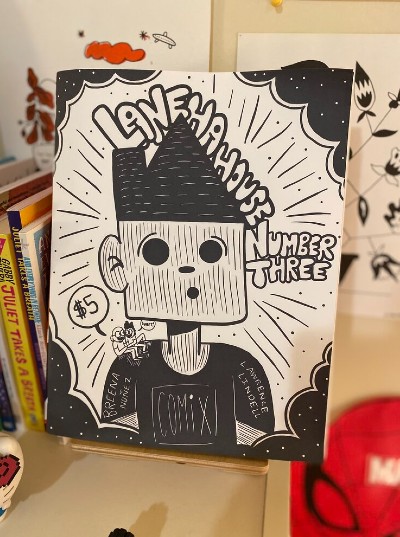 The recent announcement of Lindell's graphic novel Blackward, coming from Drawn & Quarterly in a couple of years, only underlines the growing profile of this creative duo. If autobio/slice-of-life is your thing I really cannot recommend Laneha House highly enough.
Lawrence Lindell and Breena Nuñez (W/A) • Laneha House, $5.00 each
Review by Andy Oliver