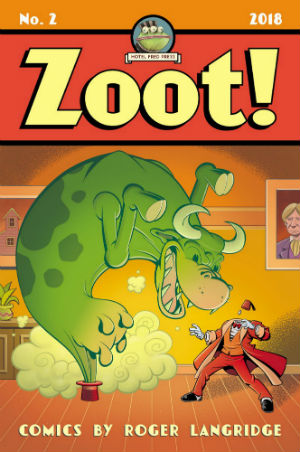 AVAILABLE AT THOUGHT BUBBLE!
To describe Roger Langridge as a true comics great is hardly hyperbole; in fact if anything it's more a case of being unduly economical with the superlatives. From Fred the Clown at Fantagraphics and Thor the Mighty Avenger with Chris Samnee at Marvel, to The Muppet Show at BOOM! Studios and Popeye at IDW, through to his recent Criminy with Ryan Ferrier at Dark Horse, he's proved himself time and time again as an artist as adept as a collaborator as he is working solo and as at home on established iconic properties as he is on his own creations.
It's also worthy of celebration then, given his cross-company work at the biggest US publishers, to see Langridge continue to self-publish and to table at smaller, community-based festivals like CECAF. Following on from last year's Zoot! anthology rebirth, Langridge returns to Thought Bubble this year with another collection of strips showcasing his varied approaches and multi-genre dexterity.
If you've become so indoctrinated into the #1 mentality by Marvel/DC's neverending, renumbering antics then fear not when it comes to Zoot!. The comic is almost entirely self-contained with only one serial strip hanging over from the first edition and even that can be enjoyed in isolation in this issue. Otherwise it's a heady Langridgean mix of zany humour, comics curiosities and even a spot of topical autobio, as the artist compiles a fittingly representative sampling of his multiple talents over the years ready for those Leeds punters.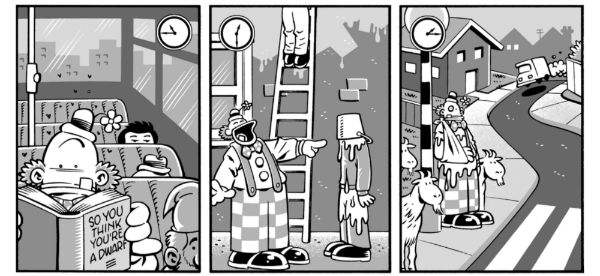 It wouldn't be a Langridge anthology without his Eisner Award-nominated Fred the Clown character either and Langridge aficionados will be delighted that Fred's presence is a notable one in these pages. Fred is, of course, arguably Langridge's signature character; a Buster Keaton-esque homage and a protagonist whose "silent" adventures require a different connection with the page from the audience than an exposition-led narrative would.
Fred's world relies on deft comic pacing and carefully constructed slapstick set pieces. 'The Interesting Thursday' (above) is perhaps the best Fred offering in Zoot! #2, showing the randomness of his life through eight panels depicting his day. Each works in isolation as single image sight gags but they come together to create a sequential patchwork of weirdness and incongruity. The Fred strips are simply a masterpiece of visual communication.
Some of the strips herein go back a little but they do include the exploits of other old Langridge faves like bizarre crimefighter The Fez (above left, whose "legendary duel with the terrible Artemus Gloom entirely blacked out Penge for three weeks"), a fond and off-centre parody of the super-hero world that never once falls into the trap of tiresome self-referentiality that such satirical affairs usually succumb to.
A true highlight here (well a couple of highlights perhaps) are two strips focusing on the life of the notoriously terrible 19th century Dundee poet William McGonagall (above right) whose excruciating verse was so bad that it has ironically outlived his infinitely more talented contemporaries. Langridge recounts his life story with a fond regard that is nevertheless quite cutting in its wit but without ever descending to cruelty. A follow-up tale mimics the not-so-great man's poetic style to tell the story of the ill-fated time that McGonagall trod the boards as Macbeth.
Shorter gag strips punctuate the longer-form offerings with some of the content being more suited to a slightly older audience. 'Henry Plib's Got Two' (above left) should be interpreted as literally as it sounds, with Langridge adopting a rhyming narration to tell the tragic tale of an ill-fated medical marvel. Switching moods entirely 'The People's March' (above right) is an honest and thoughtful piece of autobiography that, in its own quiet way, so powerfully captures our need to do something positive in these dark post-Brexit vote days, even if we are unsure of the efficacy of our attempts.
Showing his artistic agility as a comics craftsperson, Langridge adapts his visual style throughout to match individual subject matter and tone. That idiosyncratic approach to the page – clear but intricate, representational yet expressive – that has become his trademark style on so much of his serial comics work is very much in evidence on Fred and The Fez, amongst others. But there's an appealing line in caricatured cast members on realistic backgrounds in the McGonagall entries and a more down-to-earth, subtler feeling to the autobio work.
This is a perfect introduction to the versatility of the New Zealand artist and his enviable command of the form. In terms of self-published comics we really do have an embarrassment of riches on offer at Thought Bubble this year. Zoot! is undoubtedly high among their number.
Find out more about the work of Roger Langridge here and follow him on Twitter here. You can find him at Thought Bubble at Table 188 in the ComiXology Marquee.
For regular updates on all things small press follow Andy Oliver on Twitter here.