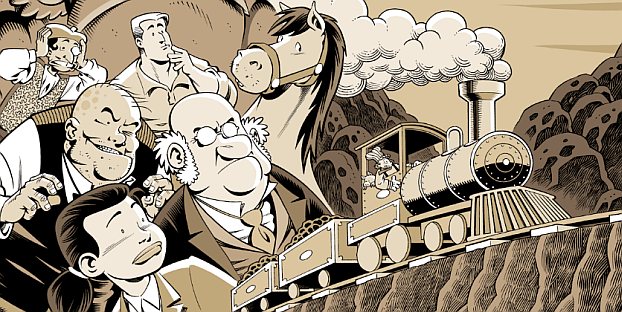 It's been around a decade since we saw the last original Fred the Clown work from the always fertile imagination of Roger Langridge – comics that were collected by Fantagraphics and received multiple award recognition. In that time the New Zealand artist has become renowned for his acclaimed work on properties like The Muppet Show for Boom! Studios, Popeye in a cracking run for IDW and for his collaboration with Chris Samnee on the all-too prematurely curtailed Thor: The Mighty Avenger series at Marvel. He's currently breathing new life into an old classic on Betty Boop for Dynamite.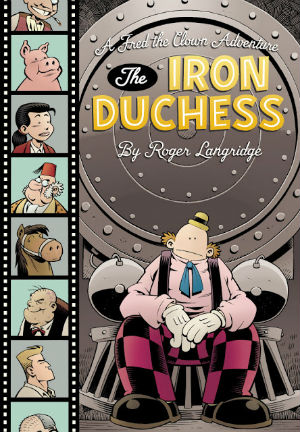 Originally published in webcomic form, The Iron Duchess – his eagerly awaited return to Fred the Clown – was also collected in self-published print format this autumn. Fred is a loveable but hapless hero in this volume, blundering through his own adventures in a manner similar to the great Buster Keaton, the silent film star this storyline pays homage to.
It's a tale of converging characters and plotlines that intersect and weave in and out of themselves with a wonderfully dexterous flourish. A wealthy industrialist plots to have his say in his daughter's matrimonial decisions while a film crew featuring her favourite actor begin shooting at a nearby castle. Therein the local mad scientist is operating an obedience school for young women as a front for some rather more colourful experiments!
Into this mix comes our titular hero Fred whose infatuation with the young woman throws him headfirst into her father's plotting and the villainous Dr. Ziglovich's dodgy dealings. Cue social humiliation, twisting and turning chase sequences (a particularly brilliantly captured sequence on a mountain railroad featuring the eponymous rail engine), violent slapstick, and some tender moments of genuine poignancy that creep up on you amid the chaos. All the staple ingredients of a Buster Keaton film in fact.
It may seem an odd thing to say about an artist's work on a largely "silent" comic but Roger Langridge's distinctive artistic style in Fred the Clown: The Iron Duchess is a wonderfully cacophonous cascade of contrasts. It bursts with a level of detail that invites you to linger on each carefully crafted image but its often breakneck pacing simultaneously demands you slip into its fast-paced reading rhythm and embrace that tempo. Similarly it's whimsical and full of cartoon-like violence but its wit is deeply dark in places with some gorgeously grotesque sight gags.
While Langridge's clever choreography of his cast, his rapid fire, helter-skelter delivery and the expertly conceived comic set pieces are the most ostentatiously entertaining elements of the book it's those subtler storytelling tricks that most impress from a critical viewpoint. Creating an exposition-free narrative over 90 or so pages that flows like The Iron Duchess does is a feat in itself but to do so with such a sense of invention and animation is doubly impressive.
It's the quieter character moments, however, that ensure we are not just always rooting for the book's bumbling protagonist but actively empathising with him that elevate Fred the Clown: The Iron Duchess from engaging buffoonery to something far more nuanced. You can read the entire story in an online version here with colour tones but the print collection's black, white and grey-toned presentation adds an extra dimension to that era of early Hollywood wizardry that the comic plays tribute to.
For more on the work of Roger Langridge visit his site here and follow him on Twitter here. You can buy Fred the Clown: The Iron Duchess online here priced £8.00 for a signed copy or £20.00 for a sketched copy. 
For regular updates on all things small press follow Andy Oliver on Twitter here.