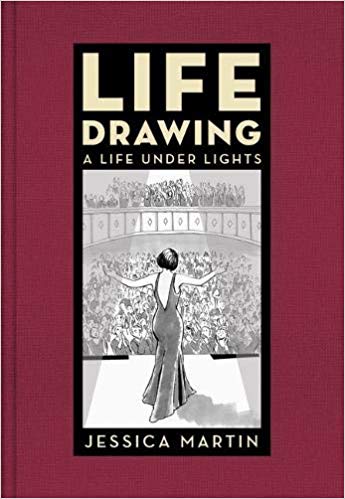 From self-published minicomics focusing on a classic age of cinema (including It Girl and Vivacity), to her work for serial comics publishers like DC's Vertigo imprint and Titan Comics, through to her debut graphic novel Elsie Harris Picture Palace, artist Jessica Martin's steady rise ever onwards and upwards in the comics world has been something to behold since we first featured her work on the site way back in 2013.
Martin's comics have a recurring performance-based motif running through them which is hardly surprising given that Martin is also a celebrated star of stage and screen. Her career has included a notable appearance in classic Doctor Who, Me and My Girl in the West End, and her time as an impressionist on shows like Copycats and Spitting Image. Life Drawing: A Life Under Lights, her graphic memoir from Unbound Books, retraces that career from childhood to her shift in direction into the world of comics, all rendered in the appealing visual realism of Martin's black and white imagery and with plenty of familiar faces from the world of entertainment weaving in and out of the story.
A few years ago Martin contributed a short story about her childhood love of drawing to our very first Broken Frontier Small Press Yearbook which can be seen, perhaps, as a thematic precursor to Life Drawing. In its depiction of Martin's early years Life Drawing shows how her burgeoning interest in the arts, in terms of both screen and illustration, developed as a child, and the role her father Singaporean jazz musician Ido Martin and her beloved mother Bernadette played in that passion. Indeed, in many ways Life Drawing is as much about Ido and Bernadette's stories as it is hers.
In that regard family drama is as central to Martin's recollections as her showbiz stories are. The revelation of an Icelandic brother she never knew she had, the story of Ido's roots and his profile on the jazz scene, and her mother's struggle to bring up her daughters around the uncertainties of their situation, are all recounted with a dignified honesty. As she grows into adulthood we see her first forays into performing including singing with her father's band, the painful working towards that then all-important Equity card and the gradual breaks that followed.
As this section of the book progresses we watch Martin's '80s television career flourish, her light entertainment profile take off in Copycats and with Bobby Davro, and for sci-fi aficionados her fondly remembered guest appearance as Mags the alien werewolf in the Sylvester McCoy Doctor Who serial 'The Greatest Show in the Galaxy'. It's here too that her theatrical career breaks out including that West End run in Me and My Girl. Hardly a page goes by here without a name-drop (or three!) and an accompanying depiction of the star in question.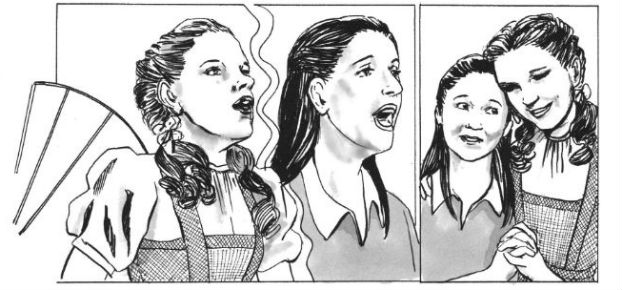 That's very much part of the joy of Life Drawing. There are wonderful anecdotes involving stars at their best (those involving Barbra Streisand, Sir John Mills and Michael Caine are particularly lovely) and, occasionally, those at their not-so-gracious (an awkward pantomime story, for example, has an eerie sense of foreshadowing). Whether it's mentions of classic stars of the screen, royalty, or favourites with a more cult appeal like Peggy Mount, John Inman or Christopher Biggins, Life Drawing is a fascinating record of one woman's perspective on another era of TV and theatre, with behind-the-scenes glimpses and revelations into the uncertainties and challenges of an actor's life.
Martin has spoken to us in the past at Broken Frontier about how her classic style of comics storytelling was influenced very much by the comics she read as a girl including Bunty, Judy and Diana. There is something comfortably nostalgic about her pages which combine a sequential clarity with occasional bursts of non-standard single illustrations of a more metaphorical or symbolic nature. She's an amiable narrator throughout, engaging and conversational, and constantly putting us at ease by reminding us of the realities behind the glamorous world we envision. Especially when the acting roles begin to dry up and she makes her transition into the world of comics, a section which will be a fascinating read for anyone making their first steps into the indie comics arena.
Life Drawing may on first glance appear to be something of a niche book but the truth is that it's anything but. Ultimately it's a story about the importance of self-expression and of following our creative muse. And it's also a tale of family, of identity, of the people who define us and the moments that shape our lives forever. In that regard there is, perhaps ironically, something very universal about this absorbing piece of graphic memoir.
Jessica Martin (W/A) • Unbound Books, £16.99
Review by Andy Oliver