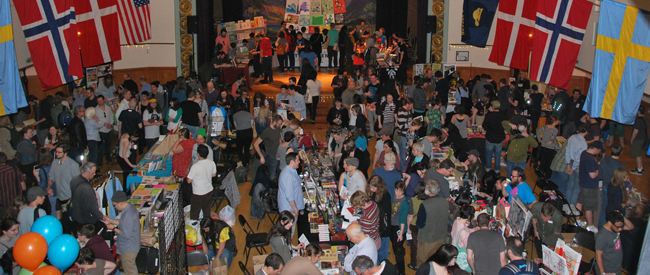 Linework NW, the new small press comics festival, opened strongly with a successful first show in Portland, OR. The one-day show (though some offsite festivities did take place before and after) was held on Saturday April 12 and was organized by Zack Soto, publisher of Study Group Comics, and François Vigneault.
The two co-organizers started planning for this event only about four months ago. The rush might have been to take advantage of the time slot vacated by the now defunct Stumptown Comics Fest.
With that show off the calendar, NW Linework fits in perfectly as the new "indie" show in town, situated between Wizard World in February and Rose City Comic Con in September. Although Rose City is very creator-friendly, it's more of a mainstream comics show – especially now that they've teamed up with the folks from Emerald City Comicon and moved into the Oregon Convention Center.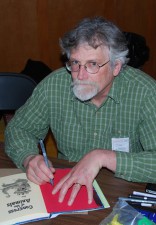 Linework NW seems to have embraced this distinction. It intentionally limited its size to 38 tables, carefully curating the exhibitors to ensure that it represented some of the best talent the small press comic world had to offer.
They also invited two special guests this year: Jim Woodring (Frank), who was the first inductee into the show's "Living Legends"  category, and Michael DeForge, prolific comic creator and designer on Adventure Time.
There were even some (relatively) large publishers there as well, including Dark Horse, Oni Press and Fantagraphics, though they had regular tables alongside creators instead of large booths.
The small size of the festival allowed it to make use of a nicer space than the usual convention hall. They chose to set up in Norse Hall, a beautifully designed older building with plenty of natural light. This location allowed for easy transportation and a good amount of foot traffic. It reminded me of the days when the MoCCA Art Festival was held in the Puck Building in New York.
The hours of the show were also slightly different from what you might expect; the show floor was open from 2 PM to 9 PM. This aided the enjoyment of another unique feature of the festival – an onsite bar. And although alcoholic beverages were allowed on the show floor, the crowded aisles made the lounge a better spot to enjoy them. And it was in this lounge area where the panel discussions were held, so there was even more reason to sit back and enjoy.
The addition of the nice weather that day also allowed for some outdoor activities. Jim Woodring brought along his giant nib pen and gave a demonstration out on the sidewalk. He then invited others to give it a try. You can see a video of the demonstration here.
And if that weren't enough, the 50 Licks food truck pulled up to sell ice cream to the crowd.
The reports of sales were very strong, in some cases even taking exhibitors by surprise. Jonathan Hill thought he had printed up enough copies of his comic, The Searchers,  for the show, or at least what he expected for a typical small press show. He sold out in the first two hours.
Afterwards I asked co-organizer Zack Soto how he thought the show went:
By any standard I can use to measure, I feel like the show was a huge success. It actually went better than we hoped it would. Not to say there weren't little fires to put out all day, but nothing we – or the amazing volunteer staff we had busting their asses – couldn't handle.
Some specifics for the follow-up show are still in question (such as whether it'll increase in size), but Linework NW will definitely be back. And considering how well things went this year, it's bound to be better (if not also slightly bigger) than ever.