With Love and Rockets – the seminal series by Gilbert and Jaime Hernandez – reaching its landmark 40th anniversary this year there's lots planned in celebration. With a special 40th collection coming in the autumn Fantagraphics have announced in the press release below more details of what to expect as this milestone is commemorated.
Fantagraphics Celebrates 40 Years of Love and Rockets by Gilbert and Jaime Hernandez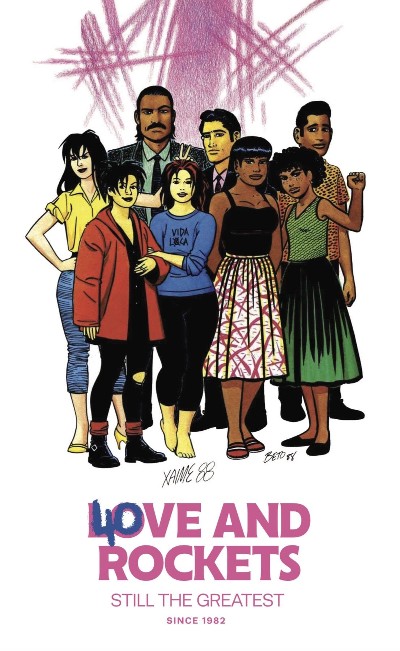 Fantagraphics is proud to celebrate the 40th anniversary of our flagship title, Love and Rockets by Gilbert and Jaime Hernandez.
Debuting in 1982, Love and Rockets shattered readers' conception of the artistic heights to which comics could aspire. Featuring audaciously intimate, complex, humane, novelistic stories, the original run of the series represents a milestone in comics history. To honor Love and Rockets' 40th anniversary, Fantagraphics has recreated its first 50 issues (1982–1996) in a facsimile format, spread over seven hardcover volumes — packaged in an impressive slipcase set. Plus a bonus 300-page eighth volume comprising critical essays, press clippings, a cover gallery, and over 100 pages of L&R-related comics and drawings created during the period by all three Hernandez Brothers. A momentous publishing event to celebrate the greatest comics series of all time, Love and Rockets: The First Fifty: The Classic 40th Anniversary Collection is due out Fall 2022.
Gilbert and Jaime Hernandez are still recognized as two of the greatest cartoonists in the history of the medium — award-winning, world-renowned, critically acclaimed. Their trailblazing comic series Love and Rockets has persisted to this day, as they continue to flesh out their beloved characters and build upon the rich world they have created. In celebration of Los Bros' incredible, four-decade cartooning achievement, Fantagraphics returns to the dynamic roots of the series with a luxurious reprinting of its first 50-issues.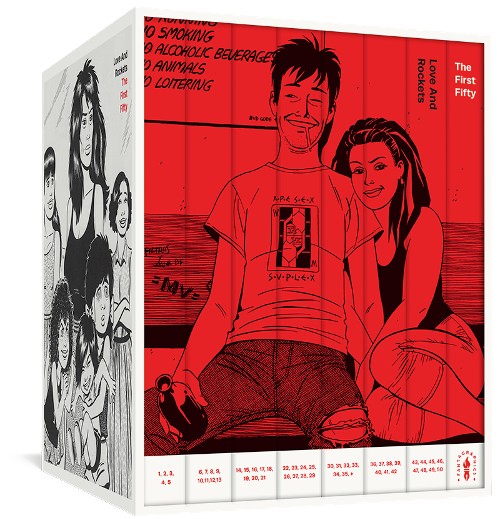 KCET and PBS SoCal, Southern California's flagship PBS stations as well as the home for award-winning, original local content, are honoring the 40th anniversary of Love and Rockets by broadcasting and streaming an hour-long documentary entitled 'Love and Rockets': The Story Behind the Great American Comic. The documentary will air as part of KCET's Original Artbound series and be available to stream for viewers across the country on the free PBS App in the Fall of 2022.
"Wow. 40 years of comics, 40 years with Fantagraphics," says Jaime Hernandez. "Not a bad haul and we're not finished!"
"When I read Gilbert and Jaime's stories in Love and Rockets for the first time their work looked to me, miraculously, like the artistic future of comics — and so it was," explains Fantagraphics publisher Gary Groth. "It has certainly been a high point of my career (and my life) to have known and published these brilliant cartoonists over the last 40 years, and I look forward to publishing them another 40. Well, OK. Maybe 30."
"It's 40 years of Love and Rockets with Fantagraphics and it feels like we've just begun," exclaimed Gilbert Hernandez. "Here's to 10 years more!"
Come meet Gilbert and Jaime Hernandez at San Diego Comic-Con International, where it all began 40 years ago! They will be signing at the Fantagraphics booth #1721.