A COMICA FESTIVAL TIE-IN!
While the remit of this column is to specifically focus on self and micropublished comics there are times when it's wholly appropriate to bend the rules a smidgeon and take a look at book collections of work that was originally published in small press form. 'Small Pressganged' has followed this path in the past with coverage of work like Nye Wright's originally self-published Things to Do in a Retirement Home Trailer Park from Myriad, or the Fantagraphics compilation of Charles Forsman's The End of the Fucking World (or TEOTFW) that was first presented in minicomics form by Oily Comics. The Mammoth Book of Cult Comics, edited by ILYA and published by Robinson, falls very much into this category with a large proportion of the gems curated for this edition having initially been published by their individual creators.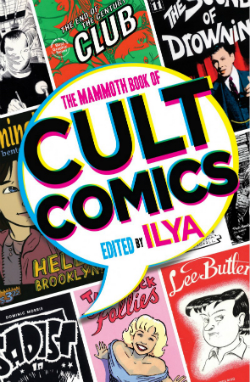 Spanning a period of time from 1983 to 2011, and international in scope, the material on offer in these 500-plus pages represents long out of print work from the realms of the small press, fondly remembered indie publishers, and the successors to the underground scene. What makes a cult comic and how we define that term is, of course, a question at the heart of the book's reason to be and one that you can see discussed in further detail by ILYA, Carol Swain, Rob Davis and Paul B. Rainey at the 'What Makes a Cult Comics?' Comica Festival Conversation (in association with Broken Frontier) on November 7th at Foyles. For the purposes of this book, however, ILYA defines it in his introduction as:
"Honest, heartfelt, homemade – self-published, stapled pamphlets, more often than not bundles of black and white photocopies with, if really pushing the boat out, handcoloured covers; or else short-run small and independent press printings, anywhere from a handful to a few thousand copies at one time."
I think we can safely say we're in the 'Small Pressganged' ballpark there…
Twenty-two "lost masterpieces" make up The Mammoth Book of Cult Comics comprising a truly eclectic and often oddball selection of approaches, subject matter and styles. By its very nature a project like this can only be representative rather than comprehensive but ILYA's choice of creators gives the reader the opportunity to dip in and out of three decades worth of experimental and often very personal comics. Along the way you will discover the work of artists who have long since bowed off the comics stage, the early strips of hugely influential practitioners like Eddie Campbell, and projects from respected names of the contemporary indie scene.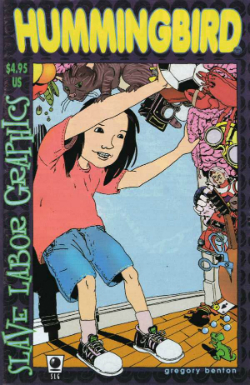 A case in point for that latter category is Gregory Benton's Hummingbird, the first and only issue of which from its 1996 Slave Labor Graphics "run" is published in its entirety. Benton's recent B+F from Adhouse Books drew great critical acclaim and Hummingbird will both delight and frustrate in equal measure given how promising a first chapter it is of a series that was cancelled after just one edition. A coming of age tale, it features a titular protagonist who is the narrative eye of the storm (in a very Steve Gerber way) around whom the other characters revolve. Benton's use of dreamlike visual metaphor is captivating and it's rather sad that this tale of a young girl's reconnection with her estranged and undependable father never found an audience. Similarly, Julia Gfrörer's name has a more immediate currency and the dark and haunting layouts of 'Too Dark to See' (top banner image), a short story tracing a rapidly collapsing relationship, imbue a scenario of already damaging domestic disharmony  into something that borders on the supernaturally insidious.
It's that aforementioned diversity of reprinted offerings that makes The Mammoth Book of Cult Comics a book that constantly surprises with what one can only hope was deliberate gleefulness. Jeff Nicholson's Through the Habitrails for example, is an exercise in the oblique and the idiosyncratic but what is most disquieting about the daily grind of the unsettling, nonsensical workplace he depicts is how quickly the reader falls into the odd patterns and rhythm of this bizarre world's internal logic/illogic. There's some classic John Bagnall – whose Knitting with Coalsmoke I reviewed here earlier this year – on offer here too with the gentle satire of Calico County from the 1980s giving us a L'il Abner for the late twentieth century. And, once more jumping genres entirely, John Welding's Goathland from 1997-98 presents us short slice-of-lifers of his new life in the Yorkshire countryside after moving to a small Yorkshire village with his wife, dog and cat. This one just begs for a full collection of its own, providing a diary comic that avoids the usual oft trod pathways and creates a sense of wonder at life's smaller, quieter moments. Juxtaposing a day-to-day routine of dealing with snowblind sheep and Heartbeat location scouts with the beauty of nature and the harsh realities of rural life, it's not until you get to the strip's poignant finale that you realise just how invested you have become in the scattershot, truncated adventures of this most likeable foursome.
Nicholson's 'Through the Habitrails'. Edwards' 'Aunt Connie and the Plague of Beards', and Rigg and Schroeder's 'Lee Butler'
Aunt Connie and the Plague of Beards from 1999 sees Jonathan Edwards employ the most remarkable pacing and comedic timing in a subgenre of gangster farce that he seems to have invented for just this offering. Expressively cartooned, Edwards invites the audience into this tale as complicit co-conspirators in the build-up to a well signalled punchline that is nonetheless delivered with a masterfully deadpan flourish. Peter Rigg and Paul 'Mooncat' Schroeder's Lee Butler was published between 1993 and 1994 but there's a timelessness to this painfully observed social drama that revolves around the obnoxious titular character and his extended family; a fatalistic submission to nurture beating out nature every time.
Daniel Locke's 'These Fists Fly', Simon Gane's 'Les Peintres Maudits', and Paul O'Connell's 'Happy Daze'
Throughout The Mammoth Book of Cult Comics ILYA breaks up his longer selections with shorter strips ensuring that every storytelling skill set is represented. Two shorts from Paul O'Connell's The Sound of Drowning (with Laurence Elwick) display his versatility, for instance, with a Happy Days pastiche 'Happy Daze' have a biting satirical edge while his Charley Parker strip is a sublime example of the "silent" comics narrative (a YouTube version of this can be seen below). Simon Gane's 'Les Peintres Maudits' from his Slab-O-Concrete-published Arnie Comix has a Viz-like air to the raucous revelry of drunken Parisian society that is examined in its delightfully elaborate pages, while Daniel Locke's 'These Fists Fly' has echoes of its predecessor in this book Lee Butler. Locke provides a quiet and seemingly uneventful character study of a spent aggressor that still speaks volumes with a disturbing undercurrent of now impotent menace throughout. And if you were tempted by my review of Paul B. Rainey's Thunder Brother: Soap Division here last week at Broken Frontier then his 'Dear Robert and Partner' shows off another side of his comics repertoire with a spot of resigned and relatable autobio comics dealing with the scourge of troublesome neighbours.
What is, of course, lost in such a compilation is how the physical presentation of some of this work could serve to add extra layers to the reading experience; Karl Wills's Jessica of the Schoolyard and its original Tijuana Bible format for example. But that's a logistical inevitability in a collection like this. There's also a slight element of sadness in the fact that a number of the creative voices herein have left comics behind them in the intervening years. However, ILYA has put together a most tantalising sampling of post-1980s small press/indie work here and I am heartened by his emphasis on the words "volume one" in his introductory remarks. In a time when small press creators have never been more likely to be sought out and picked up by bigger outfits, The Mammoth Book of Cult Comics underlines that publishers would be as well served in looking backwards as well as forwards for accomplished self-published work that deserves to be brought to a wider audience.
The Mammoth Book of Cult Comics is published by Robinson priced £12.99. ILYA will be on the panel at the Cult Comics Comica Conversation on November 7. Booking details here.
For regular updates on all things small press follow Andy Oliver on Twitter here.