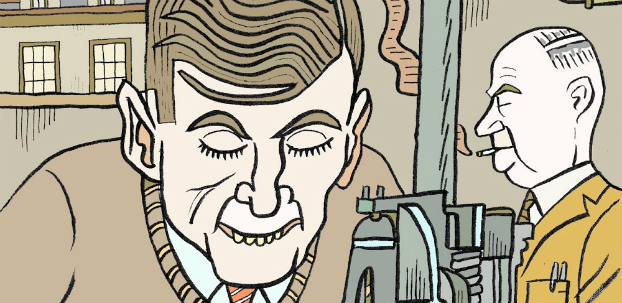 'Small Pressganged' has prided itself over the last few years of being a platform for the most exciting new small press talent and comics craft.  Discovery has been a prime focus for the column but sometimes it's just as important to acknowledge those pivotal names in the UK small press scene without whom the self-publishing landscape today may have been very different.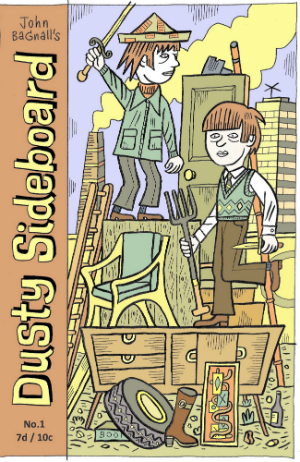 John Bagnall is one such individual. Part of what we could informally dub as the "Fast Fiction movement" of the 1980s, the importance of Bagnall's peculiarly and eccentrically British comics has been recognised in recent years with representation at the British Library's Comics Unmasked exhibition in 2014 and inclusion in ILYA's The Mammoth Book of Cult Comics the same year. His last collection, Knitting with Coalsmoke was included as part of my annual 'Ten UK Small Press Comics You Need to Own!' column for 2014.
What Dusty Sideboard #1 (the numbering hopefully indicating much more to come!) shares with its predecessor is its location in time in a strange amalgam of 1950s, 1960s and 1970s Northern Britain – most of it set in the fictional town of Slackdale.
There's the same fond observational humour and slice-of-life wittiness of Knitting with Coalsmoke but, on occasion, Dusty Sideboard takes a slight sidestep into the realms of inoffensive parody, rooting its sense of the weird in the everyday and the recognisable. That's most in evidence in 'Mystical Medallion', a short featuring Noolah and Eligius Brigg, two children who discover a magical artefact with rather arbitrary powers in the ruins of the Dominion Boiled Sweet Factory…
Similarly, 'The Fairfield Prodigies', the longer-form story in this collection, tells the tale of schoolboys Gerard Toomey and Dennis Doyle who become local sensations when the sudden newsagent disappearance of their favourite imported American comics forces them to start filling up countless Woolworth's notebooks with their own four-colour creations. A loving synthesis of English idiosyncrasies with a send-up of a bygone age of super-hero comics and (one suspects) a hint of autobio, its re-creation of a certain Stan Lee-style of linguistic ostentation also reflects another of Bagnall's thematic preoccupations – language and its continuing evolution.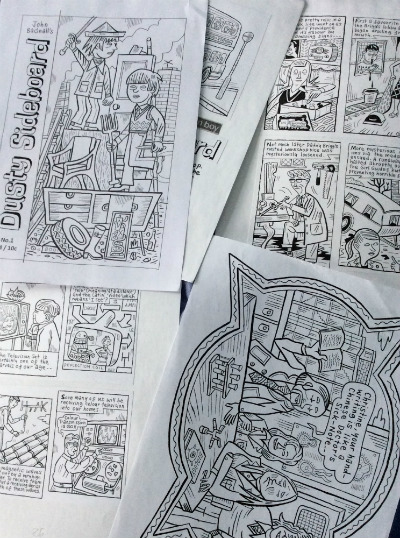 This is examined in the final section of the book with Bagnall looking at a number of colloquialisms that have slipped out of common usage ("Your ears are like Jodrell Bank"; "I feel like a camel with a punctured hump") and in the playfully rewritten classic novel titles in 'Book Club'. Throughout the pages of Dusty Sideboard he also punctuates the flow of the individual stories with retro public information messages on how to use new-fangled technology like the telephone, spot illustrations of tea dances and pensioners at the lawn bowls club, and wonderfully dated ads.
Bagnall's distinctive art with its angular, blocky and ever busy panels is as appealing as ever, bringing back to life the most endearing elements of a Britain that the decades long since left behind. It's a world where factories shut down for two weeks at Christmas, where snug bars are still cosy realities and where the concept of a computer smaller than an entire building is inconceivable. Once again, the charm of Bagnall's comics is in their ability to evoke a sense of nostalgia for a time that most of their readership won't even have lived through. It's been far too long since his last collection. Let's hope the next one isn't another three years away because Bagnall's gentle humour is always a welcome treat.
For more on John Bagnall's work check out his blog here. You can buy copies of Dusty Sideboard online here.
For regular updates on all things small press follow Andy Oliver on Twitter here.