When we reviewed Ugly Mug #5 here at Broken Frontier last year it marked the biggest gap between issues of any title we have ever covered on the site. Somewhere in the region of 30-plus years had passed between the last issue of the UK small press anthology, which debuted in the late 1980s, and its fifth outing. Fortunately the space between issues was far shorter this time around, as the chances of  me being around to review Ugly Mug #6 had it been another three decades wait would have been, to be frank, slim at best.
With 100-odd pages of work between its covers, #6 again brings together a number of alt and indie cartoonists to present another batch of experimental comics in a handsomely formatted A4-size anthology. To call it eclectic is, to say the least, something of an understatement; work herein ranges from short Viz-style spoofery, to abstract sequential art, through to samplers of longer projects by creators.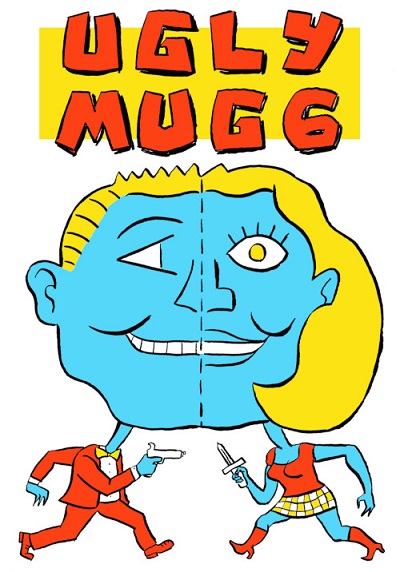 The eponymous House of Harley "artists" (inverted commas not for sarcasm but a nod in the direction of the singular masquerading as the many) are responsible for a large portion of the content but there's output from some celebrated names in the history of the British small press scene also on offer here. Ed Pinsent, for example, contributes a number of strips with the multi-page 'An Astorial Anecdote: Endicott and the Case of the Five Windows' (below) being the most memorable. Illustrated with Pinsent's angular style and convention-busting layouts it follows hotel window cleaner and detective Endicott as he seeks to solve a murder he observes while swinging from one window to another. Penguins are also involved…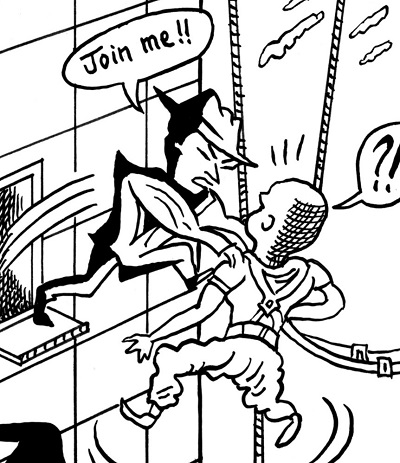 We see far too little of the work of John Bagnall these days so 'Victor Frankenstein Retired' (below) – featuring the literary character living out his days in (kind of) anonymity working in a sweet shop in a quiet British seaside town – is something of a delight. Bagnall's gentle humour and eccentric cartooning really needs to be reintroduced to a new, contemporary audience and it's long overdue that a publisher out there stepped up to collect his material for posterity.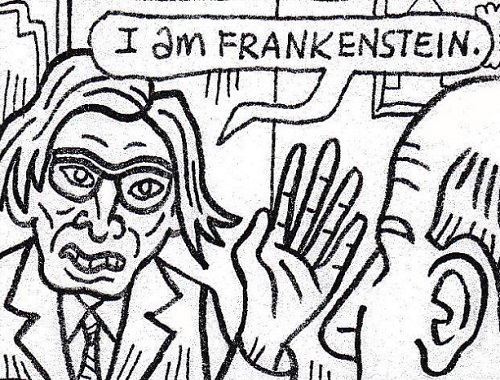 Iestyn's 'Sanday' is a curiously striking piece for all its quiet understatement. An existential reflection on life, impermanence, and our connections to the past masquerading as travelogue. Its indistinct and sometimes expressionistic visuals lend it a haunting quality. The highlight of this issue, though, is undoubtedly Jason Atomic's 'I Got Hung on the Wire' with its nostalgic 1970s pop cultural references and, without wanting to sound like a Daily Mail reader, a reminder of those lost days of kids exploring environments outside of the digital and the scrapes we all got into. Atomic's fluid but busy cartooning is the perfect fit for his anecdotal accounts of getting stuck on barbed wire fences and falling into bramble bushes as a kid.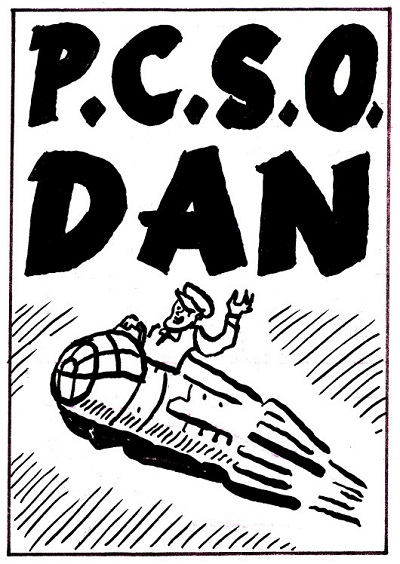 House of Harley #6 is full of shorter strips (HoH's recurring 'P.C.S.O. Dan' shorts transform the banality of the digitally-inclined police community support officer's non-adventures into a neat running joke) and illustrative sidesteps into the abstract and the surreal. While not all of its contents with appeal to those looking for linear narrative it remains an old school-style reminder of the breadth of self-published practice in the UK. Let us hope these annual issues become a regular publishing fixture.
House of Harley, Ed Pinsent, Tom Baxter Tiffin, John Bagnall, Marc Baines, Chris Reynolds, Jason Atomic, Patricia Gaignat, Iestyn, Jim Barker, Masaman, Vince Mancuso, Denny Derbyshire • House of Harley, £14.99
Review by Andy Oliver