Thirty or so years ago, beginning in the late '80s, Ugly Mug was a British small press anthology that featured a number of creators who are now considered legends of the early days of the UK self-publishing scene. Renowned artists like Ed Pinsent, Carol Swain, John Bagnall, Darryl Cunningham and Chris Reynolds all contributed to its pages. Now, after three decades, the House of Harley studio has revived the comic with a fifth issue that must surely rate as the longest intermission between editions of a small press comic. And there's a lot of competition for that honour!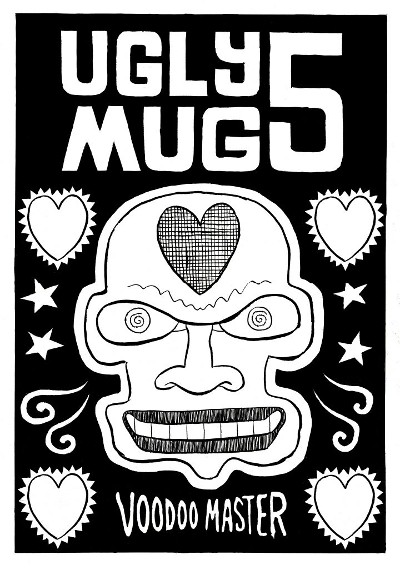 It will come as no surprise then that Ugly Mug #5 hearkens back to a more grassroots era of self-publishing in terms of its randomly assembled collection of strips and its underground vibe. There's no attempt to theme the anthology, and even in terms of production it has an old school print-on-demand method of delivery. That, though, also gives it a raw energy and evokes nostalgic memories of a time when comic shops weren't playing host to small press sections bursting with self-produced material and the best way to source that kind of work was through scouring the small ads in the printed comics press.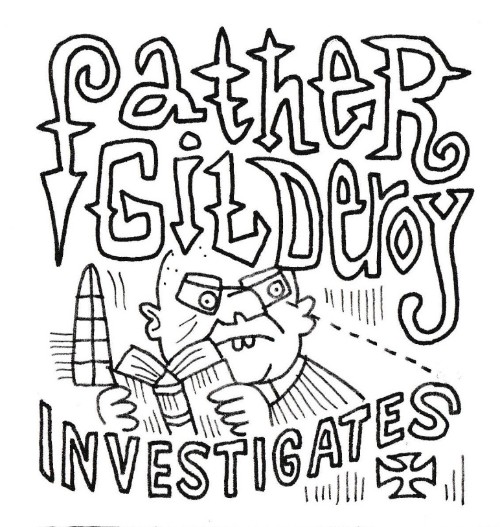 For long-term small press aficionados one of the great joys in these pages will be seeing new work by John Bagnall whose gentle observational comedy has been much appreciated here at BF over the years. His 'Father Gilderoy Investigates' strips herein feature a permanently distracted amateur sleuth. Bagnall's quirky angular artwork and expert use of the running gag is a delight and also a reminder that it's been far too long since we last saw one of his ever welcome short strip collections.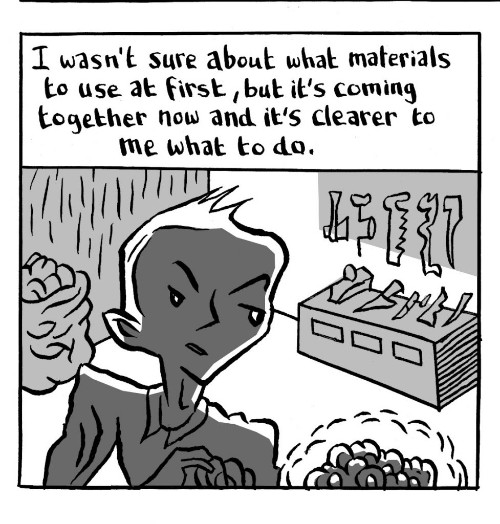 Ed Pinsent, another UK small press national treasure, contributes a number of comics including the wonderfully ludicrous 'Organic Matter' (above) wherein a man with a failing memory creates an ancillary brain as a back-up, with calamitous results. I was also intrigued by the nursery rhyme stylings of Marc Baines's 'Peasholm Island' (below) featuring the first six pages of upcoming graphic novel The Rightful King of the North Riding. In isolation it gives little indication as to premise or subject matter but Baines is one of those cartoonists with that ability to populate crowd scene single images with multiple ancillary potential narratives, and that provides me with more than enough of a hook to want to see more.
The bulk of the contents in Ugly Mug #5 are attributed to the "House of Harley Studio" and are an eclectic mix of mostly absurdist humour and scenarios. A stand-up comic playing to a void (below) makes good use of panel-less pages and white space to create an atmosphere of isolation and discomfort. The laundry-based adventures of 'Dunstan Hunna' provides another entertaining running joke in their multiple appearances and there's a look "behind the scenes" of the House of Harley Studios that feels like a delicious antidote to all those all too smug Marvel Bullpen features of yesteryear. And among other bizarre flights of fancy are reflections on a cashless society, ridiculous job titles, and the cynical life of super-hero Negative Lad.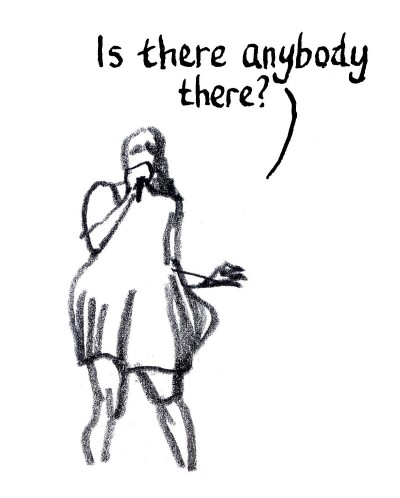 Where Ugly Mug #5 may feel less satisfying is that the work of some of the guest contributors like Chris Reynolds, Denny Derbyshire and Savage Pencil is so brief – a one-pager or a single illustration – that it barely gives even a taste of their practice. Of course the point of anthologies is that they provide springboards for further investigation of creators you may be unfamiliar with but here they feel swamped by surrounding work and somewhat lost as a result. The listing of strip credits at the back of the book also feels a little archaic and awkward and means that there's less immediacy in terms of creative recognition.
Still, despite its scattershot thematic approach there's something very appealing about the sequential art stream-of-consciousness of Ugly Mug #5. Its disparate and sometimes fragmentary offerings won't be to every reader's taste but its grassroots approach and endearingly chaotic assembly of material makes for a delightfully unpredictable read.
House of Harley, Ed Pinsent, Marc Baines, John Bagnall, Chris Reynolds, Savage Pencil, Tom Tiffin, Denny Derbyshire, Ess Hödlmoser, Niall Richardson (W/A) House of Harley, £9.95 plus postage
Review by Andy Oliver