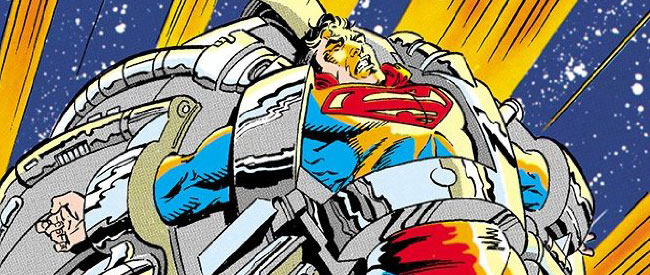 With Jon Bogdanove's Strongman Kickstarter campaign unlikely to reach its too lofty funding goal, BF looks back at the artist's defining run on Superman: Man of Steel, the 'fourth' Superman book that really tried but never got a fair chance to claim its own ground.
Say "Man of Steel" to most people and you'll instantly conjure up images of Superman. More specifically though, they'll be images of a) a certain movie of that name or b) a certain 1986 limited series by John Byrne. This article is about neither…
By 1991, there were three regular Superman books on sale each month (Superman, Adventures of Superman, and Action Comics, of course) and in order to give a sense of unity and cohesiveness to the big blue boy scout's line of titles, DC had begun an interesting and surprisingly long lasting experiment.
Although each book had its own creative team, all of them tied into the same ongoing continuity, with a numbered triangle on the front cover informing the reader in what order to read the books. Obviously, this basically meant that in order to get the 'complete' story in this ongoing serial drama, readers had to buy all of the titles—but then, most Superman readers did that anyway, or at least, that seemed to be DC's reasoning, so no problem, right? What's more, the various books came out on different weeks of the month, so Superman fans could be assured a new fix of his adventures every week! For three weeks of each month.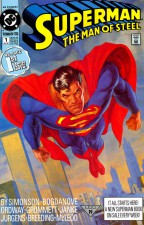 Obviously, a fourth book was needed to make up the numbers (and this really did seem to be the sole rationale behind the move) so, in August 1991, enter Superman: The Man of Steel, an ongoing series by writer Louise Simonson and penciler Jon Bogdanove, to fill the gap. And fill it it did, rather well!
Though there was really no need for Man of Steel to even exist, and though it was hamstrung pretty much from the beginning by having to feed into the next issue of Superman every month, it really got off to a pretty strong start, with Superman…er…being chewed out by an irate housewife for wasting his time rescuing little Keith's pet cat from a tree when he should have been out hunting terrorists.
Not really your traditional reaction to Superman, but then, this was not the traditional Superman, and he seemed to be a character in need of a new direction at the time. The trouble was whatever direction the creators went for, it kept on getting derailed.
The first few issues of Man of Steel focused heavily on Supes's supporting cast; Jimmy Olsen wanting a place of his own rather than his room at home, Perry White's marital difficulties (following the revelation that his wife had had an affair with Lex Luthor and his son Jerry was actually Lex's) and the ongoing trials and tribulations of Lois Lane and her Dad. But none of these storylines had begun in Man of Steel; they were all holdovers from the events in other titles.
There was an overarching subplot of Superman searching for the terrorist group Cerberus, but by issue three that had already been interrupted by the title's first involvement in a crossover story, War of the Gods. For any new readers picking this series up without knowledge of the other titles, it must have all been more than a little confusing.
Simonson and Bogdanove struggled on manfully (or womanfully, in Louise's case) and in many cases managed to deliver some of the best Superman tales of the era, when they were left alone to do so. The Parasite, a new version of the Atomic Skull, and Cerberus when they finally got back to them, all proved worthy foes under their direction. There were some genuinely thought-provoking stories too, like 'Crisis At Hand', a two part story which began in Man of Steel #16, tackling the thorny topic of domestic violence.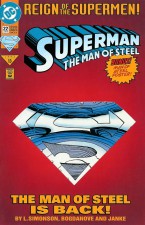 But the interlinked nature of the books really did the individual titles few favours since any story that wasn't self-contained (and very few were) ended up in another title (as with 'Crisis At Hand', which concluded in Superman #72). Add in random chapters of 'Panic in the Sky' or whatever was this month's crossover and the series had very little opportunity to carve out a real niche for itself.
Ironically, what changed that was the 'Death of Superman' storyline, which gave each of the four Superman books a chance to tell stories featuring their own character… the only problem being, none of them was Superman! Still, for a handful of issues Simonson and Bogdanove made the most of the opportunity, establishing new character John Henry Irons AKA 'the Man of Steel' as a character in his own right (later, freed from the shadow of the returned Superman, he would fly solo as Steel). Of course, once Superman had inevitably returned from the grave, it was back to the multi-book treadmill.
Man of Steel did manage to treat us to some great stories despite the limitations imposed upon it (the multi-parter featuring a version of the Golden Age Superman in issues #80-82 is amazing), but the series was always going to be tied down somewhat by the serial nature of the Superman line at the time, and that really seems to have prevented it from breaking out as a title in its own right for much of its run.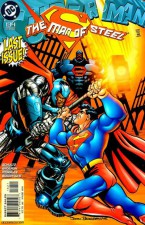 By issue #83, the original creative team were basically gone. Simonson and Bogdanove would both continue to appear in the credits along with other creators on occasion, but the partnership was effectively over with issue #82. Though the 'triangle numbers' experiment finally ended at the end of 2001 – issue #120 carried the bold tagline "Disconnected" in reference to this – it was basically too late for Man of Steel to really establish its own identity.
The series ended with issue #134 in March 2003, going out with more of a whimper than a bang with a rather inconclusive battle between Superman and a brain-damaged Steel. Appropriately, Jon Bogdanove was called back to draw it, and once again demonstrated that he's probably one of the best Superman artists of his time. Sadly, both his talents and those of and Louise Simonson were ultimately more than a little wasted on a book that never really had a chance to fulfil its potential.