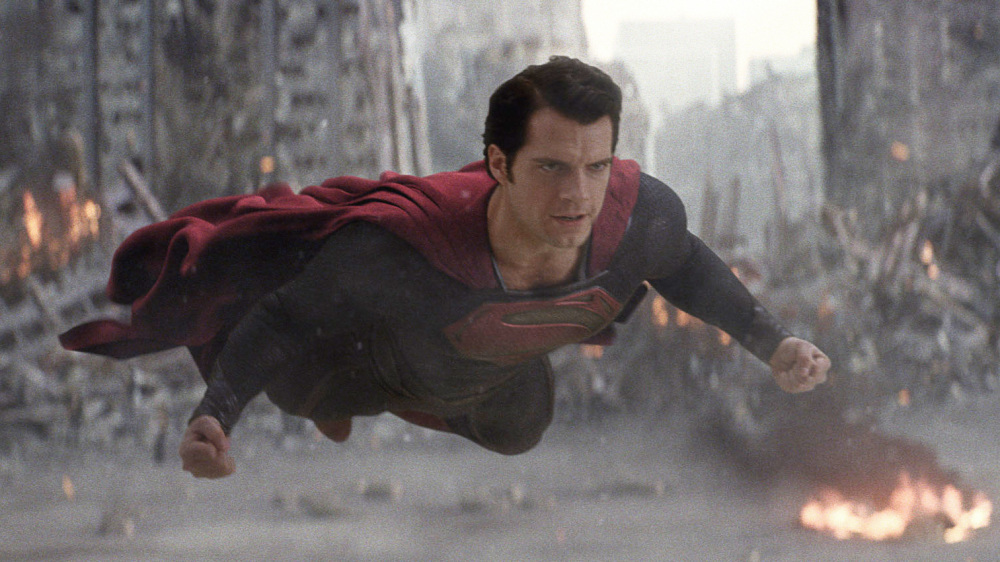 Selling Superman yet again to cinema goers was always going to be somewhat of a hard sell, especially since the misfire that was 2006's Superman Returns.
Screenwriter David S. Goyer knows his comics, having previously worked on the Blade, and Batman trilogies, as does director Zack Snyder who has two hard-to-adapt comics on his resume, with 300 and Watchmen.
Superman is a different beast altogether however, and that's the issue here. Goyer and Snyder lean too heavily on their past films and stamp "dark" and "real" on this latest cinematic interpretation. Those two attributes do not apply to Superman, unless it's an alternate universe tale, like the excellent Red Son comic, which sees a baby Kal-El land in communist Russia instead of Kansas, or the current Injustice series which sets up Superman as a terrifying dictator. Superman is arguably the world's first and greatest superhero; an inspiring immigrant who becomes Earth's adopted son, and defends us with his actions, leading by example. He doesn't have Batman's introspective, brooding persona, or Spider-Man's witty one-liners, and he doesn't need them.
What he does need, especially in this film, is a sense of fun.  Man of Steel is so serious. Certainly it deals with sombre themes of fear versus faith, sacrifice, and identity. Those are all noble concepts worthy of exploration, but what Goyer and Snyder give us is a stripped down version of the Last Son of Krypton. The darkening of his costume is symbolic of the entire film; it's Superman without the brightness. Really, it should lean more towards the derring-do, escapist adventure of Marvel's Iron Man and Avengers films, instead of the grim and gritty approach of the Batman films.
This is (yet another) fresh start for the original superhero. Eagle-eyed viewers will spot classic characters from the comics as well as references to Lex Luthor and Bruce Wayne and even the influence of the Smallville TV series, but those looking for kryptonite or Jimmy Olsen will be disappointed.
Kevin Costner and Diane Lane are the best Jonathan and Martha Kent to ever hit the screen. They embody the nurturing love, fear, and protective nature of any good parents, although Jonathan's uncertainty and doubt leads to some maddening decisions.
Russell Crowe is great as Superman's birth father, Jor-El. The word, "gravitas" comes to mind, and it's refreshing to see him as an action hero in the opening scenes on Krypton that embody the visuals of Avatar mixed with the Star Wars prequels. The planet's sense of grandeur and sci-fi/fantasy melding are splendid, with the chaos of a civil war and natural catastrophe colliding. It is from this world that Jor-El and his wife Lara choose to save their only son, Kal-El, by sending him in a rocket to Earth as the last hope of his planet, towards a new one, where our sun and atmosphere will give him new abilities. Seeing Kal-El's parents face the death of their world, and the birth of their beloved child is handled with great grace and empathy. Superman's origin has never been handled with such emotional resonance.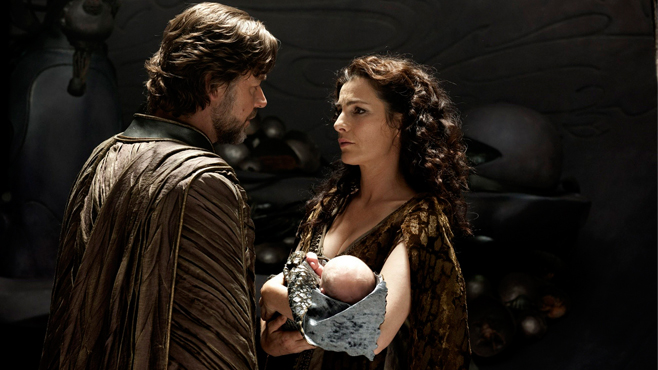 For many, including myself, Christopher Reeve was, and always will be, the embodiment of Superman, but British actor Henry Cavill does well and is certainly the first actor to resemble Superman's hulking physique. Unlike the Reeve films, we never really glimpse Superman's empathy for us mortals or see him interact with Lois Lane in a playful, romantic way.  Lois in Man of Steel is portrayed by Amy Adams, and she brings the necessary crusading journalism and determination necessary for a role that tracks the mysterious super saviour's activities around the globe. There is chemistry between the two leads, but it isn't given the necessary screen time to develop. Their romance seems rushed rather than blossoming.
Also from the Reeve era, many will find it difficult to associate any music other than John Williams' masterful score with the character, but composer Hans Zimmer succeeds tremendously. It is everything a super-heroic soundtrack should be; operatic, stirring, and memorable, and when it rises in the last few minutes during the delightful conclusion, it's easy to get swept away.
As filmmaker Kevin Smith has noted, Superman hasn't had a proper fight on the big screen since the awesome 14-minute spectacle in 1980's Superman II, and Superman Returns was essentially just him lifting increasingly heavier things. You've never seen flight look so effortless and graceful, and how it's incorporated within the showdown with Zod is grand, as is the new visual approach to heat vision. Man of Steel does finally give us something akin to the epic battles that comic readers have been accustomed to for decades.  Super-powered beings unleashing a devastating repertoire of abilities would be as chaotic and destructive as the final battle Man of Steel reveals, with scenes of devastation in Clark's hometown of Smallville, and then the bustling city of Metropolis. This has also been a bone of contention for many viewers, as Superman seems to show no concern for the innocent bystanders caught in this vicious maelstrom. If you don't mind spoilers, just Google "Man of Steel controversial ending," and you'll see what I mean. However, this is a man, or rather alien, who is unaware of his powers and still coming to grips with his limits. Seeing as there were no terrified citizens in the background of these scenes, I chose to think that Superman was wisely using his X-ray vision to scout empty office floors before flying through them, and throwing Zod around like a rag doll.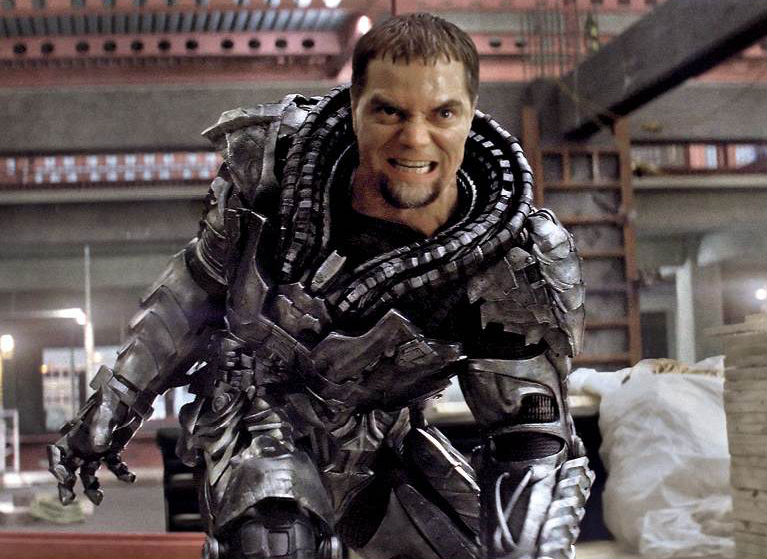 These two characters' motivations are clearly stated, and Michael Shannon gives Zod the menace and unwavering determination that a dangerously patriotic general would embody.  It is Zod's passion for his Kryptonian culture and people that gives him a single purpose, whereas Kal-El is just learning his. He has little knowledge of his true, alien heritage, or even how to use his powers effectively, at least initially, as we learn in the film's flashbacks where a young Clark is terrified of his growing powers, and mysterious origins in a series of scenes early in the film. He does of course learn to fly, and becomes equipped with the famous costume, albeit in a rather casual manner, with no fanfare.
More controversy also surrounds the fates of Zod, and Clark's earthly father Jonathan Kent, and although both have precedence in the comics, and previous screen adaptations, there is a lingering sense of defeatism rather than victory, especially in the latter case. The final fight does put Superman's idealism in a tough corner, but the ramifications of his choices are not dealt with, although this film is a set-up for Superman's first public appearance, how he interacts with the authorities, and how he is perceived by the people of Earth. The sequel, which is aiming for a 2014 release, will hopefully show the Superman that we're more used to; one who is integrated into humanity, as a character who brings hope and heroism.
While the film's occasional odd pacing, and lack of humour, combined with the more accessible approach don't always work, the acting is commendable, as are the soundtrack and special effects. Superman is a pop culture phenomenon and for some, a difficult character to encapsulate. Man of Steel makes some bold and surprising choices, but it's certainly a first step in the right direction, which will hopefully become a more refined approach in further films.