Another entry in the vitally important and ever growing area of pandemic comics, Grandad Reg tell a story that is deeply personal and yet, sadly, simultaneously all too recognisable. Issue #103 in Latvian publisher kuš! comics one-shot minicomics series it's a reminder of how connective the medium has been in its ongoing social documentation of the events of the last two years, whether capturing them as pure autobiographical work, graphic metaphor, or incorporating them into more obvious genre comics.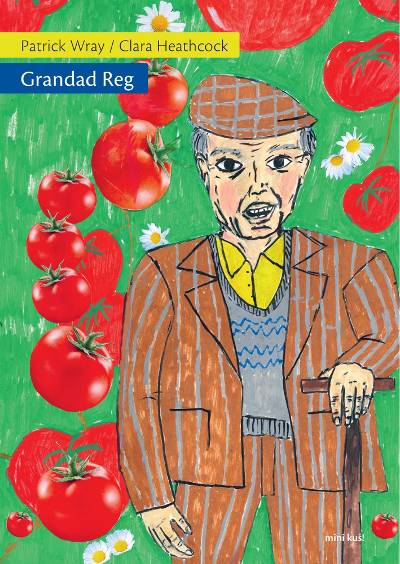 Written by Clara Heathcock and illustrated by Patrick Wray (whose Avery Hill Publishing book The Flood That Did Come we reviewed here at Broken Frontier a couple of years back) this comics short is both a recollection and celebration of Heathcock's titular grandfather (lost to Covid in the early days of the pandemic) and an examination of how we process grief in a world where the normal social rituals for that have been taken away from us.
The first third of Grandad Reg focuses on Heathcock's memories of her grandfather. The kind of formative ones – here a remembrance of a Wednesday post-school treat of ice cream cones – that are indelibly linked to our childhood. By sharing something so treasured we need no elaboration on the character of Grandad Reg because this sequence communicates the bonds of family on an instinctively empathetic level that needs no further explanation.
The latter portion of the comic asks questions that again will be familiar to many who have suffered similar loss since 2020. How do we grieve when the mechanisms for that have been denied us? When we can't rely on the comforting embrace of others or the semi-closure of funerals? What are the best ways to adapt when we have had to adjust our lives so much already?
Wray's deliberately naïve visuals are a perfect fit for this story, giving it an even more personal nuance and complementing its raw candour. Mixing vibrantly coloured pages that by their contrast to the tone of events only capture the surreal and contradictory nature of lockdown existence all the more vividly, and occasional collaged elements, he brings us fully into the quiet desperation and confusion of the early pandemic experience. With each page being a single illustration our natural inclination is to dwell on every image all the more closely, again evoking the pathos of the piece with deeply emotional clarity.
A strong entry in the first batch of mini kuš! comics in 2022. Don't forget you can also check out our tagged list of pandemic comics here at BF.
Clara Heathcock (W), Patrick Wray (A) • kuš! comics, $7.95
Review by Andy Oliver