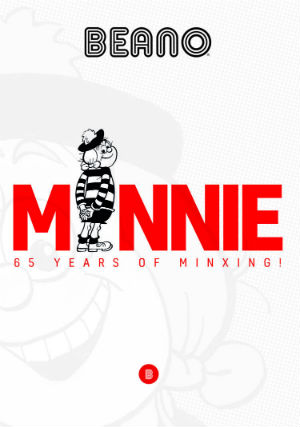 The creation of the (genuinely) legendary cartoonist Leo Baxendale and former The Beano editor George Moone, the long-running Minnie the Minx strip celebrated its 65th birthday this year. Eternally aged around twelve-years-old, Minnie has spent those six and a half decades rivalling her fellow red and black jumper-wearing tearaway Dennis the Menace in the authority-challenging escapades that have been such a staple tradition of The Beano's strips.
While 65 may seem something of an arbitrary anniversary to commemorate, publisher DC Thomson's Minnie: 65 Years of Minxing! one-shot magazine proves to be an ideal companion piece to their Beano: 80 Years of Fun box set (released earlier this year and reviewed here at Broken Frontier) mixing classic comics from across the decades with entertaining and informative text pieces on the character's history and her impact.
While Minnie's initial roots as a female counterpart to Dennis are obvious it's a testament to the brilliance of Baxendale that she could never be defined in those simple terms. Baxendale's work herein is, unsurprisingly, the very best of the strips sampled and showcases his signature anarchic humour, playful dialogue and wickedly inventive imagination. Under Baxendale Minnie is not so much a naughty little girl as an unruly whirlwind force of nature; her child's logic and rebellious nature ensuring there's always a traceable trail of disconcerted adults and shaken kids left in her wake.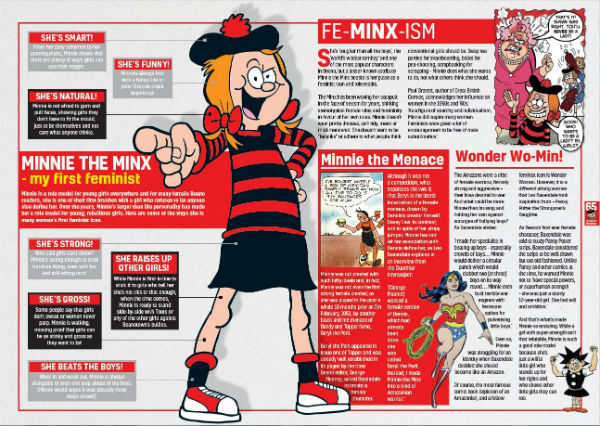 Every era of the Minx's history is represented from the very first short story to the present day. From the astonishing run on the character from Jim Petrie – surely one of the great unsung artists of British comics history – to the more contemporary offerings of Tom Paterson, Ken Harrison, Nigel Parkinson, Paul Palmer (in a sample strip here written by Andy Fanton) and Laura Howell, it's an opportunity to observe how Minnie has evolved over the decades without ever losing sight of the character's original conception.
In that regard each comics section also feels like something of a snapshot of pop cultural history. Minnie: 65 Years of Minxing! gives wider insights into the Minnie phenomenon with a series of perfectly pitched text pieces that reveal new information for the older enthusiasts while not overstaying their welcome for younger readers. From artist profiles to explorations of her origins through to a "how to draw" article and a fascinating look at a 1980s Minnie the Minx spin-off weekly comic that never happened there's plenty here to engage readers of all ages.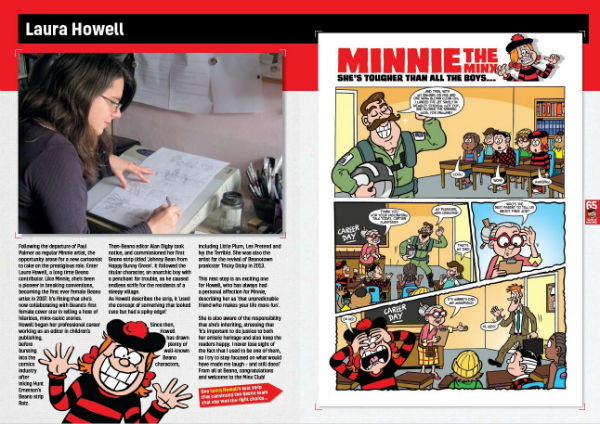 With so much classic British comics material currently being brought to new audiences by Rebellion's Treasury of British Comics imprint we can only hope that DC Thomson also start exploiting far more of their own rich back catalogue. In the meantime special editions like this provide a worthy and accessible celebration of the cast of the UK's longest-running comic. A fitting birthday bash for The Beano's much loved mischievous miscreant!
Anthology collection – Various creators • DC Thomson, £6.99
Available to order online here.
Review by Andy Oliver