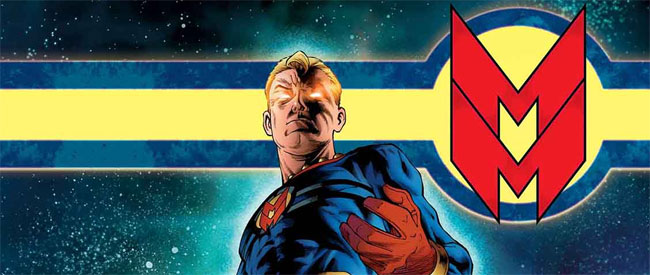 Marvel claims that Miracleman is "the lost Watchmen" – a series that "changed comics forever". But more than 30 years after the work's debut (as Marvelman) in UK anthology title Warrior, is it now anything more than a historical artefact?
It's the sort of thing that happened a lot back when social networking first took off. You'd spot a name on Friends Reunited or Facebook: someone who'd been important in your life for a while but who you hadn't seen for maybe 20 years. Pricked by curiosity you might arrange to meet for a beer or a coffee, wondering how time had treated them and whether you'd still have anything in common…
It's a similar story with me and Marvelman/Miracleman. I came to comics in the early 1980s, just as Warrior was grinding to a halt, so I felt great excitement when Eclipse started to reprint the story in 1985, with the promise of new material and the completion of a work that had been started years earlier…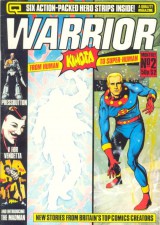 Since then, the well-documented legal fracas over the rights to the series has provided enough drama to overshadow the work itself. Meanwhile, its general lack of availability has elevated it to near-mythical status, meaning that when Marvel finally flattened the remaining legal hurdles in its path, it was happy to announce the book as "the lost Watchmen".
So, after a 20-year hiatus, Miracleman is hitting the stands again. For your $5.99, it looks like you're going to get a wad of back-up material, the 1956 Mick Anglo story that was used as a prologue in the Eclipse #1 and the first chapter of the Alan Moore/Garry Leach story from Warrior #1.
That tots up to 19 story pages, in which you get a look at the kooky nature of the source material (sowing the seeds for later developments) and an introduction to Mike Moran, a troubled middle-aged freelance journalist whose assignment to cover a protest at a nuclear power station changes his life irrevocably.
Feeling the tug of nostalgia, I fished out my bound volume of the Eclipse run to see how it reads now. Well… beyond the crispness of Garry Leach's art, it reads very much like something that was written more than 30 years ago, at the start of a writer's career in a medium that generally hadn't seen work like this.
There are words. Lots of words. The pages are studded with narration box after narration box, replete with metaphor and poetic flourishes. The wordiness makes it quite a chewy read, but also indicates that here was a writer of ambition; someone looking to bring a fresh literary element to the cheap thrills of the superhero genre.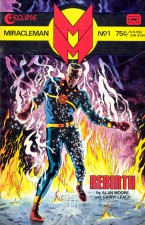 There's a surprisingly high level of reader antipathy towards Alan Moore these days, so I don't doubt that the prevailing opinion among vocal comics fans reading Miracleman for the first time will be a gleeful snark-storm of "is that it?" And for anyone a bit underwhelmed by the opening chapters, the bad news is that it gets a bit less good before it gets a lot better.
Again, this needs to be seen in the context of the work's genesis in the early '80s. As in the contemporaneous V for Vendetta, also serialised in Warrior, Moore took a while to find a consistent voice for the series.
Meanwhile, despite the fine work of Garry Leach and Alan Davis early on in the series, the rapid rotation of artists prevented Miracleman from achieving the unified stylistic identity that Moore and David Lloyd achieved to such a high degree on V (at least until John Totleben took the artistic reins for the apocalyptic grandeur of Book III, Olympus).
However, re-reading even these first few chapters reminds one of how important a work it was. Moore and Leach managed to marry the super-powered spectacle of the material with an original and very British sense of naturalism. Moran's relationship with his wife Liz is put at the forefront: like the reader, she struggles – with good reason, as it turns out – with the preposterous nature of Mike's 'origin' story.
Flicking ahead a few issues also raises some interesting questions about how Marvel might deal with some of the material. I'm sure no-one is still going to be freaked out by the 'notorious' birth issue, but I wonder what will happen to the little kid who wanders into a super-brawl thinking that one of the participants is his film hero, Superman. And how will the publisher handle the "N-word" in an introspective caption box narrated by (black) government fixer Evelyn Cream?
The recolouring of the pages "to today's standards" (and, to a lesser extent, their relettering) has also exercised a lot of commenters. And while the ideal would obviously be to see Garry Leach's meticulous and textured work in the format for which it was created (magazine-sized, black and white), there's little doubt that the new pages look like a vast improvement on the randomised Day-Glo daubings of the original Eclipse issues.
| | |
| --- | --- |
| | |
| Eclipse colouring, 1985 | Marvel colouring, 2014 |
Miracleman is so woven in to my comics education that it's hard for me to assess it with a fresh pair of 21st-century eyes. It's certainly an important book in the development of the superhero genre, making big statements either side of Watchmen, but it's also a fairly uneven work that now has its share of stylistic anachronisms.
Its publication history (as outlined by Lance Parkin in his recent biography of Alan Moore) is also interesting as a microcosm of The Original Writer's typical trajectory in the other strands of his mainstream career; innovation and enthusiasm, followed by discord, disillusionment and broken friendships. And for all the predictable milking of variant covers etc, Marvel are making the right noises about respecting the material and presenting as well as possible.
However, while the 24 Eclipse issues, by Moore et al and then Neil Gaiman and Mark Buckingham, were generally compelling in their extrapolation of what the presence of superhumans would do to the world, I think it would have made more sense in 2014 to put out Miracleman in a series of archival volumes rather than pitching it into the competitive weekly free-for-all.
So will I be making a regular date to see my old mate again? Probably not. But I will keep an eye on him from a distance, and remember very fondly the good times we had together.