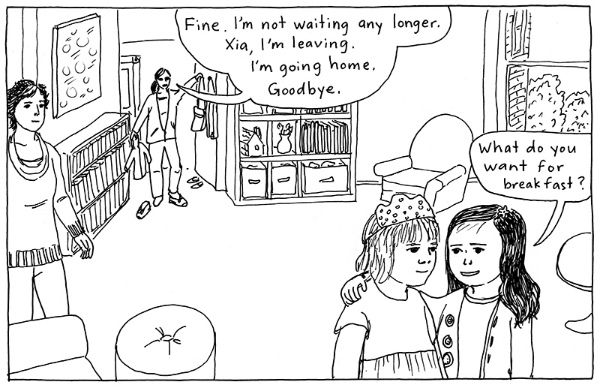 Keiler Roberts is the creator behind Powdered Milk, an ongoing series of Ignatz Award-nominated autobiographical comics that centre around the day-to-day existence of Roberts, her husband Scott, daughter Xia and – not to forget – their dog Crooky. It's a slice-of-life offering that encapsulates the experience of parenthood in what initially appear to be superficially scattershot moments but ones that nevertheless slowly coalesce into a larger overarching narrative over time.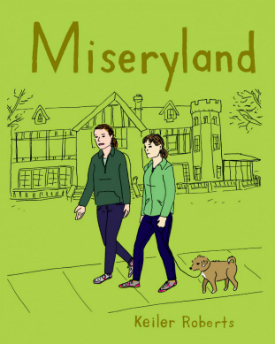 Miseryland, a handsome 140 or so-page softcover compiles some of the more recent Powdered Milk material and is printed in a larger scale format from the usual minicomic size, giving the art the opportunity to really breathe on a larger comics canvas. From the outset the book lays the groundwork for Roberts' incremental storytelling technique with around twenty pages of single panel (often single page) vignettes; snapshots into the household routine that serve to initially introduce the audience to the central players. It's in these delicately recorded moments that we first experience Xia's characteristic child's eye view of reality – alongside Keiler's maternal devotion and her occasional moments of exasperation – as each individual image begins to merge into that bigger picture of their environment.
Obviously the idiosyncrasies of childhood and its peculiar logic are a central part of Miseryland as Xia discovers the world around her, interpreting it and making sense of it from her limited experience and frames of reference. Beautifully endearing mother/daughter moments are captured for posterity whether they be directly charming or loveably stroppy: Xia pleading "Mama, I want to play a game on your iPad because I love you", for example, or scolding Keiler with a sharp "Don't have that face on your face."
While Xia's perspective on reality is a delight throughout, Roberts delivers each visual anecdote with an understated straightforwardness. There's no ostentatious elaboration and, thankfully, no additional twee "children say the funniest things"-style commentary. Events on the page elicit an emotional response from the reader without any awkward and clumsy manipulation of their expectations. In that regard Miseryland is a modest but welcome invitation into the Roberts household that seeks to chronicle their lives rather than dramatise them; narrative humility winning out over exaggerated domestic theatrics.
As the book progresses there's a gradual transition into longer stories but Roberts remains resolutely unafraid to break the perceived rules of panel-to-panel storytelling. One-picture reflections run into more conventional multi-image strips; the fractured, frenetic, non-stop flow of domestic reality echoed in the constant shifts in time across the pages of the book. It's undoubtedly possible that an argument could be made that some of the contents of Miseryland are not, strictly speaking, comics in the purest sequential definition. But it's that selfsame mix of presentational styles that is so effective in making the reader invest in the family, precisely because it does ask them to put together the jigsaw puzzle pieces of their life.
Where Roberts excels as a storyteller is in the subtlety of her observational thoughts on motherhood. This is a warts and all account of the pressures of parenthood and her on-page avatar is depicted with an unassuming honesty throughout. There's no attempt here to create an authorial persona one step removed from its source. Roberts never shys away from portraying her own moments of weakness – losing her temper with an old woman who had previously criticised her handling of Crooky, for example, or pricking Xia with a pin to teach her not to play with them (see sample pages below). It gives the collection an integrity and a humanity that demands your attention throughout.
While Roberts' art is relatively unsophisticated that only adds to the sense of sincerity and candour that Miseryland embodies. Many of the single panel moments are so carefully crafted that they become mini-tableaux in their own right, and her gift for visual characterisation speaks volumes about the cast, their eccentricities and personality tics. This is autobiographical comics at their absorbing best – frank, blunt and forthright on the one hand but engaging, inspiring and utterly genuine on the other. A standout offering for those who love accessible slice-of-life comics work.
For more on Keiler Roberts visit her site here, her online store here and follow her on Twitter here. Miseryland is released in June and will debut at CAKE (the Chicago Alternative Comics Expo). 
For regular updates on all things small press follow Andy Oliver on Twitter here.