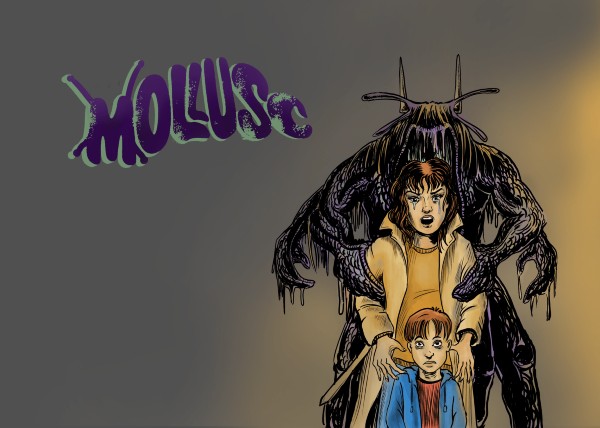 THOUGHT BUBBLE FORTNIGHT! When Dan and Carol move into their new family home by Loch Ness with their young son Jack what should have been an idyllic new start for the trio soon descends into something altogether more horrific. The house is revealed to be infested with slugs that prove to be impossible to get dispose of; in fact they seem more determined to get rid of the new human inhabitants when they swarm all over Dan and seemingly consume him. But Dan's fate is an even worse one than ending up gastropod fodder. Awakening in the depths of Loch Ness he discovers he has been transformed into a hideous mollusc creature with a semblance of his former intelligence and an insatiable hunger.
Can Dan ever hope to regain his former humanity? What will happen to those drawn into his slime-filled orbit? What part have the mysterious Mr. Rawls and his cult-like group played in events? And what insidious secrets and traditions are behind Dan's new slug-like demeanour?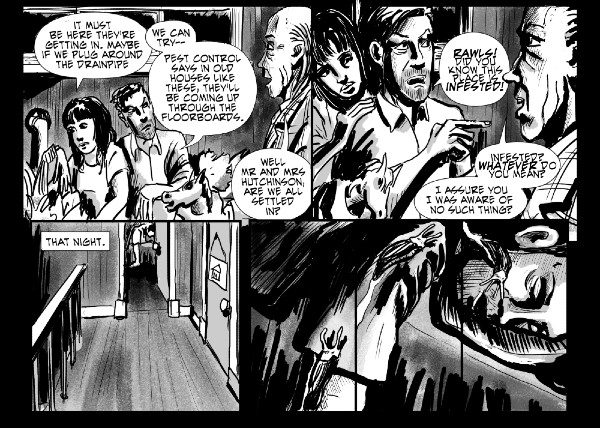 Ian Newman's horror one-shot, collecting the chapters of his online supernatural series, has been described by the creator as "an antidote to tea towel tourism". Indeed, the Loch Ness monster of Mollusc is far from the cheery cartoon character of popular culture or even the saurian cryptid of folklore. This terror from the depths owes more to the swamp creature standards of US serial comics. But unlike Swamp Thing or Man-Thing, the Mollusc's story is even more tragic given that he becomes a far more active peril to everyone he meets, actively endangering people through his uncontrollable urges.
Newman's story perhaps lacks the pathos of its muck-monster counterparts simply because we never quite get the chance to empathise and engage with the characters in the same way that we did with Ted Sallis, Alec Holland and company given how quickly we are thrown into events. Characterisation is perhaps more superficial in that regard and a longer introduction establishing the cast and their backgrounds would have served to engender a deeper connection between reader and cast.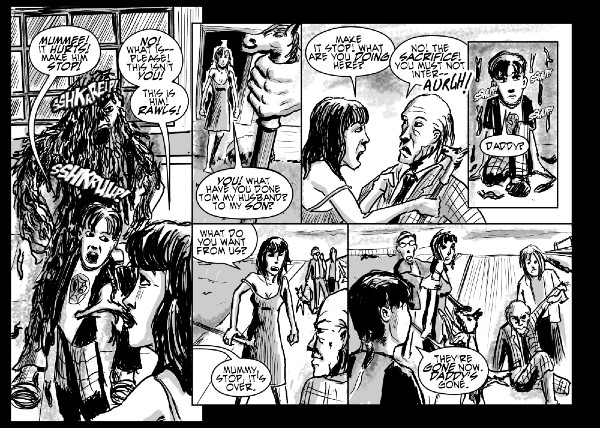 However, as an unapologetically gruesome exercise in fast-paced horror Mollusc certainly has its moments. Newman makes effective use of the much neglected landscape format to emphasise the violence of the monster's rampages and the terror of his victims, with the deep blacks and claustrophobic panels seriously ramping up the tension. The creature design is similarly creepy; simultaneously familiar and otherworldly, with lettering effects underlining the tragedy of Dan's new physicality. Mollusc isn't looking to do anything ground-breaking with the horror genre but if you're looking for fear-filled escapist reading then you should definitely head to I. Newman's table 26A in the ComiXology Originals Hall at Thought Bubble.
I. Newman (W/A) • Self-published
Found out more about Mollusc here
Review by Andy Oliver