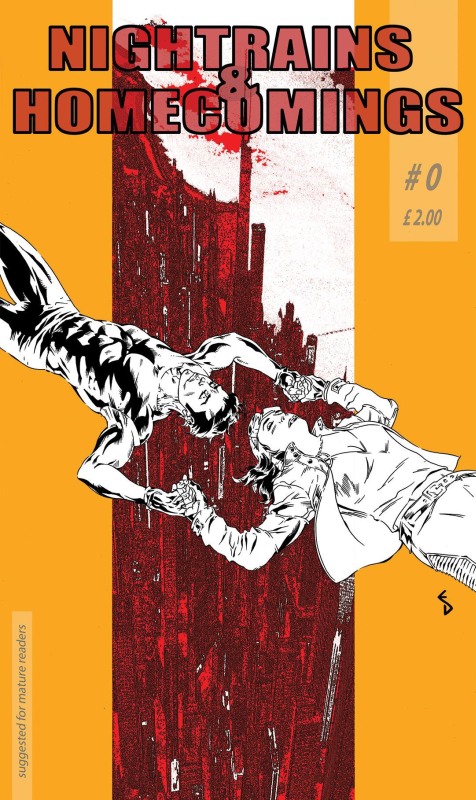 In a world just one cataclysmic war removed from ours, a covert group of operatives are seeking to recover information from a hard drive in a high rise apartment building. While team members observe from surrounding rooftops, it's down to debut agent Tracey to break in and download the requisite data before their quarry returns. But even with a powerful clandestine organisation in support in the background this is still a mission perilously close to failure. Especially when Tracey discovers something horrifying about the residence's occupants…
The first thing to note about Erol Debris's debut instalment of Nightrains & Homecomings is that as far as that whole curious phenomenon of the #0 issue is concerned – as an aside, one of the odder numbering stunts to pull in readers conceived by super-hero publishers – it does, at least, have some logic in this particular case. What Debris provides in the twelve story pages here is very much a prologue to the main event; a taster for the ongoing series that hints at the series' premise rather than explicitly setting it up.
In terms of dramatic pacing Nightrains & Homecomings is efficiently executed with a growing sense of tension surrounding the events depicted. Tight, intricate, multi-panelled pages ensure a densely structured read and add to the sense of claustrophobia. Complementing this, the subdued colouring courtesy of Jasen Smith and Ramon Ignacio Bunge builds mood and emphasises the taut atmosphere of the book. Debris is certainly fully cognisant of the potential and opportunities that the comics page has to offer. That much is very obvious from the way he crafts the layouts of each scene and, as action comics go, this has a lively and engaging tempo to it.
Where Nightrains & Homecomings falls a little short, though, is that by the end of this introductory offering I have no firm idea of what the premise of the book is, what its direction is, or where it's going from here. We've got intriguing characters, a reasonably well realised world for them to interact with, and lots of hints about the nature of the bigger picture but that essential engagement with the protagonists – so vital to keep the reader coming back – is missing at the moment.
To strain an analogy, then, Nightrains & Homecomings is more of an appetizer than a satisfactory and filling first helping. We get fleeting introductions to a whole host of characters and a very brief sketching of their roles in the narrative but, at this point, there's so much going on that it's hard to invest in the cast. That's not to say there isn't promise here, though, because considering this as a chapter in isolation Debris is a very competent storyteller. One to watch and see how it develops, I think, because once the book's foundation is firmly established – and its players fleshed out to a greater degree – the potential apparent in this opener will hopefully be fulfilled. We have one puzzle piece here to ponder on – I look forward to seeing how it fits into the greater jigsaw image….
Nightrains & Homecomings is priced at £2.00. Details on how to order a copy can be found here.