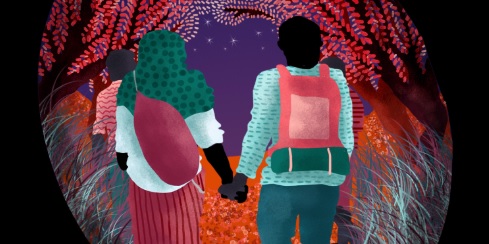 PositiveNegatives is an award-winning non-profit who "produce literary comics, animations and podcasts about contemporary social and human rights issues" and "combine ethnographic research with illustration and photography, adapting personal testimonies into art, education and advocacy materials."
You may have spotted their latest animation North Star Fading – an "infinite zoom comic" with art by multiple Broken Frontier Award-winning artist Karrie Fransman – which has been getting notable attention on social media recently. Based on the testimonies of four Eritrean refugees and their perilous travels across Ethiopia, Sudan and Libya to Europe. Sound and voiceover is by Lula Mebrahtu with "digital wizardry" by Jonathan Plackett.
Karrie Fransman is, of course, an artist who never ceases to push comics into new territories (catch our 2015 interview with her here at BF for more information on that) and was also the creator of the Red Cross Refugee Week Comic Over Under Sideways Down which won the Best One-Shot category in the 2014 Broken Frontier Awards.
You can view North Star Fading below but please also take the opportunity to visit the PositiveNegatives site and look at all their other relevant comics offerings here. You can also follow them on Twitter here.