Frank Candiloro crafts a gripping tale of family, vengeance and honour in the little-known world of the onna-bugeisha – Japan's historic female warriors.
Australian writer/artist Frank Candiloro has featured on Broken Frontier before: his comics are always visually stimulating and usually cast an interesting light on a particular cinematic genre by reworking it for the comics form, in his own distinct style.
For example, his two-parter The Testament of Doktor Zeitpunk was something of a love letter to German Expressionist cinema, while Blood Across Broadway mashed up Murnau's vampire classic Nosferatu and Broadway musicals!
And his new book, the 96-page Onna-Bugeisha, picks up that thread with an emphatically told tale of family, honour and revenge among warring Japanese samurai. It also sheds a little light on the intriguing world of the country's female warriors – the onna-bugeisha of the title.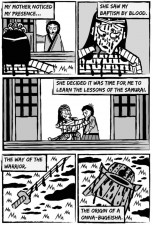 In a neat three-act structure, Candiloro relates the story of Tomiko, a young woman wrestling with the desire for vengeance against Sagi, the rival warrior who killed her mother, Ginchiyo, the head of the Makato samurai clan.
The book starts with a prelude set during Tomiko's childhood, as Sagi launches his initial rebellion, seeing Ginchiyo as unfit to lead the clan. The onna-bugeisha defeats her rival but decides to spare his life – an act of clemency that has tragic repercussions.
Two decades later, the still grieving Tomiko is urged by Amatsu Mikaboshi, the Shinto 'Lord of All Darkness', to avenge her now-dead mother. Unsure about what she should do, Tomiko is visited in a dream by three Shinto spirits – kami – who recap conveniently what's happened during the intervening years and give her a quick – and enlightening – refresher course in the principles of both the Shinto faith and the samurai way.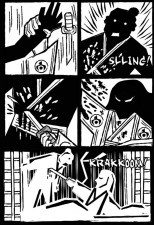 By the end, she's ready to take up her mother's mantle for her climactic confrontation with Sagi – which comes with its own surprises.
The story is driven by Candiloro's blunt, angular but highly energetic art style. There are no frills to his work, which often has a woodcut-style boldness to it. However, like a punky three-chord thrash, it powers along, taking the reader with it.
That's not to say that the work lacks sophistication; Candiloro drops in some very neat graphic devices throughout. For example, when Tomiko is being assailed by the dark hunger for vengeance, her dream self is swarmed by jagged black shapes/creatures that threaten to engulf her.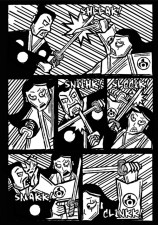 The vast majority of the pages are cropped within a claustrophobic grid. The characters' struggles – with themselves and with others – are therefore generally in close-up, with the drama etched on their roughly hewn faces. The fight scenes are intimate rather than epic; you feel every blow.
And Candiloro's strong design sense and high-contrast black-and-white artwork leaves every page humming with energy – even during the more conversational parts of the book, such as Tomiko's dream sequence.
What we're left with is a concussive and very satisfying story that unpacks some of the intricacies of the Shinto faith and the way of the samurai without ever feeling forced or stodgy.
This is muscular, engaging work – and the digital version is certainly worth A$1.99 of anyone's money.
Frank Candioro (W/A) • FrankenComics, A$15.00 (also available in digital form for A$1.99)