SAFARI FESTIVAL FORTNIGHT!
It's almost a year to the day since I last covered Matthew Swan's Parsley Girl comics here at Broken Frontier. There's no uncanny synchronicity involved in that statement, though, given that then (as now) it was with an upcoming Safari Festival appearance of this most inventive of artists in mind.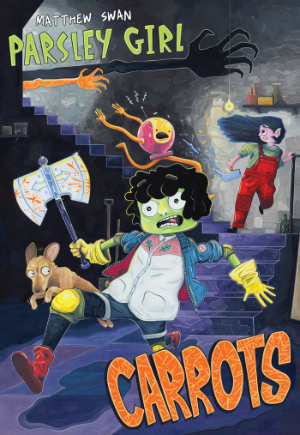 Last summer I said of those two Parsley Girl comics – 'Witches' and 'Minotaur' – that they were "beautifully and meticulously coloured, bringing the environment Swan has created to vibrant, striking life" and that the concept was an "old-fashioned, escapist, comfort read from an always inspired cartooning mind." Clearly the astute team at Avery Hill Publishing had similar thoughts as they picked up Swan's eccentric creation and have published her latest misadventure – Parsley Girl: Carrots.
When a goblin mugger leaves Parsley Girl in need of a visit to the dentist, events start taking an ever more bizarre turn… even by her standards. A mysterious figure ensures that a reality-warping portal opens up in her kitchen allowing a band of carrot people to break out and kidnap the local populace. Alongside her robot chum Thomas and her magical decorator pal Margiotta Moonshine, PG must not only stop this invasion of villainous vegetables but discover just who is behind their appearance and why…
One of the great joys of Matthew Swan's fantasy world is its complete lack of rules. Witches, goblins and creatures from myth sit side-by-anachronistic-side with robots, pizzas and smart phones in a universe where magic and technology take equal precedence. It gives this otherwise outlandish environment a recognisable connective point for the reader; the commonplace and the everyday bound up in the freakishly fantastic.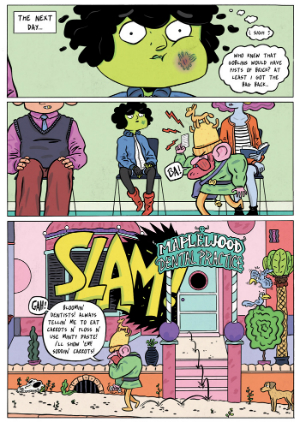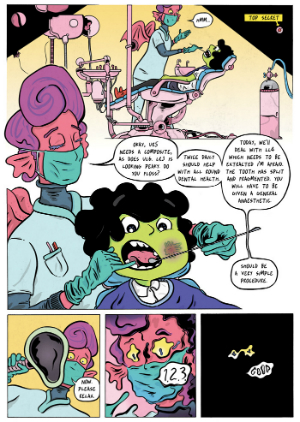 Indeed, the resolution of this very issue revolves around motivations that are amusingly banal and mundane in origin, ensuring that the comedy mastermind behind events is all the more brilliantly ludicrous as a result. If some of the plot developments that get us to that denouement are, perhaps, a little sudden and casually inserted into the action then the breakneck speed of the tale, and the whirlwind panel-to-panel pacing, sweeps the reader along to the point that they're having far too much fun to really care.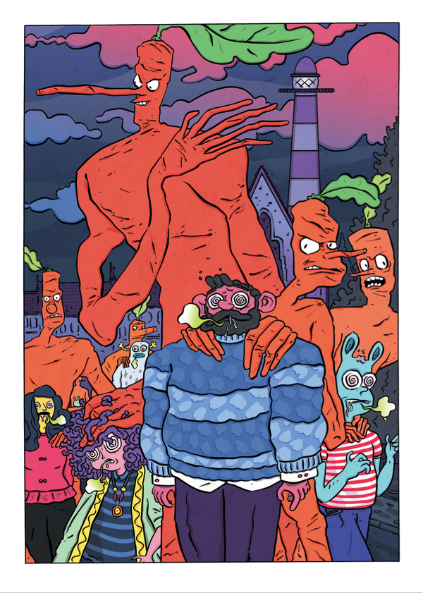 As with previous entries in this series Swan's command of the page will transfix the reader with his captivating layouts and ever playful sequential storytelling. A sequence where PG zones out while the action continues around her for two pages is particularly deft, as is the organic horror of the metamorphosing carrot people as they emerge from their mystical portal. Parsley Girl: Carrots also deserves careful re-reading to pick up on all the details in every panel that you may have missed the first time around as they add to the enriching world-building experience.
Full of great gags (a chelonian-style Transformers moment is a highlight) and expressive visual characterisation, this latest foray into the frenetic realm of Parsley Girl with all its glorious incongruity and contradiction underlines just how deserving Matthew Swan is of far greater attention. Another top-notch publishing choice from the ever incisive folks at Avery Hill.
For more on Matthew Swan's work visit his site here and follow him on Twitter here. Parsley Girl: Carrots is available from the Avery Hill Publishing store here priced £6.00.
Matthew Swan will be exhibiting at Safari Festival on August 27th.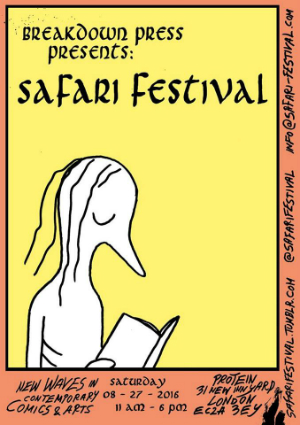 For regular updates on all things small press follow Andy Oliver on Twitter here.