What a year it's been for SelfMadeHero! During their tenth anniversary they've put out another eclectic and enthralling list of original graphic novels, translated material, graphic biographies, literary adaptations, mindfulness guides and autobio. It's ranged from The Corbyn Comic Book to Tillie Walden's long-awaited Spinning through to Mike Medaglia's One Year Wiser: An Illustrated Guide to Mindfulness and another Moore/Reppion collection of M.R. James adaptations. And, of course, who can forget that birthday bash in September…
Rounding out the year this week SelfMadeHero publish their last offering of 2017 – Frederik Peeters and Loo Hui Phang's The Smell of Starving Boys. BF has a special preview of the book here today ahead of its release on November 16th.
Texas, 1872.
The Civil War is over and geologist Stingley sets out with photographer Oscar Forrest and young assistant Milton to explore unchartered territories. Entering the hostile region of the native Comanches, they're faced under the constant threat of attack. But as social conventions disappear and inhibitions go into retreat, strong emotions are awakened in Forrest and Milton – and an intimate relationship forms.
Laos-born writer Loo Hui Phang has penned an intense Western propelled by a clash between the old world and the new. The Smell of Starving Boys explores the nature of colonialism and addresses the gulf between traditional and modern cultures, including attitudes towards love. Produced as a special deluxe hardback edition, the graphic novel is illustrated by award-winning artist Frederik Peeters, who is best known for Blue Pills, Pachyderme and the sci-fi series Aama. He cites Hergé and Moebius among those artists who have influenced him most.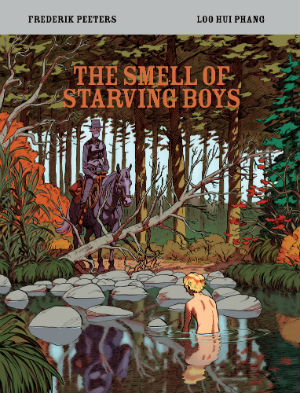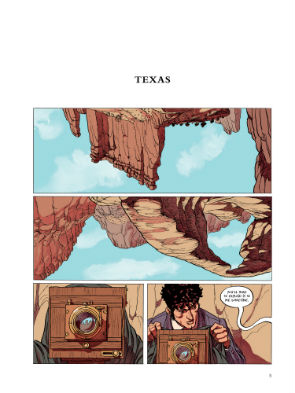 About the creators
Loo Hui Phang is the author of comics including Panorama (with Cédric Manche) and Prestige de l'uniforme (with Hugues Micol), and has also written plays, books, films, performances and installations, for which she has collaborated with renowned illustrators like Blexbolex and Ludovic Debeurme. Born in Laos, she grew up in Normandy.
Frederik Peeters is the author of Blue Pills, Pachyderme and Aama, among other books. He has been nominated eight times and has won three times at the Angoulême International Comics Festival, and has received many other prizes for his work. He lives in Geneva.
ISBN: 978-1-910593-40-0 • Deluxe Hardback w/ jacket • Full Colour • 112pp • £24.99 Translated by: Edward Gauvin • Publication date: 16 November