The Bestiary by cartoonist and street artist Phlegm, at London's Howard Griffin Gallery, is a treat for lovers of illustration and an inspiration for anyone looking to take their comics to a new dimension.
Sheffield-based artist Phlegm might be better known around the world for his intricate and distinctive murals, but he started out by self-publishing comics and zines before scaling up his work on the streets.
His first-ever indoor exhibition – The Bestiary, at the Howard Griffin Gallery in east London – is an immersive experience that's not unlike stepping into a 3-D comic.
The exhibition draws its title and inspiration from the medieval bestiary: "an illustrated compendium of animals, half-real and half-imagined, setting out the natural history of each beast and its moral significance". On the walls of the gallery, Phlegm brings his own natural world to life.
As you enter the narrow gallery, you face what seem to be samples in specimen jars; a closer examination reveals that quite a few of them are nods to some of his street art contemporaries.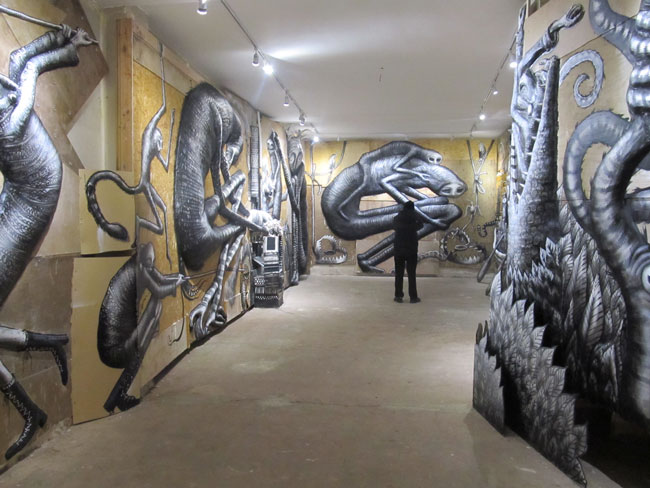 Then, as you edge round into the concealed main space of the exhibition, you come across a series of dark tableaux depicting humanity and the rest of the animal kingdom in a bitter struggle, all filtered through Phlegm's unique visual sensibility.
However, the work moves into another dimension from the artist's usual murals, including finely crafted 3-D elements in wood, cardboard and plaster that intrude from their world into ours.
There's nothing on-the-nose about Phlegm's work, but there's a definite sense in The Bestiary of shame at our exploitation of nature; the creepy humanoid figures variously steal eggs, set vicious traps and paint trees with poison to fill their specimen jars (although at least two of them get their comeuppance at the tentacles of an ravenous cross between an octopus and a crocodile).
This has been a painstaking venture for Phlegm. He's been working on the installation since December, when he wrote, "I want this project to be something I can spend much more time on compared with my street work, and hopefully make it much more involving for the viewer."
Incredibly, it's also a non-commercial labour of love for both artist and gallery. None of the work is for sale, with Phlegm adding that "I just want to make an event that people can go to because they enjoy looking at art".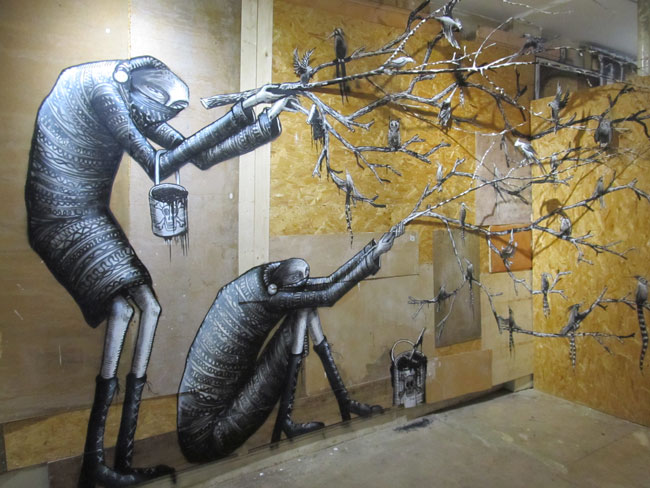 While there's no overaching narrative or sense of moving through pages, the experience of The Bestiary reminded me of the Hypercomics: The Shape of Comics to Come exhibition that took place in London in 2010. (Here's an article on that show by its curator, the legendary Man at the Crossroads, Paul Gravett.) It'd be great to see more comickers take their work into another dimension like this.
The gallery, at the heart of London's Hipster Central, is no more than a beard-comb's throw from Shoreditch High Street Overground station, and is well worth a look if you're anywhere near. (In fact, why not combine it with a visit to the splendidly appointed Nobrow shop, a few minutes round the corner?)
The Bestiary runs at the Howard Griffin Gallery (189 Shoreditch High Street, London E1 6HU) until Tuesday March 4th. Visit the gallery website for further details and opening hours. 
Photos by Jane Murphy & Gordon Gibbens (@gagibbens)