The Pirates of Pangaea really is the perfect entry point for that younger reader in the family who has yet to discover the joys of the comics form.
One of the early serials from one of the last examples of British weekly comics, The Pirates of Pangaea was an obvious standout offering when children's anthology The Phoenix launched back in 2012. Its premise – pirate hordes duke it out on a lost continent where the dinosaurs never died out – may sound like an awkwardly contrived mash-up but this is no comic strip Frankenstein's Monster clumsily stitched together from discarded genre remnants. Pirates of Pangaea positively embraces the opportunities its disparate narrative building blocks provide to create a truly intriguing and mysterious fictional environment for the younger reader.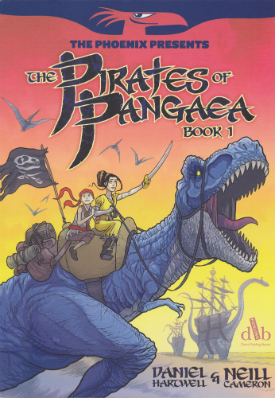 Set in 1717, the protagonist of the tale is twelve-year-old Sophie Delacourt who has been sent to live with her uncle, the Governor of this remote post, after the recent death of her parents. On arriving at Pangaea, however, Sophie is immediately thrown into a new and violent landscape. Here, dinosaurs still roam and merciless pirate factions fight for supremacy on the island. Lost tribes, ancient civilisations, treacherous villains and terrifying monsters abound as co-writer Daniel Hartwell and writing partner/artist Neill Cameron take that The Land That Time Forgot starting point and fashion it to their own, carefully crafted, purposes.
Stripped back to its core concept it may sound like The Pirates of Pangaea is simply another pulp pastiche with a few rogue buccaneers thrown in to spice things up but there's a level of worldbuilding here that distinguishes this book from your standard, run-of-the-mill prehistoric romp. On Pangaea, the colonists travel through the vast grassy plains of the isle via sailing ships strapped onto the backs of giant sauropods or "long-necks" as the local colloquialism has it, rendered docile by use of an indigenous plant stuff called "snuff" that has a soporific effect. The perilous grassland below, teeming with raptor-style dinosaurs known as land sharks or belly-rippers, is simply unpassable by any other route.
It's here on her way to meet her uncle that Sophie's ship is attacked by the forces of the plundering Captain Brookes and his marauding crew and she is taken prisoner aboard his vessel. Teaming up with captured cabin boy Kelsey, enigmatic pirate Ten Gun Jones and a tamed but terrifying tyrannosaurus named Cornflower, Sophie must outwit the treasure-seeking cut-throat hordes on her journey to the safety of her uncle's protection…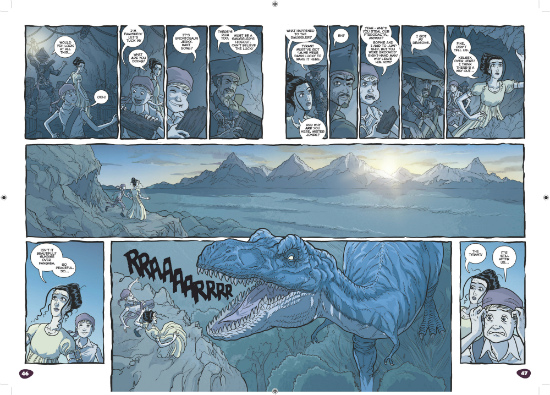 From the very outset Hartwell and Cameron barely give the reader a chance to breathe, eschewing overt and long-winded exposition and favouring an approach that ensures the reader discovers the curious ways and rituals of Pangaea side-by-side with Sophie. Given that this was originally a serialised story this level of frenetic, action-packed adventuring is, to a degree, indicative of the comic's original presentational style. But it works extremely well in a compilation as well, guaranteeing that the reader will be swept away in the relentless pace of events.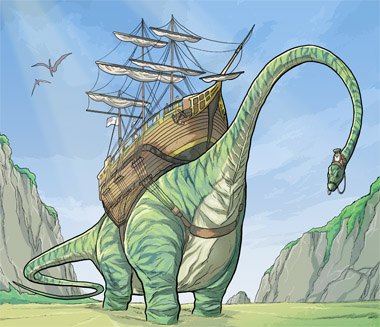 The Pirates of Pangaea rests on a traditional storytelling foundation but instead of worrying about falling into cliché, Hartwell and Cameron subvert it to their narrative cause – Brookes has an avian dinosaur on his shoulder substituting for the accepted parrot, for example, and the characters visit an elephants' graveyard for sauropods at one point. Familiar pop cultural standards are appropriated, then, but with clever or fun twists rather than the obvious banality that could have been on show.
In Sophie we have a central character that children will adore. She's more than a focal point – she's a protagonist that kids will instantly identify with. Full of awe and wonder at her new surroundings and yet capable and resourceful throughout, with Cameron's visual characterisation proving a delight. She's an anchor point of realism in a senses-swamping fantastical world and a figure who embodies that tried and tested role in literature for younger readers – the authority-defying child lead who puts the adult cast to shame as moral heart of the story.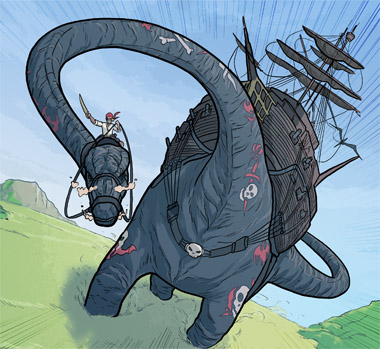 Neill Cameron's page design utilises an expertly realised depiction of time and space. Those frantic action sequences – particularly in the battle scenes – having a sense of both peril and energy that is captivating in its choreography. But it's the way he captures the sheer gargantuan majesty of the dinosaurs of this environment as they travel its vast and sprawling landscapes with entire ship-bound communities of humans strapped to their backs that truly impresses, underscoring how human adaptation to Pangaea and its fauna has created a unique new society of its own. The vibrant colouring on the strip should also not be overlooked, giving the world of Pangaea a striking vitality that emphasises its untamed and wild nature.
If you're, shall we say, an older reader then this is one of those serial comic strips that will make you feel tinges of jealousy that you never got to enter its domain when you were the target age. Oh, to have experienced this through the eyes of a child!
Dare I say it…? Dare I use the tiredest of reviewing clichés? It's indisputable, though… The Pirates of Pangaea really is the perfect entry point for that younger reader in the family who has yet to discover the joys of the comics form.
Daniel Hartwell and Neill Cameron (W), Neill Cameron (A) David Fickling Books, £8.99