Well here's some news we can really get behind given Broken Frontier's commitment to all things small press in the comics world. Power Comics and Floating World Comics are teaming up to bring us a new imprint bringing forgotten small press comics of the 1980s and 1990s back to print. More details in the press release below, including news of the first title to be released. In the meantime anyone fancy doing the same thing in the UK…?

Logo by Benjamin Marra
Power Comics is a long-running video and visual exploration of obscure small press comics from the '80s and '90s. We canonize the weirdest and wildest issues from that bygone era with the firm belief that these once forgotten homegrown works and shattered dreams have now perfectly aged into the finest wine of outsider art.
Power Comics is proud to announce a partnership with independent publisher Floating World Comics to curate a new line of reissues featuring our favorite and most important discoveries including Ken Landgraf & Bob Huszar's street vigilante epic New York City Outlaws, and a collection of Steve McArdle's singular thrash-metal outlaw-verse Red Bullet Comics.
Announcing the debut publication from Floating World / Power Comics…
VENDETTA: HOLY VINDICATOR by Steve McArdle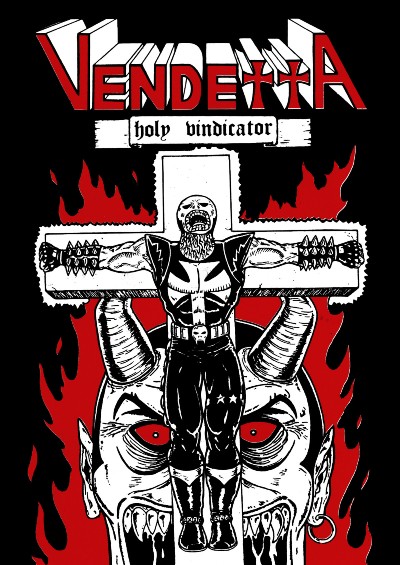 Just when we thought we'd seen every supreme extreme in the superhero megaverse… we unearthed the decades-old, skin-flayingly singular work of Steve McArdle and his Red Bullet Comics imprint. From the start, McArdle was a maestro of blood and mayhem, an overlooked '90s creative genius wrapped in black leather and raw ambition.
In his undisputed masterpiece Vendetta: Holy Vindicator, skulls, spikes, motorbikes, chains, more chains, and Satan collide at thrash-metal speed in what may be the most intensely confident entry to the self-published comics canon… ever.
Collects Vendetta: Holy Vindicator #1-4 and Artillery #1
VENDETTA: HOLY VINDICATOR
(W/A) Steve McArdle
On sale date: June 28, 2022
7.25" x 10.25"
B&W & RED
136 pages, $19.95
978-1942801146
Steven McArdle is the writer, artist and self-publisher behind Red Bullet Comics. Red Bullet has published the Vendetta: Holy Vindicator mini-series, Artillery One-Shot, Nick Noyz Tour Book and the C.R.O.W.BAR 9 mini-series. McArdle has a background in printing/graphics as well as being a musician, and brings many of his rock and metal influences to his art. Choosing to remain true to his roots, he still works the "old school" way with paper, pens, brushes and inks. He lives in Massachusetts and enjoys pinball and running in his spare time.