Kelly Sue DeConnick, Emma Ríos and Jordie Bellaire start their eagerly awaited supernatural Western series with a slow sizzle rather than a big bang.
Alongside Brubaker and Epting's Velvet, the other half of this week's double-barrel blast from Image features another former Marvel team-up taking the plunge into independent waters: writer Kelly Sue DeConnick and artist Emma Ríos. But that's where the similarities end.
While Velvet sticks to a traditional mode of storytelling for its Cold War shenanigans, Pretty Deadly is altogether more left-field, in both subject and execution. Image has been keen to root it in the old-school Vertigo tradition (promising that it "marries the magical realism of Sandman with the western brutality of Preacher"), and the unusual choice of narrators at the start – a deceased bunny and a butterfly – also bring to mind Milligan and Fegredo's Enigma.
Anyway, Pretty Deadly – as you would have worked out from the extensive pre-publication press – is firmly rooted in a mash-up between a horror story and a Western. However, the promised figure at the heart of the story – Ginny, the 'devil's daughter' and a devastating avatar of vengeance – only makes the most fleeting of appearances at the beginning and end of the 24 story pages.
What we get instead is a slow-burning set-up that gives the reader plenty of work to do and rewards a second examination. Several elements are set in motion, with the characters' goals and motivations remaining largely obscure at this early stage.
So we meet old man Fox and his young protégée Sissy, an unlikely pair of travelling balladeers who pitch up on the town gallows and kick off the issue with "the song of Deadface Ginny / And how she came to be / A wraith of rage for men who'd cage / And harm what should be free". We meet 'a ginger called Johnny', a spectator at the performance who seems to have a particular interest in Sissy. And we meet Big Alice, seemingly a bounty hunter on the trail of a document held by Johnny. When it turns out that Sissy stole a page from him, she and Fox are suddenly forced to flee for their lives.
Emma Ríos uses her busy, brushy, sort-of-Paul-Popey style to good effect, combining the grit and textures of the old West with the air of strangeness that heralds the imminent incursion of the supernatural. Meanwhile, Jordie Bellaire adds a vibrant sense of unreality to the pages with her startling colouring choices.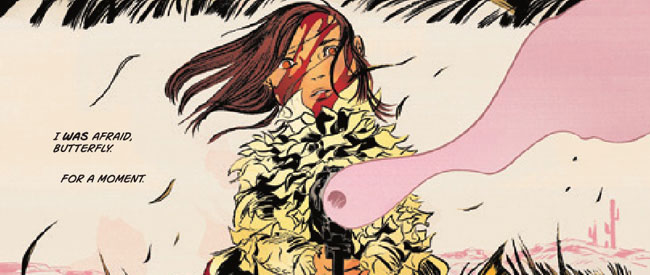 There's quite a bit to get your teeth into in the first issue of Pretty Deadly, and no-one can accuse KSDeC and her partners of chewing it up for the reader. I'm sure there are probably a few readers out there who are scratching their heads and feeling a little uncertain after the first issue held back on the mayhem hinted at in advance (and on the beautifully subtle cover).
However, it's clear that the Three Amigas have got a firm grasp on the story and the way they want to tell it (with the addition of a cryptic but seemingly related prose story by Chad Collier in the back matter). Pretty Deadly #1 may have been a more challenging read than Velvet, but it's an intriguing and distinctive start, and the creators generate enough faith to believe that those challenges will lead to rewards.
If you've bought the sizzle, you might as well stay for the sausage.
Kelly Sue DeConnick (W), Emma Ríos (A) • Image Comics, $3.50, October 23, 2013