Press release
Project: Rooftop is proud to announce that the legendary comics character Storm will be the next in their line of redesign contests. Originally created back in 1975 by Lein Wein and Dave Cockrum, Storm is best known as an X-Man but has also spent time as a member of the Avengers, the Fantastic Four, and even the Hellfire Club; along the way she's become one of Marvel's top heroines and one of comics most iconic heroes. For the Storm: All-Weather Wear redesign contest, Project: Rooftop is asking artists to  submit their own renditions of the hero to be spotlighted on Project: Rooftop's website and be reviewed by the P:R staff as well as comics writer  Brian Wood (X-Men, Star Wars, Conan The Barbarian) and cover artist Kris Anka (Uncanny X-Force).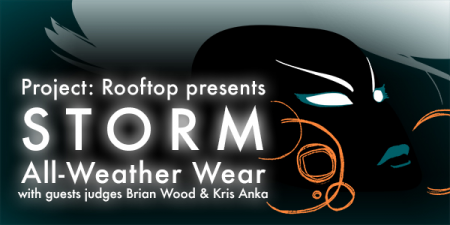 "As a writer, I often dream of having the artist's job of designing or re-designing a character's costume, because that's one of the coolest, most visible, and most challenging things you can add to the legacy of a character," says Wood. "So I look forward to judging the Project: Rooftop entries this time around, and with equal parts envy and admiration."
Anka, who has been featured on numerous occasions at Project: Rooftop and has won several previous redesign contests, recently redesigned Storm for the Uncanny X-Force title.
"Storm has the distinction of both being a street level woman, but with the personality and stature of a goddess. She is both a role model for her teammates, but is as flawed and human as the rest of them," Anka explains. "A successful Storm costume has to embrace all these facets of her character, or at the very least, be aware of them as they will inform all your decisions towards her."
Entries for Storm: All-Weather Wear should aim to create a new take on the hero that stays true to the character's concept and history and only revise their costume, as if your design was in the running to be used in current continuity. All entries must be received by September 13, 2013 at 5pm Eastern Time. As usual, check our guidelines, and save your submission as a .jpg, .,png or .gif with your full name as the file name. Send your submission as an attachment to projectrooftop@gmail.comwith the subject line being "Entry for Storm: All-Weather Wear," and make sure to include your name and website in the body of the e-mail.