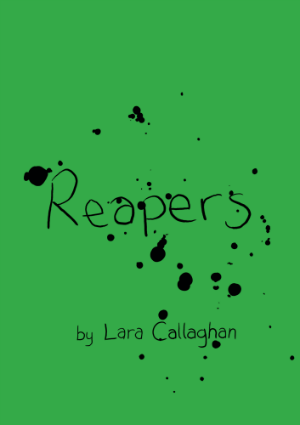 Lara Callaghan's work was previously mentioned briefly at Broken Frontier prior to last summer's Thought Bubble-debuting anthology Work, collecting the comics of the Work in Progress (WIP) group, a supportive collective of creators who have monthly London meet-ups (you can read more about them in this blog piece by group co-ordinator Joe Stone here at Broken Frontier).
Reapers is Callaghan's first self-published comics offering – a black comedy that depicts what happens when house plants decide they've finally had enough of their owners. Triffid, Prince, Window Bulb and Aloe Vera are all either co-occupants or inmates (depending on your perspective) of a small London flat. Triffid is resentful of their conditions, lack of watering and their pots being a dumping ground for half-finished cold cups of tea and unwanted glasses of wine. Other plants in the abode are wearily accepting of their fate but one moment of pure rage against their owner sets in motion events that will change all the plants' lives forever…
Callaghan's plot may perhaps be slight in concept but it contains a wealth of wittily observed character set pieces in a tradition of almost Hitchcockian bleak farce. Corpse-concealing antics with a flora-based slant, and plant characters who for all their unease with the world of people around them still have some very human traits, make for a richly comedic tale of consequences and events spiralling out of control. Her busy panels and packed pages give an extra edge to the frantic tension of the piece throughout, with the human characters' limited perspective emphasising that division between their two worlds.
It's the visual characterisation that really stands out here though. Callaghan's use of lettering is particularly important in adding extra layers to the cast's personalities, reflecting their emotions and quirks as much as their dialogue does. The motion of the plants, and their physical reactions to their environments and each other, is also vital in this regard. It lends them an anthropomorphic quality without the obvious route of giving them overtly human physical characteristics. It's subtle but clever, allowing the reader to empathise with them without losing sight of their slightly creepy floral otherness.
Reapers is a story of yearning for freedom and escape from personal confinement but it's also a splendidly ridiculous dark comedy at the same time. While there are the occasional moments where the evidence of a newer creator learning their craft is more obvious (particularly panels that are occasionally too dialogue heavy) that's far outweighed by the promise and the comic invention on display here. Callaghan's next comics venture will bear some close watching.
You can buy Reapers from the WIP Comics store here priced just £3.00.
For regular updates on all things small press follow Andy Oliver on Twitter here.
Review by Andy Oliver