In 'Covers Album' we ask comics creators, publishers and commentators to pick three of their favourite comic covers …but with a small twist. One must be chosen for aesthetic reasons, one for inspirational reasons and one for pure nostalgia!
This week we have three picks by illustrator and designer Ria Grix whose work has been published by Titan Books, The Evening Standard, The New Scientist, Star Trek Magazine and Aceville Publications. Ria is also one of our Gosh! Comics and Broken Frontier Drink and Draw regulars, producing amazing responses to our artistic prompts every fortnight. You can find links to Ria's website (full of amazing visuals!), webcomic and online stores here.
Inspirational Choice: THB Ashcan and THB #1 (1994) by Paul Pope (Horse Press)
Sometime in the dying years of the 20th Century the guy who ran my local comic book shop approached me, and said "here, these just came in, you like the more arty stuff, take a look at this, it's a bit different" and oh yes, very
much oh yes… it was quite a big bit different.
I was somewhere in the midst of my adventure through that chapter in my life called 'The Art College Years' and devoured these two issues immediately… metaphorically speaking, I still have them in a box in a room just metres away from where I'm sitting.
They arrived on the scene at a time when most American comics* seemed to have gone all 'Image-a-like' with glossy pages and even glossier boobs. And here was Paul Pope rolling into town using a brush and ink, like some kind of
artistic Toshirō Mifune character.
The covers just looked so real, with that slightly home cooked zine flavour. But not only did the art taste of freshly baked Art Pie, the world inside was just complete and fully formed, as if it had just been waiting for the reader to open the door and step in.
*obviously I don't mean Vertigo or Dark Horse… yes, yes, or Fantagraphics, but you know what I mean.
Aesthetic Choice: Correspondante de Guerre (2009) by Anne Nivat & Daphné Collignon (Soleil Productions)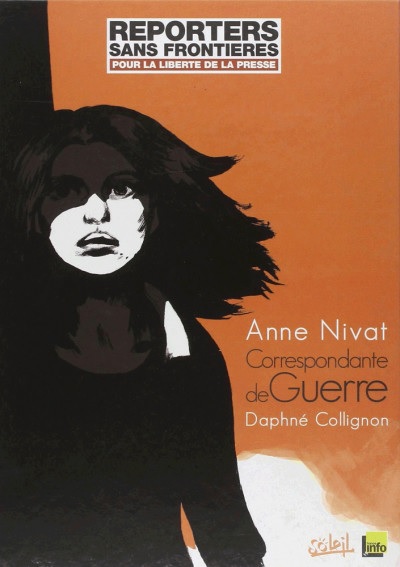 This choice could be any one of many French comics I've picked up over the years, Bastien Vivés' Dans Mes Yeux came in a close second.
Living closer to France than I do to London, it's pretty easy… well… it used to be pretty easy, to just get on the train, go to Paris for the day and mooch around the Comic Book Shops like Librairie Super Héros near the Pompidou
Centre (they have a few nice art galleries in Paris too).
The reason I know this is purely an aesthetic choice, is because I can't really read French. So when I'm buying books in Paris, I'm buying them purely because they're beautiful, and the French do publish beautiful books.
A bold cover with Daphné Collignon's simple dry brush work, with interiors that are just a stunning mixture of brush & ink with elements of collage and reportage photography.
Nostalgic Choice: Akira #1 (1988) by Otomo Katsuhiro (Epic Comics)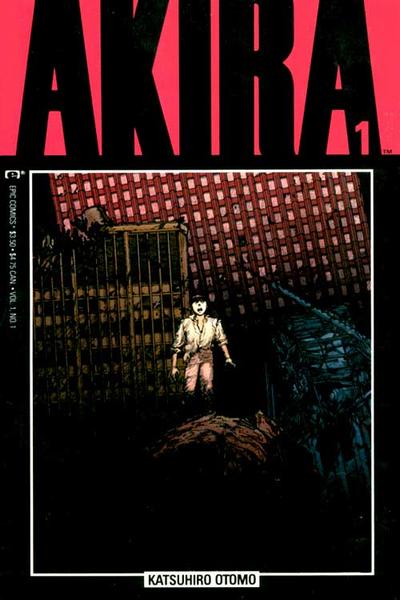 There I am, returning to school in September 1988 with an unusual spring in my step, I am holding a new comic book called Akira.
I had just bought it via mail order from a little comic shop on Denmark Street in London, called Forbidden Planet, which I'd only been to once and thought was a bit weird, because it was full of really old men buying comics… like 30-year-olds, or something.
I originally didn't know what it was going to be, but I had a bit of extra pocket money and thought it might have something to do with a film director called Akira Kurosawa who I'd just discovered in a Channel 4 season, and therefore thought it might have Samurai in it.
Most of all though, I was looking forward to showing my friend and artistic rival/hero Chang-Pang. They always returned from Hong Kong after the holidays with amazing comics to show me.
Comics…but they called them 'Manga' that had jet fighter planes, but then they were like robots, and they were in space. And they had millions of little lines zooming things from this side of the page, to that side of the page.
So at lunch time I got to see some new super bumper editions of Macross (which again, I couldn't actually read) and I showed them my Akira. It was like another level up from anything we'd seen before. Chang-Pang told me that the weirdly amazing colours were probably done on one of those things called a computer, but that just sounded crazy. How could one of those BBC Micros that we had in the school science lab, colour-in a comic book?
Read the full 'Covers Album' back catalogue here. If you're a comics creator, organiser, commentator or publisher and you'd like to take part in Covers Album contact us by e-mail here.