We always like to give a shout-out here at BF to projects by creators who have been associated with Broken Frontier in the past. Writer Cullen Bunn was not only a contributor to the Broken Frontier Anthology but also wrote the 'Writer of Wrongs' column for us way back in 2011 on the old BF site. Cullen has a new Oni Press series with Andy MacDonald and Nick Filardi launching in April which looks set to underline his established horror comics credentials even further. The full press release and cover preview are below.
ONI PRESS ANNOUNCES ROGUE PLANET, AN ALL-NEW SERIES FROM CULLEN BUNN AND ANDY MACDONALD
Harrow County Writer and NYC Mech Artist Team Up On a Brand New Slice of Horror Tinged Science Fiction This April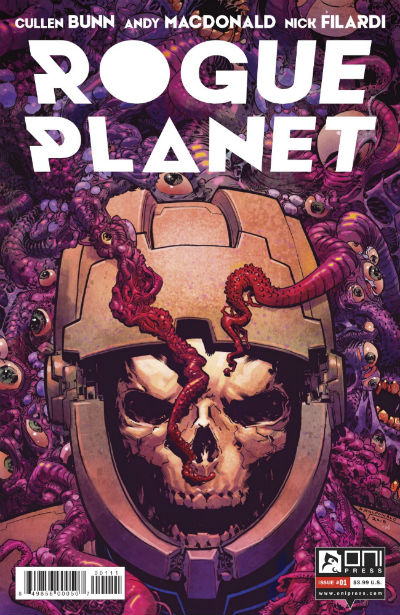 PORTLAND, OR: Cullen Bunn, who debuted some of his earliest work with Oni Press, and creator of such modern critical successes as Harrow County:
"Rogue Planet is a book I've been working on for quite a while, a sci-fi horror story that really digs into my roots as a horror fan" says co-creator and writer, Cullen Bunn. "I remember where I was sitting when I first wrote the title down–I was having coffee with my pal and frequent collaborator Brian Hurtt at Powell's Books–and I couldn't stop thinking about the possibilities. I spent a while kicking ideas around, and I came up with a chilling notion that I absolutely loved. It took a while to find the right artist, and I was so thrilled when Andy came on board to draw this title. I've been a fan of his work for so long. He really sold the hostility of the setting, the ghastliness of the horrors our intrepid heroes encounter. And then Nick took Andy's pages and told stories with the colors. I cannot wait for readers to see this book. There are terrors to be discovered and mysteries to be revealed, if you have the stomach for it."
Salvage vessel Cortes tracks the Lonely Orphan, a planet with no star system to call its own. Somewhere on this hostile rock is a payload fit for a king. To attain it, though, the crew of the Cortes must brave razor rock, poisonous vapors, treacherous footing, and… the most mind-numbing horrors imaginable. Something nightmarish is at work on Lonely Orphan. Something cruel. Something hungry.
Artist Andy MacDonald adds"Rogue Planet was an amazing opportunity for me to work with comic greats Cullen Bunn and Nick Filardi in the sci-fi horror genre that I truly love! It's also the most difficult project to work on due to bouts of mind-bending fright-paralysis induced from the countless horrors Cullen's spectacularly chilling script commanded I confront and draw. Stalwart champion of color and fearless comics comrade, Nick Filardi was there to bring beautiful and horrifyingly-vivid color to a project that I was too full of panicked dread to draw without peaking through one shaking hand!"
Rogue Planet #1 arrives in finer comic shops everywhere on April 1, 2020, and is currently available for order in the February dated Diamond PREVIEWS catalog. Reserve your copy with your local retailer now.
About the Creators:
Cullen Bunn is the writer of comic books such THE SIXTH GUN, SHADOW ROADS, THE DAMNED, HELHEIM, and THE TOOTH for Oni Press. He has also written titles including HARROW COUNTY (Dark Horse), UNCANNY X-MEN, and DEADPOOL AND THE MERCS FOR MONEY (Marvel).
Cullen claims to have worked as an Alien Autopsy Specialist, Rodeo Clown, Pro Wrestling Manager, and Sasquatch Wrangler. He has fought for his life against mountain lions and performed on stage as the World's Youngest Hypnotist. Buy him a drink sometime, and he'll tell you all about it.
His website is www.cullenbunn.com.
Twitter: @cullenbunn
Andy MacDonald is a veteran comic book artist who has worked with virtually every major comic book publishing house. He likes making comics and doesn't have time to go on the epic quest this magic ring he found is compelling him to go on. He lives in an orbiting sentient space station with multiple personalities. You can follow him on twitter via @andymacdeez.