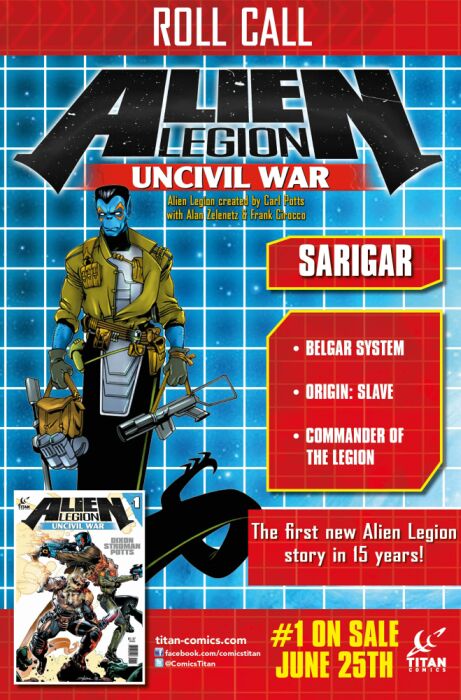 The new Alien Legion series from Titan Comics debuts this week from the team of Dixon, Stroman and Potts.
Alien Legion: Uncivil War #1
Writer: Chuck Dixon
Artists: Larry Stroman & Carl Potts
Colorist: Tom Mason
32pp
$3.99
On Sale: 25th June 2014
THE CLASSIC SERIES RETURNS, BLASTING ITS WAY INTO AN ALL-NEW BATTLE-SCARED, LASER-RAVAGED ADVENTURE!!!
In a galaxy savaged by strife, torn by civil war, boiling with spilt blood, Alien Legion is a cosmic military force doing its damnedest to keep the peace by being always ready for war. 
At the tip of the Legion's multi-species spear is Force Nomad – the worst of the worst fashioned on the white-hot forge of battle into the best of the best. Now the squad's grizzled veterans are on what should be a boring milk run; shepherding refugees fleeing a civil war ripping apart their system. Could be a good chance to to toughen the newbies of Nomad into soldiers… until straight-up peacekeeping descends into full-scale war!
This brand-new series brings together the creative giants behind the legendary original Alien Legion stories: Chuck Dixon (Punisher War Journal, Savage Sword of Conan, Batman and the Outsider) and Carl Potts, with fantastic art by Larry Stroman! 
A must-have for any fan of the original run, this is also the perfect point for new fans to hit Alien Legion's hot LZ! Get to it, ya damn bospors!