A SAFARI FESTIVAL TIE-IN!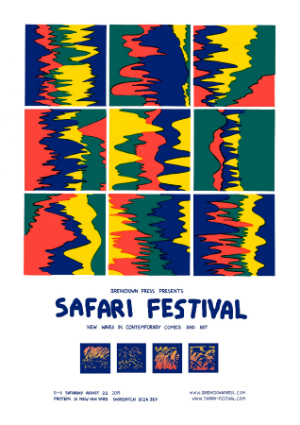 "Breakdown Press have been steadily developing a deserved reputation for publishing comics with a distinctive vision and philosophy." – Broken Frontier Mutiny Bay review
It's the second coming of Breakdown Press's Safari Festival on August 22nd and we're joining in with this celebration of the "new waves in contemporary comics and art" over the next fortnight at Broken Frontier. Each day we'll also be shining a spotlight on the work on exhibitors who have had consistent coverage here at BF in the past.
Today, appropriately enough, we're taking a look back at a handful of Broken Frontier reviews of books from festival organisers Breakdown Press. Breakdown have been steadily building up a hugely impressive back catalogue of work over the last year or so whether it be, as they say, the "cutting edge work of new cartoonists or undiscovered classics of the past."
With work from Lando, Antoine Cossé, Inés Estrada, Joe Kessler, Michael DeForge, Connor Willumsen and Conor Stechschulte sitting alongside manga classics from the likes of Seiichi Hayashi and Masahiko Matsumoto, there's no hyerbolic fluster in bluntly stating that Breakdown Press have quickly become one of the most important new voices on the UK publishing scene.
Review – Mutiny Bay

A historical drama with profound psychological undercurrents, Mutiny Bay is set around Easter 1520 as Portuguese explorer Ferdinand Magellan's Spanish backed expedition to discover a South American route to the Spice Islands has come to a standstill in readiness for the winter. Part period set piece and part unsettling character analysis, Antoine Cossé fleshes out the bare bones of historical fact in Mutiny Bay, creating a lingering narrative that, through its focus on a mere handful of the players involved, is replete with reflections on human frailties and characters consumed by their own failures.
Read Andy Oliver's full review here… 
Review – Sindicalismo 89

An account of life in a bustling Mexican apartment building, Sindicalismo 89 is a curious mix of slacker comedy, social commentary and sudden, brutal pathos. Inés Estrada builds up the audience's interest in her characters by revealing information about them in increments, emphasising how the inhabitants are never fully aware of how profoundly their existences touch each others in small but significant ways. This is subtly underlined in the transitions between scenes which melt in and out of each of the cast's individual but interconnected realities.
Read Andy Oliver's full review here… 
Review – Gardens of Glass

Gardens of Glass – Lando's retrospective collection of short story strips from the last few years of Decadence Comics – explores "ideas of human existence beyond the Anthropocene Epoch" or, if you'd prefer it in blunter parlance, life in a post-apocalyptic world after we, as a species, have stopped having any significant influence on the planet. For the uninitiated, Lando's work may visually evoke certain strands of influential European comics and manga but his brand of science fiction is a nuanced affair that exists on levels far more complex than mere superficial homage. The cross-media influences on his comics will be quickly apparent to any reader even casually versed in storytelling focused on dystopian futures, yet it's the deeper, embedded layers that have ensured his place as a vitally important voice in UK small press publishing over the last few years.
Read Andy Oliver's full review here… 
Review – Generous Bosom Part One

Without a lot of fuss, the London-based boutique publisher Breakdown Press has established a firm reputation for producing books of the highest quality, in terms of both content and production. Their latest title represents something of a coup: the 70-page first issue of Generous Bosom marks the opening installment of what looks set to be a major work from rising star Conor Stechschulte, whose frenetic, bleak and enigmatic graphic novel The Amateurs was published to some acclaim last year by Fantagraphics.
Read Tom Murphy's full review here…
Sample pages from Antoine Cossé's NWAI and Joe Kessler's Windowpane 2
Sample art from Masahiko Matsumoto's The Man Next Door and Michael DeForge's On Topics
For more on Breakdown Press visit their site here and their online store here.
For regular updates on all things small press follow Andy Oliver on Twitter here.