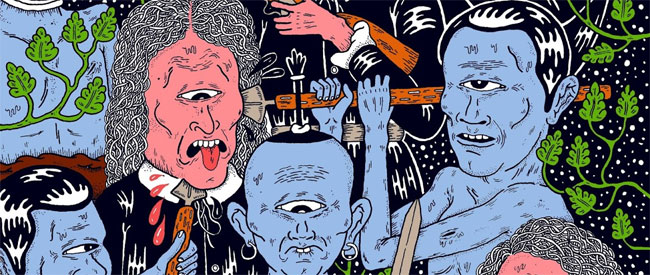 A SAFARI FESTIVAL TIE-IN!
Now I'm as keen as anyone to get comics to a wider readership, but while it's great to see the form, ahem, representin' in fancy bookshops and broadsheet arts sections, there's still a little bit of me that doesn't want to see comics become totally respectable.
As you've probably worked out from the spelling, EyeBall Comix, founded by cartoonist Paul Arscott, swerves the influence of public-transport-friendly "Waitrose comics" to draw on the transgressive, taboo-challenging legacy of the underground era.
Having started as part of the busy Bristol zine scene, EyeBall is now an established presence on the small press scene, with four issues of its flagship anthology and a range of other individual titles under its belt. For the second year, it will also have a table at the Safari Festival in London on August 22.
As quickly becomes apparent when you read an EyeBall book, Arscott has no fear of being something of an outlier in the small-press comics world.
"I want to print something that upsets people," he told Broken Frontier. "I don't want to offend people, but I want it to be upsetting and I suppose people who are drawn to visions of the morbid and violent are always few and far between.
"EyeBall is an old-fashioned underground-style comic, so that could have something to do with it being a distinctive taste, like how only a few people like eating jellied eels"
If that's whetted your appetite, what can you expect to find on the EyeBall Comix menu at Safari?
EyeBall Comix #4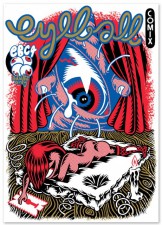 Behind a nicely reproduced cover by Matthew Desjardins, the latest issue of the anthology epitomises the subversive EyeBall ethos. Indeed, the first story, 'Those Two Little Shits' by Aidan Cook, is a gleeful and energetic nine-page rampage through the barriers of taboo: "That's right, amigo – filth and vice is the name of the game!"
Elsewhere in the issue, 'My Eyes' (Sam Bell) is a dose of strongly rendered hallucinogenic body horror, while 'One Man's Journey' (Mike O'Shea) explores similar themes with a more clean-line approach. Meanwhile, Becky Barncoat's 'Heidi' offers an uncomfortably intimate examination of plastic surgery, and Mexican artist Abraham Diaz provides a claustrophobic and disturbing episode of urban life in 'The Witness'.
Coma Deep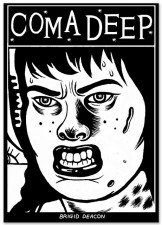 Another contributor to EyeBall Comix #4, Brigid Deacon writes her own book of shadows in Coma Deep, a collection of interweaving tales and fragments delivered in her confident chiaroscuro style.
The strips flow into each other like the elements of a dream, with a mix of abstraction and uneasy physicality suggesting gooey body horror and psychosexual explorations. With its structure of a comic within a comic, it becomes a dark, immersive experience.
BF editor-in-chief Andy Oliver reviewed Coma Deep earlier in the year, concluding that, "If casual narrative ambiguity is not something you wish to engage with you're probably best steering clear. But for the more adventurous reader there's something inescapably entrancing about the experimental approach of these 32 A4 pages."
Cereal Dayz (#1 & 2)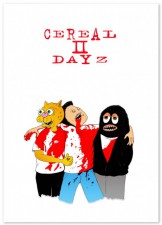 The two issues of Cereal Dayz, by Paul Arscott, offer what looks at first like a strange brew of adolescent slice-of-life and anthropomorphics. Its main thread – 'Chumps' – follows the misadventures of the main character and his friends (including Clovis the Cat, Bee Man and Metal Mutt) as they negotiate the teenage netherworld of driving lessons, parties, skateboarding and smoking too much dope.
Arscott's busy pages hum with spontaneous, chaotic energy, but for all the extremity of the action, there's a lot here that will ring a bell for anyone who grew up having to make their own entertainment in a dull provincial town.
White Space (#1 & 2)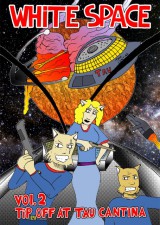 Also across two issues (so far), Barry Cook's White Space is fuelled by narrative drive and enthusiasm rather than glossy craft and polish. It offers more anthropomorphics, this time in the context of freewheeling space-operatic high-jinks, as cool cats Marv and Morley of the Star Ship Walrus hit the galactic highway in search of Morley's abducted love interest Mel.
Cook's artwork has a rough and ready style, but he uses tones deftly to create a grounded environment that anchors the pages very effectively. His enthusiasm for the genre sweeps the reader along, and there's something undeniably enjoyable about the book's spontaneity, humorous tone and fast-forward action.
So what's next for EyeBall Comix? "I'm trying to finish the first part of a horror manga-inspired comic in time for Safari, called Death Rattle," Arscott told us. "It's an idea I had ages ago and thought I might as well use Safari as a deadline to work to. I was going to draw it from right to left but I thought that might be too pretentious.
"After the summer I want to start putting together EyeBall Comix #5. Hopefully I can get Abe Diaz to do another strip for it, and I want to get Anna Haifisch to do something too – they're my two favourite artists around right now. I have also been talking to Vincent Fritz about maybe publishing his work, which would be interesting and a bit different for EyeBall."
If you can't make it to Safari, all of the above are available at the EyeBall website, where you can also read the out-of-print earlier editions of EyeBall Comix.