THOUGHT BUBBLE 2023! Or more accurately perhaps, Thought Bubble 2024. Launching today on Kickstarter Secrets of the Majestic is an anthology that takes the expansive interiors of the gents' toilets at the Majestic Hotel as its starting point. With a cracking line-up of indie talent involved this looks like it's going to be a lot of fun. Check out the press release below ad get backing!
"Have you seen the men's toilets at the Majestic..?"
SECRETS OF THE MAJESTIC is an upcoming 76-page comics anthology centred around the (outrageously opulent and palatial) men's toilets of the Majestic hotel in Harrogate, the location of the Thought Bubble UK Comic Festival's convention party.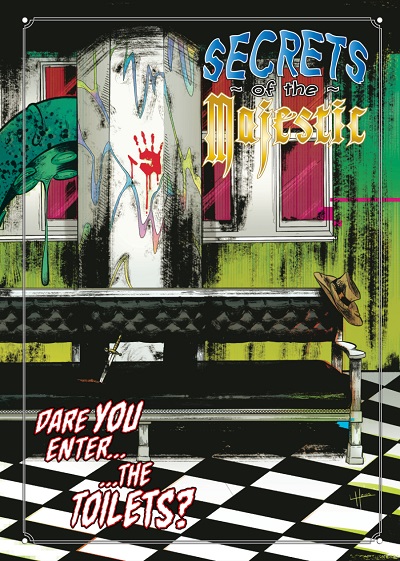 The toilets have become an urban legend due to their vast size and grandeur, the site of many a comic creators group photo, and this anthology seeks to (jokingly) answer the question: why are they like that? What purpose could they serve?
The anthology, which is being co-edited by Chris Mole (Brigantia, The Black Rubric, Professor Elemental Comics) and Gary Moloney (Limit Break Comics) will contain short stories from a blockbuster list of comic creators from across the small press scene, with a real mix of established and emerging talent sandwiched between a framing story by comics legend Kieron Gillen (Marvel Comics, DIE, The Wicked + The Divine) and Benjamin AE Filby (TOMB series, Lad).
Notable creators include Tula Lotay (Image, 2000AD, DC Comics and founder of Thought Bubble), Laura Helsby (2000AD, AWBW), Rik Worth, Jordan Collver & Owen Watts (Eisner-nominated creators of Hocus Pocus), Chris Wildgoose (DC Comics, artist of The Hunger & The Dusk with G. Willow Wilson), Dave Cook (Killtopia), Fraser Campbell (Alex Automatic, THE BERG) and Sammy Ward (one of Broken Frontier's "6 to Watch" for 2022).
Pin-ups will be provided by Liana Kangas (Trve Kvlt, Know Your Station), Matt Simmons (Bastard Galaxia, Future Egg) and Erika Price (Disorder, Ursula).
The wraparound cover for the anthology was produced by Laura Helsby with colours by Dearbhla Kelly. The campaign will run from November 1st through to December 1st on Kickstarter.
Creative teams:
Writer
Artist
Laura Jones
Tula Lotay
Kieron Gillen
Benjamin AE Filby
Dave Cook
Laura Helsby w/ JP Jordan
Rik Worth
Jordan Collver w/ Owen Watts
Adlai McCook
Gavin Mitchell
Asa Wheatley
Sammy Ward
Rob Jones
Sam Gaffer
Paul Carroll
Lane Lloyd
Chris Mole
Chris Wildgoose
Aaron Thompson
Daniel Bell
Aaron Eamer
David Cousens
Fraser Campbell
Craig Munro
Rob Luckett
James Lawrence
Ria Grix
Rob Burton
Sarah Peploe w/ George Joy
Mark Granger
Liam 'Pais' Hill
Umar Ditta
Paul Tonner
Matt Hardy
Jon Scott w/ Rob Jones