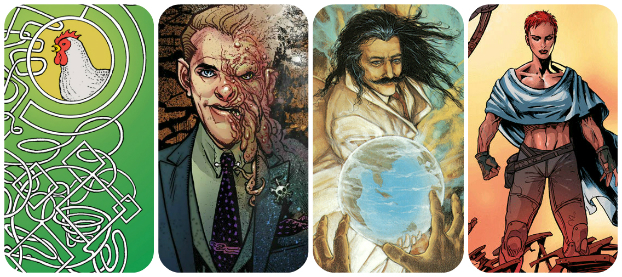 It's nearly Wednesday, and you know what that means: a fresh load of comics and graphic novels! With so many publications hitting your local comics store or digital storefront, the BF staff is here to lead you through the woods with our weekly staff picks. Satisfaction guaranteed!
Comic of the Week
Seekers into the Mystery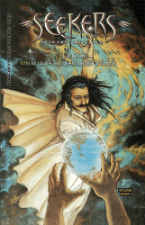 It may be two decades old but this first ever compilation of J.M. DeMatteis's '90s series was an easy choice as our 'Comic of the Week' this week. Firstly because it represents the deeply spiritual storytelling that is such an intrinsic thematic part of some of DeMatteis's best work and, secondly, because of its stunning line-up of artistic collaborators. They include no less a list of comics luminaries as Glenn Barr, Jon J. Muth, Jill Thompson and Michael Zulli.
The book recounts the story of Lucas Hart, a tormented and failing screenwriter, and his quest to find the magician key to the human race's salvation. Originally published by DC's Vertigo imprint, Seekers into the Mystery inexplicably never found the audience it deserved back in the mid-Nineties. It's collected here by Dover Publications who have done such a cracking job of bringing long out of print comics classics to new audiences over the last few years. Expect a Broken Frontier review in the not too distant future.
J.M DeMatteis (W), Glenn Barr, Jon J. Muth, Jill Thompson and Michael Zulli (A) • Dover Publications, $34.95
– Andy Oliver
Farmer Ned's Comics Barn
An enigmatic talent known for his absurdist comics with their densely packed panels, Gerald Jablonski takes his time between offerings. And that's just fine because his dizzying page layouts that are often based on very basic comics construction are overloaded with witty dialogue balloons that simultaneously let you in on the gag and poke fun at the human condition.
Fantagraphics Books is releasing his latest work, Farmer Ned's Comics Barn this week. From the publisher, "Finally, what the world has been waiting for—a big, oversized collection of Gerald Jablonski's psychedelically underground, absurdly avant-garde comics!" The book will also contain an interview with Fantagraphics publisher Gary Groth. I don't know how Groth got Jablonski to agree to an interview, and I don't care, it's Jablonski's first print interview. I have no doubt that it will be a fascinating discussion.
If underground comics are your thing, this is a book not to be missed.
Gerald Jablonski (W/A) • Fantagraphics Books, $30.00
– Karen O'Brien
Blood Blister #1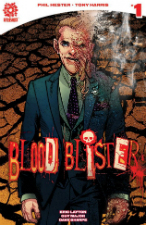 Out this week from Aftershock Comics is a gruesome new creator-owned series from the minds of Phil Hester (Shipwreck) and Tony Harris (Ex Machina). Following the horrific exploits of a morally-stunted man named Brand Hull, Blood Blister explores a terrifying supernatural world where your sins present as grotesque physical deformity.
A successful lawyer specializing in class action suits, Hull tends to play fast and loose with his clients' well-being. Ruled by his insatiable hunger for greater heights of success, Hull's sins begin to manifest physically as a massive growth that covers half of his body. A visceral, masterfully told cautionary tale that recalls the cult UK film How to Get Ahead in Advertising, Blood Blisters powerfully resonates in world where personal gratification and getting a leg up on the next guy is increasingly more important than common decency.
Phil Hester (W), Tony Harris (A) • Aftershock Comics, $3.99
– Jason Wilkins
Planetoid: Praxis #1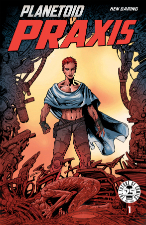 In 2012, Ken Garing broke onto the scene with the original Planetoid miniseries (originally published on the late Graphic.ly digital comics platform before being acquired by Image). Inspired by the expansive work of artists such as Moebius, Nicolas de Crecy, and Tsutomo Nihei, Garing introduced us to an intricate, fascinating sci-fi world that left many readers (myself included) wanting more.
Garing's been relatively quiet over the past five years apart from a Vertigo short with Joe Keatinge and a couple of issues of Teenage Mutant Ninja Turtles from IDW, which makes his return to Planetoid even more of a delight. Planetoid: Praxis follows Onica (a supporting cast member in the original series) as the settlement she fought to create faces a new threat. Expect a thoughtful slow burn with breathtaking art in this standalone sequel.
Ken Garing (W/A) • Image Comics, $3.99
– Paul Mirek
The Sheriff of Babylon Volume 2: Pow, Pow, Pow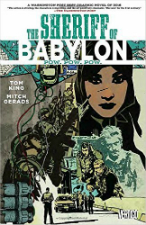 2016 was a great year for comics so it's good to see some of the highlights rolling into 2017. This includes the 2016 Broken Frontier Award winner for best writer, Tom King and the series that was based on his real-life experiences as a CIA operative in Iraq. He and artist Mitch Gerads deliver this war-time thriller set after the fall of Saddam Hussein where military contractor Chris Henry is tasked with training the new Iraqi police force.
In this second story arc, Henry continues to search for the truth behind the recent murders with the help of Sofia, an American-born Iraqi. Meanwhile, his friend Nassir stands accused and is in the hands of the men who may have been responsible for all of it. What they want from him is unclear, but it's a payment they intend to take in blood.
Tom King (W),  Mitch Gerads (A) • DC/Vertigo, $16.99
– Tyler Chin-Tanner

Dead Singers Society Volume 3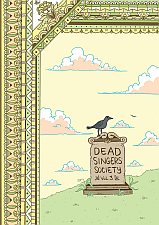 Micropublishers Good Comics – fresh from their successful Autumn launches at Thought Bubble – return this week with the third volume of their popular zine-style anthology of shorts on the lives of deceased singing stars and how their work touched the creators involved.
Particular highlights this time around include Broken Frontier Award-nominated creator Wallis Eates's dreamy tribute to David Bowie, a stunningly effective piece of visual articulacy from Sammy Borras on Arthur Russell, and Paddy Johnston's topical commentary on Adam Yauch of the Beastie Boys.
Other creators involved include Mike Medaglia, BF Breakout Talent Award winner Rozi Hathaway, Elizabeth Querstret, Tim Bird and Rica March. With Good Comics set to publish books from BF-featured artists Hathaway and Olivia Sullivan this year they're a force to be reckoned with in 2017. Dead Singers Society Volume 3 debuts at this weekend's Cheltenham True Believers Con and is available to pre-order online here.
Anthology – Various creators • Good Comics, £5.00
– Andy Oliver