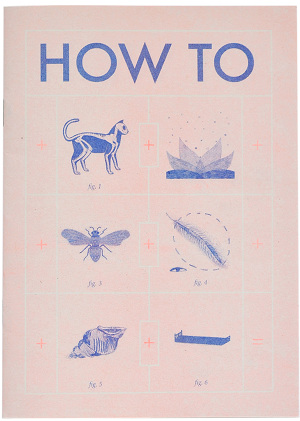 ELCAF FORTNIGHT! 
As part of our very special ELCAF Fortnight interview series, we caught up with Gitanjali Iyer, who makes up one sixth of Sesame Drawing Club. A collective of diverse, female visual artists based in London, Sesame capture ELCAF's ethos of community and inclusion, and will be tabling throughout the weekend, bringing with them a selection of collaborative and individual books and prints. Here's what Gitanjali told us about the group's values, styles, and collective output. 
BROKEN FRONTIER: Firstly, can you tell us who you are and a little about your respective backgrounds?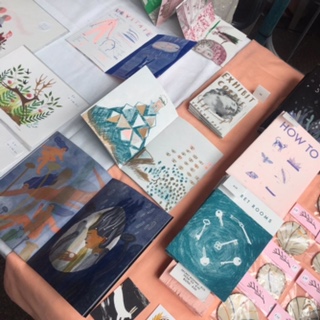 GITANJALI IYER: We're a six member team who met while studying at the University of Arts London. Hannah [Redpath] is Scottish, Georgie [McAusland] is English as is Francesca [Mclean], Anja [Sušanj] is Croatian, [I am] from India and Hammer [Chen] from China. We've studied very different subjects in the past, from animation to printmaking to visual communication, and have found our mutual source of inspiration through collaborating within the printed/book format, melding our individual interests together in that way. Making anything physical is very important to us, because it really lends to our love for printmaking, drawing, collecting and displaying our individual styles in one place.  
BF: How did SDC first come about?  
IYER: While we were getting through the tail end of our course, Georgie brought up wanting to find a core to collaborate with for a small book project, and that just sort of grew from there. We then thought about keeping that going and producing work together as a group, experimenting and travelling with our work, having it be displayed wherever possible, since we're so spread across the globe!  
BF: What are your values and goals as a collective? What unites the artists under the SDC umbrella?  
IYER: We just want to make work that's interesting and fun, not to take ourselves too seriously, and to inspire each other; we value each other's work individually and spur each other on. Illustration is our common denominator, and producing communicative images will always be our priority. We believe in cultivating a space where we can make honest work without pressure, [and can] experiment and learn to navigate as a team. We like to play with words and concepts, seeing how each of us interprets and takes them on.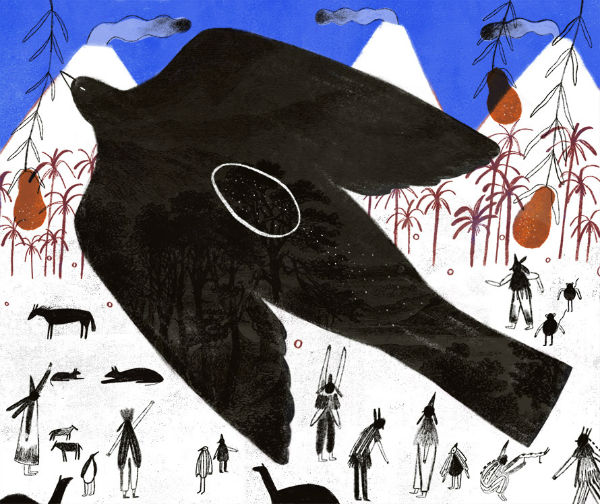 Art by Gitanjali Iyer
BF: What are the benefits of coming together, versus working independently?
IYER: Building a community, especially a community of women artists, being inspired when you need that little boost, having a team dip in an out of your illustration project, helps keep things fresh and motivates you to do better and open up. We sometimes disappear for a few months fully immersed in our individual projects, but pop back up to collaborate and discuss ideas.  
It also helps us put more of our work out there. Whether it's doing shows or tabling at ELCAF and other fairs, it helps when you have a core objective, and accordingly are able to produce work that you otherwise might not have been able to. It opens up more avenues to have your work out there for more people to consume.  
We have two risographed zines we made last year, Secret Rooms and How To. For the future we want to make a more structured series of books that we can publish every year.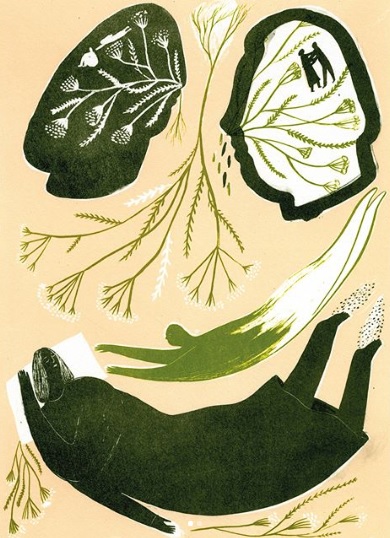 Art by Georgie McAusland
BF: Does Sesame Drawing Club have a particular visual style?  

IYER: We combine our work with common colour and medium (oftentimes it's been the magnificent texture of the risograph), but we deliberately want to keep ourselves separate because our styles are different and we feel it's important to display the diversity as well as not limit ourselves to working a certain way. We find great joy in the many shapes and forms an illustration can take and progress alongside one another. 
Both our zines, Secret Rooms and How To, take on very different visual styles and ideas, with having one single theme run through the book. Hannah is a ceramist also, and Hammer is a fine artist in some ways, and all of these different interests play into what the end illustration looks like.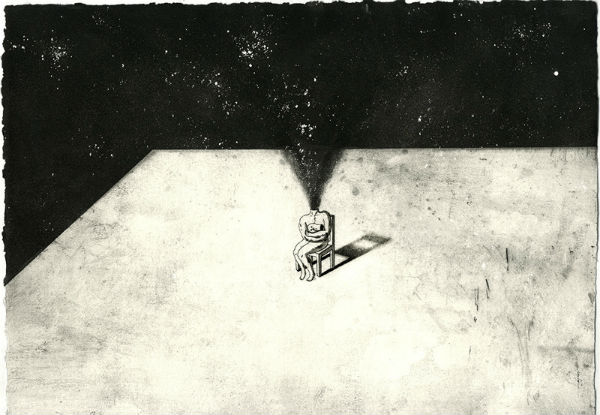 Art by Hammer Chen
BF: Who are some of your comics and illustration idols?  
IYER: We love so many contemporary illustrators. Jillian Tamaki, Isabelle Arsenault, Velerio Vidali, Lee Lai, Charlotte Dumortier, Kelsey Wroten, Ana Pez, Lynda Barry, Matthew the Horse, Laura Carlin, Mark Hearld, Enid Marx, Clive Hicks Jenkins, Chris Brown… Picture books are a huge inspo for some of us; Tara Books and Enchanted Lion Books are so great, and we also love vintage illustration in picture books (etchings and litho). 
BF: What is your advice for aspiring creators?  
IYER: Keep making work. If you have ideas, take the time to develop them, be open to collaborations, induce a sense of play with it and make work you would like to buy!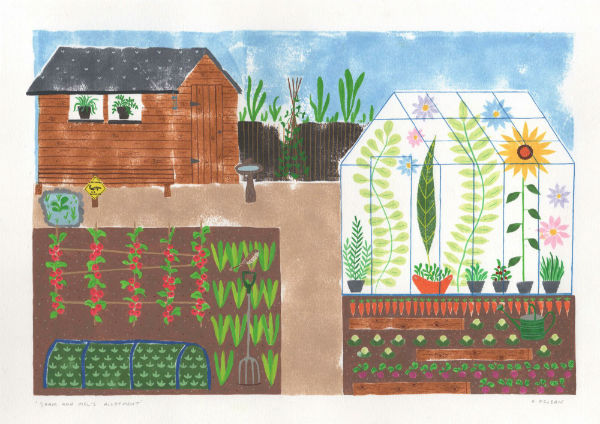 Art by Francesca Mclean
BF: What will you be bringing with you to this year's ELCAF?  
IYER: We will have both new work (a couple of new zines) and some of our previous editions, both collaborative and individual small books and prints!  
BF: What makes ELCAF unique, and why should people visit the festival?  
IYER: It really truly brings the whole comics-making community, not just in London but from around the world, together under one roof to geek out on books and narrative art. I love the sheer variety of stalls there, from small self-publishers to established independent printing presses. It's a lovely amalgamation of diverse work. We also love how accessible it is, really catered to making independent work reach the people, through workshops and talks.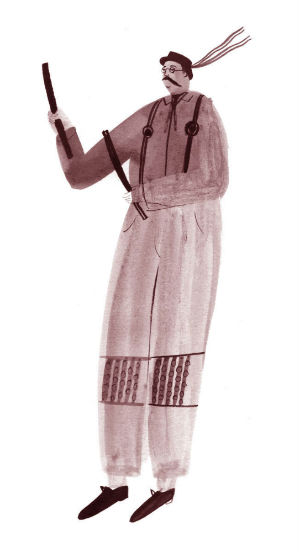 Art by Georgie McAusland
BF: Who else's work are you most looking forward to seeing?  
IYER: Just really everyone! All the new stuff debuting at ELCAF by small press – Design for Today, DE Press. Sofia Niazi, Nick White. Discovering all the new talents! Meeting some familiar faces and seeing their new work. Spending all the money on picture books. Planeta Tangerina is a nice surprise we're looking forward to seeing! 
BF: Other than ELCAF, what else do you have coming up as a group?   
IYER: We are in the process of making a new book as well as a selection of prints! We also have a fair in Shanghai coming up soon. We're looking forward to discussing ideas, and getting into the whole process of book creation (and potentially crying over the printing deadlines/layouts.) 
Sesame Drawing Club will be exhibiting at ELCAF. For more on their work visit their site here. 
Catch up on all our ELCAF Fortnight articles to date here. ELCAF runs from June 22nd-24th. Full details on the ELCAF site here and you can also follow the festival on Twitter here.