Douglas Noble and Tom Oldham's Dark & Golden publishing imprint is owed more attention than we have given it to date. Shining a light in the largely forgotten or obscure corners of British comics publishing history, it debuted with the almost instant sell-out edition of Kevin O'Neill's Mek Memoirs last year and followed it up with Shuk & Doode, a short collection of Simon Harrison comics that ran in Computer and Video Games Monthly in the late '80s. It's a strip that I had certainly never heard of before and work that signifies how important the output of archival publishers like Dark & Golden is in providing a record of material that might otherwise fade away from memory.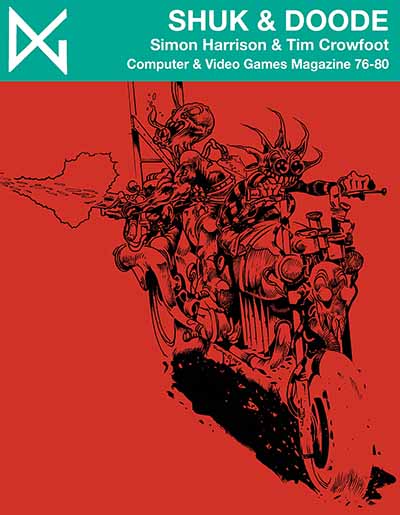 Harrison is one of those figures whose style I remember as being indicative of early '90s 2000 AD, where I first discovered his art on Bradley, Revere and Strontium Dog. Co-written by Harrison and Tim Crowfoot, Shuk & Doode lasted just five episodes in Computer and Video Games before coming to an abrupt halt. What's collected here, though, is a fascinating record of the early work of an artist who, for a few years was one of a new wave of 2000 AD creators, before seemingly disappearing from comics completely until more recently.
Shuk and Doode are two child-like demons whose escape from Hell is facilitated by a blundering stockbroker's experimentation with occult artefacts, resulting in his death and the partial destruction of the block of flats he lives in. With free rein to inflict their violent mischief on an unsuspecting London the duo run riot in the capital's streets, tube system and even a late night cinema screening. Meanwhile they are being pursued by the police, a mysterious supernatural order, and a cat burglar known as the Schrank Panther.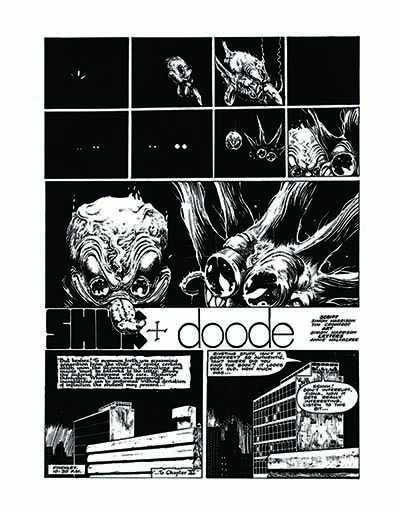 This collection is supplemented by an interview with Harrison where he freely admits that he and Crowfoot were making up the story as they went along, and while that's somewhat evident from the pacing and build-up of plot threads it doesn't detract from its greatest strength – the interaction of its two leads with a world they are unfamiliar with. Brutal demonic slapstick is always good value and there are echoes of Harrison's 2000 AD work on Bradley very much in evidence. While there are less than twenty pages of comics here it's interesting to speculate on where the story would have gone following the sudden cliffhanger it ends on.
It is, of course, very early Harrison, pre-Strontium Dog and Revere and representative of an artist still finding their voice and style. But Shuk & Doode still has a notable sense of kinetic energy, mayhem and wild abandon. It's highly atmospheric; a deep blackness permeating each page with malevolent glee and intricately rendered individual panels packed with detail. Admittedly dialogue is often overly expositional and on a number of occasions swamps pages to the point of distracting from the visuals but, again, it's in the antics of Shuk and Doode themselves where the strip shines.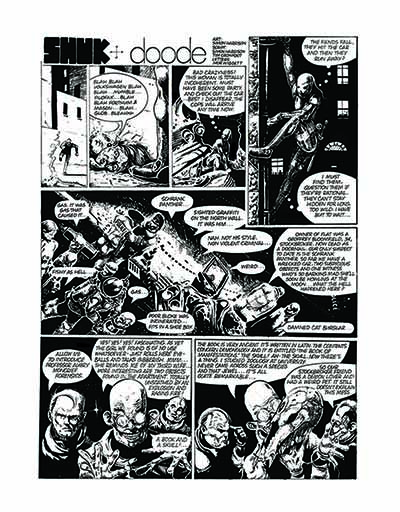 Also included here are an introductory essay by Noble and reproductions of letters from the magazine about the comic, including one that, memorably, angrily questions the suitability of the occult themes of the story. Its incomplete nature means that this may be fare more for those with an interest in comics history but this is undoubtedly a splendidly put-together compilation of comics, analysis and surrounding ephemera. Give Dark and Golden's emerging catalogue a look.
Simon Harrison & Tim Crowfoot (W), Simon Harrison (A), Ivor Wiggett & Annie Halfacree (L) • Dark & Golden, £8.00
Review by Andy Oliver