It's Tudor times and at Father Eglantine's monastery the eighth librarian to be employed has been discovered murdered; a fate already suffered by his seven predecessors. Only one woman can solve this mystery, the famous nun detective Sister Clawdetta. But when Clawdetta arrives she quickly ascertains that there is something more complex going on in the confines of the monks' home. Teaming up with the naïve young monk Anuncias she begins an investigation that will turn into a quest for a long-lost treasure, and the true reasons for the many murders in the monastery will be revealed…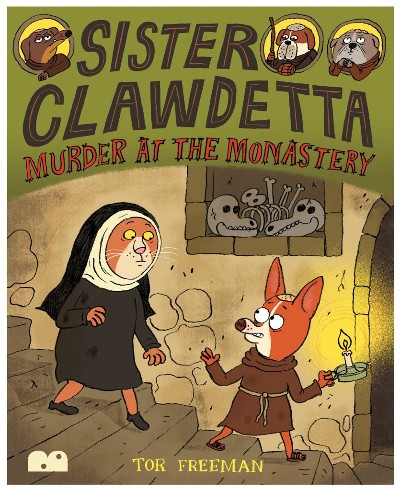 Tor Freeman's latest book Sister Clawdetta: Murder at the Monastery from kids-centric graphic novel publisher Bog-Eyed Books adopts the same irreverent tone and bustling pages as its predecessor Welcome to Oddleigh. It's one of those all-ages books that has plenty of wonderfully silly slapstick adventure for the younger reader but enough references for the older reader (Brother Subbuteo was a particular favourite) that they too can enjoy it on an altogether different level.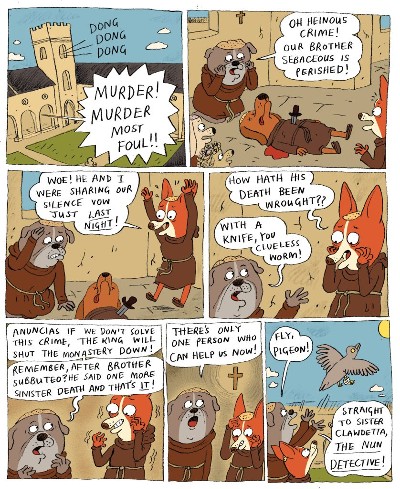 Freeman's line in appealing anthropomorphic animal mayhem is again well served by her quirky cartooning and an amusing line in sending up the conventions of a relatively niche sub-genre of the detective story. Notably, though, she never patronises her younger readers as Clawdetta and Anuncias find themselves facing elaborate tests and unlikely obstacles in their mission to solve the mystery of the original Saint Bernard's hidden treasure.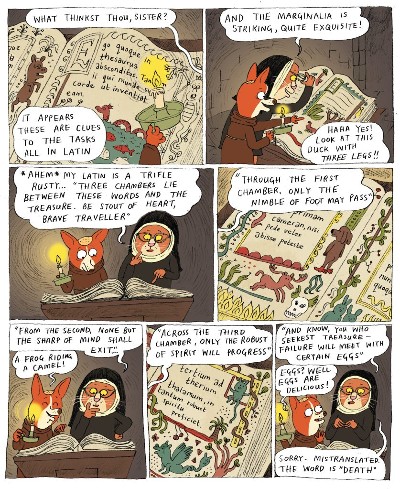 Canine-inspired plays on words abound and the back and forth dialogue between the characters is a sparkling delight. If there's perhaps one weakness is that some sidesteps into King Henry VIII's court begin a running gag that starts promisingly but then quickly fizzles out without really have the opportunity to make its mark. But as Sister Clawdetta: Murder at the Monastery seems set up as the first in a potential series there's plenty of scope for revisiting this in (fingers crossed) future volumes.
Gary Northfield's Bog-Eyed Books have a top back catalogue of all-ages material that, to a degree, seems to go overlooked. Parents with Beano and The Phoenix-loving offspring should check out their list of titles here. In the meantime there's a definite vote for more of Tor Freeman's Sister Clawdetta in future from this direction.
Tor Freeman (W/A) • Bog Eyed Books, £9.99
Review by Andy Oliver