As with just about every comics-related event in 2020 this year's UK and Ireland Small Press Day has moved online with a day of events on August 15th taking part across social media. We've been involved with Small Press Day as one of the event's co-organisers since the very beginning and we have a special exclusive Broken Frontier initiative on the day alongside all the other fun happening that Saturday!
The full list of what's happening and the hashtags you need to use are listed below and you can find lots of info on the Small Press Day site here. From a Broken Frontier perspective our Editor-in-Chief and UK small press comics specialist Andy Oliver will be spending the day sending out one-tweet reviews from the Broken Frontier Twitter account to promote as many of your small press comics as possible. He'll be online between 10am and 6pm reading and commenting on four-page selections of your work. Full details below (and the usual disclaimer that we reserve the right not to cover content that may be considered inappropriate or harmful to our community). We're looking forward to spending the day digitally with you all in August. See you all then!
Join us on Saturday 15th August for Small Press Day 2020 ONLINE!
At its heart SPD is about connecting small press artists and comic shops. This year we may have to be apart, but you can still take part and join us in celebrating and supporting our small press community – artists and shops alike.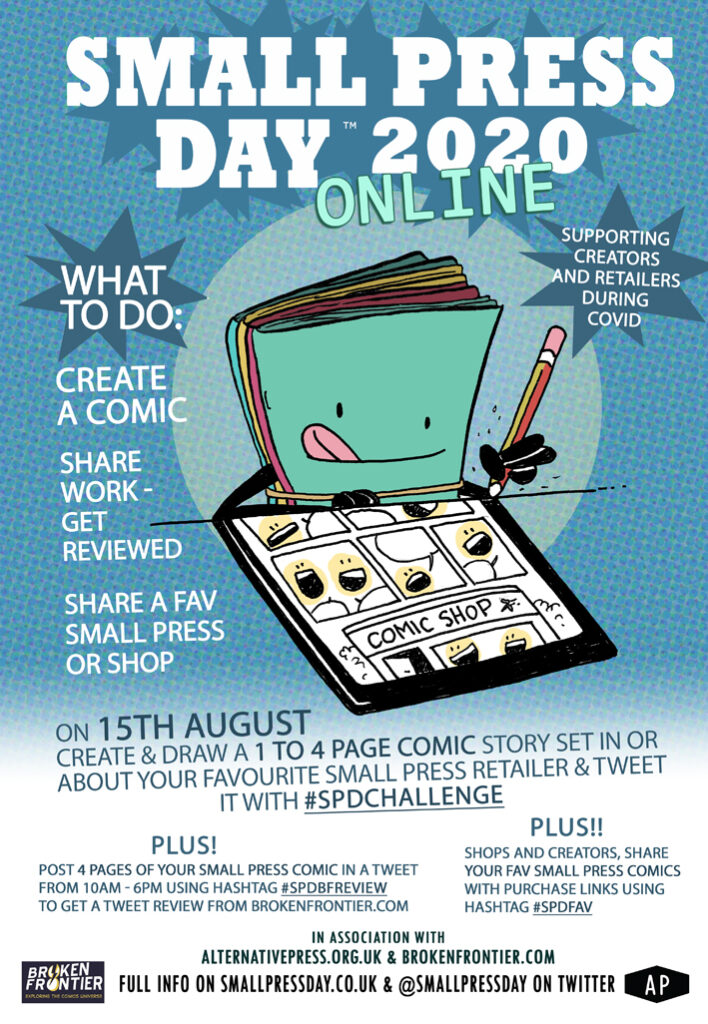 How to take part:
Draw a one to four page comic set in or about your small press retailer of choice and tweet it to us on Saturday 15th August with #SPDCHALLENGE
All comics, tall tales, odes, social commentary, and guest appearances from your very own small press characters welcome!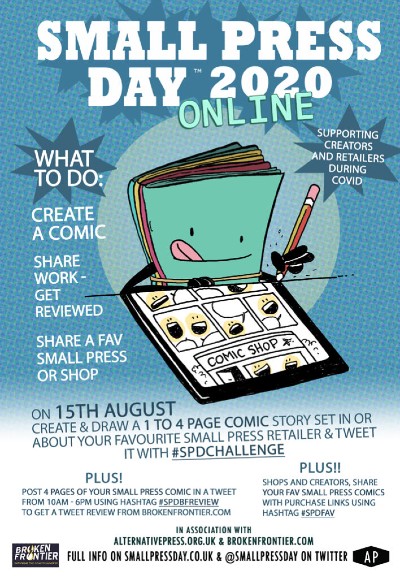 From 10am to 6pm, post four pages of your small press comic in one tweet with #SPDBFREVIEW to receive a one tweet review from Broken Frontier's Editor-in-Chief, Andy Oliver!
On Saturday 15th August, Andy will be by his laptop in his hat with his pencil ready to review self-published comics he's not reviewed before.
Choose four of your strongest pages of visual storytelling and tweet him with a link to your online store. Andy will then quote tweet in reply with a one tweet review of your comic from @brokenfroniter! Don't forget to include #SPDBFREVIEW
Shops and creators, share your fav small press comics with purchase links with #SPDFAV
Join us and take part  – and lets spread SPD love on Saturday 15th August!
Reminder: follow us on twitter and on instagram for the latest info and updates. See you 15th August x