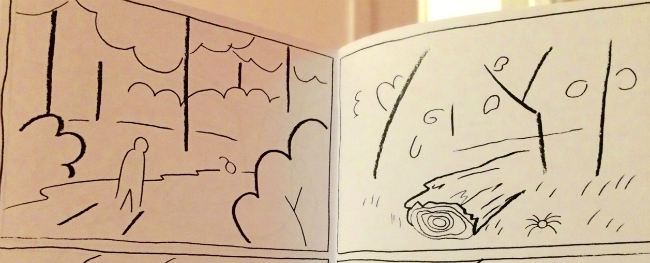 It's been a long time between editions of Smoo Comics. In fact Smoo #8 marks the first issue of Simon Moreton's psychogeographical autobio comics series since the summer of 2013. After that last entry, of course, Moreton's first full-length graphic novel Plans We Made from Grimalkin Press was both announced and successfully Kickstarted. Readers eager for more of the distinctive minimalism of the creator I once described here as "quite simply, one of the most important and intelligent creative voices in current U.K. small press comics" in that time could be forgiven for imagining that his attention was otherwise engaged on his longer-form work. But the events depicted in Smoo #8 add another layer of understanding to the gap between instalments, and also an inkling as to why he chose to wait before depicting this period of his life on the comics page.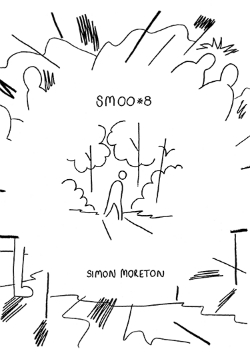 What occurs between the covers of Smoo #8 takes place between September 2013 and September 2014. It comprises a series of key moments told in five shorts that are isolated in their individual timeframes but, brought together, tell a larger story of personal transition. While Moreton's narrative structure for the issue had been planned for a while the actual process of drawing the 40-ish pages took place in around a week. Whether that rapid production rate contributed to the emotional immediacy of Moreton's on-page reflections is something I can only speculate on but, on so many levels, this is possibly the most affecting issue of the series to date.
The opening eight-pager brings us firmly into the artist's world, during his visit to SPX in 2013, with a melancholy meditation that more than hints at the major life changes ahead but with a sadness that is also tinged with acceptance and resignation. As we progress through the months, each vignette traces a pivotal moment in both the breakdown of Moreton's long-term relationship and his gradual emergence at the other end of this year-long journey. As ever, his fluid minimalism engages the reader's empathy with a stirring resonance that belies the need for overwrought exposition.
Simplicity and sophistication go hand in hand in a Simon Moreton comic and his facility for eliciting an emotional response in his readership through deft yet understated storytelling techniques is as pronounced as ever. The use of lettering as a narrative device to mirror the emotions and status quo involved as the bond between the couple finally unravels in the second story for example. Or the devastating central fold-out spread that emphasises solitude and helplessness as Moreton contemplates his situation by himself in a pub. The pure physical action of unfolding these pages to create an expanding perspective of a man ever more lost in a crowd exploits the tactile component of a print comic to its utmost. A remarkable moment in a remarkable comic.
All who appreciate what Simon Moreton has brought to UK comics over the last few years will have their own opinions as to which of his works most connect with them. That's not meant as a facile and self-evident comment but rather as an observation that the strength of so much of his material is that it echoes its audience's own life experiences, creating a shared bond between author and reader. It's my belief, though, that Smoo #8 is one of his most formidable offerings yet – a year of turbulence potently and unforgettably encapsulated in sequential shorthand.
In the final story, where new beginnings take centre stage, Moreton chooses to depict himself as a less ghostlike character on the page; slightly more defined in portrayal than is usual in Smoo. Whether visually that's a significant and deliberate decision to represent notions of release, catharsis and healing, or whether I am reading too much into a throwaway element is open to debate.
For my own part, though, I'd really like to think it were the former…
For more on the work of Simon Moreton visit his site here. Smoo Comics #8 is available from his online store here priced £3.00.
For regular updates on all things small press follow Andy Oliver on Twitter here.