It's almost Wednesday, and you know what that means: a fresh load of comics and graphic novels! With so many publications hitting your local comics store or digital storefront, the BF staff is here to lead you through the woods with our weekly staff picks. Satisfaction guaranteed.
Comic of the Week
Meteor Men
Of all the books Jeff Parker is currently writing, Batman '66 stands as the most critically acclaimed. It's on this feel-good retro book that Parker first teamed with artist Sandy Jarrell, but the pair go back for years. Meteor Men is their first full-length project together and first for Oni Press.
As fun as it is startling, the story revolves around 16 year-old orphan Alden Baylor, who owns a large piece of land on which a meteor has crashed. It doesn't take long for Alden to find out humans are not the only sentient species in the universe.
While Parker's script delivers a story that goes beyond what you'd expect from a typical alien encounter adventure — you know, with its overreacting policemen and soldiers and all that jazz — the real discovery of this book is Jarrell. His style has the same youthful exuberance also seen in the work of an artist like Chris Samnee. We all know how far that guy's meteor has soared since his early day.
Jeff Parker (W) Sandy Jarrell (A) • Oni Press, $19.99
– Frederik Hautain

The Complete Johnny Nemo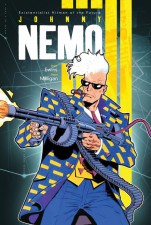 Listen… About 20 years ago, I owned the best pair of shoes I've ever had. (Bear with me.) They were huge and blue, but the thing I loved most about them was that they looked like something Johnny Nemo would wear…
If you're wondering who Johnny Nemo is, it's time to get schooled, courtesy of this hardback compilation. Created in the mid-1980s by Peter Milligan and his long-time creative partner Brett Ewins (the pair also collaborated on Bad Company for 2000 AD and the proto-Vertigo series Skreemer for DC), Johnny Nemo is an inventively foul-mouthed PI, plying his gruesome trade in the decadent, ultraviolent New London of 2921.
This collection mixes the writer's scurrilous wit and imagination with the eye for character and cityscapes that made Ewins one of the definitive Dredd artists. Brett Ewins has had health and other problems in recent years, but he remains an enormous influence on a generation of artists (Rufus Dayglo, Jock and Ashley Wood all contribute pages to this volume). It's great that some of his core work is going to reach a fresh new audience.
Peter Milligan (W), Brett Ewins (A) • Titan Comics, £16.99
– Tom Murphy
The Collector HC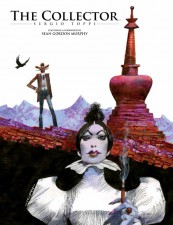 The longest-running original series by the late Italian master, Sergio Toppi, is translated into English for the first time since its debut (in Italian) in 1984.
As much as an art book as it is a comic, this oversized hardcover makes for the perfect way to soak in Toppi's perfectly constructed composition and beautifully rendered linework. It's easy to see why so many of top comic artists such as Walter Simonson, Bill Sienkiewicz and Dave McKean, were highly influenced by the work of Toppi.
Far from the auction halls of the elite, The Collector seeks out rare and mysterious artifacts across the world. He is at home in the salons of Paris as he is in the jungles of Borneo. Set against the backdrop of late 19th-century colonialism, The Collector is a delightful, swashbuckling adventure!
Sergio Toppi (W/A) • BOOM! Studios/Archaia, $34.99
– Tyler Chin-Tanner

Station 16 HC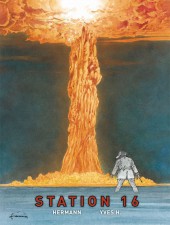 European legend Hermann Huppe has produced classic series like Comanche, Jeremiah and Bernard Prince. In more recent years he has turned to his son Yves as a writing partner and they have been producing graphic novels at a steady pace.
Station 16 by Hermann & Yves is their latest collaboration and is set amid the icy and desolate wastes of the Russian island Nova Zembla, most famous for being a (now abandoned) testing site for atomic bombs and for having the crater of the biggest hydrogen bomb known to man: Tsar Bomba. However, who knows what effect all those atoms being blasted into the sky have had on the local space-time continuum? The mystery unfolds and strange things are afoot.
Even though Hermann is over 75 years old, his art shines as bright as ever. His stunning watercolors are perfectly suited for the bleak environment of Nova Zembla and even though the story is basically an album-upgraded EC Comics twist ending, Station 16 is a perfect introduction to Hermann Huppe's legacy. If you want to know more, read a review of the album in our Crossing Borders column.
Yves Huppe (W), Hermann Huppe (A) • Dark Horse, $19.99
– Bart Croonenborghs

Doomboy
Comics featuring blond teenagers are at the top of my list this week. Like Alden Bayler in Meteor Men, Doomboy's D has not exactly been living in the spotlight until for him too something otherwordly happens.
When he straps on his guitar and starts playing heavy metal music for his girlfriend after her untimely death, D becomes a global rock star. No more hiding in the shadows.
Tony Sandoval's name won't ring a bell in the head of most American readers, but the Mexican artist residing in Berlin is fast becoming a sought-after talent on the Continental European scene. The talented scouts of Magnetic Press noticed the rising star and made this award-winning story part of their first wave of graphic novels.
You'll immediately fall in love with the powerful juxtaposition Sandoval conveys by drawing oversized heads on skinny bones and rendering everything in muted colors.
Tony Sandoval (W/A) • Magnetic Press, $24.99
– Frederik Hautain