Hermann Huppe is a legend of the European comics scene, having been responsible for such classic series as Comanche, Jeremiah and Bernard Prince, among others. In more recent years he has teamed up with his son Yves, and even though Hermann is over 75 years old, he seems to have no intention of enjoying his pension, continuing to put pen to paper in his usual productive way.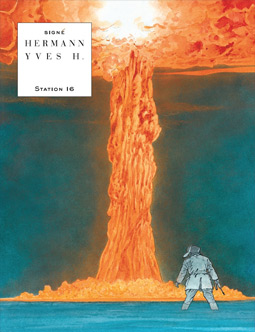 Station 16 is one of their many collaborations and is set amid the icy and desolate wastes of the Russian island Nova Zembla, most famous for being a (now abandoned) testing site for atomic bombs and for having the crater of the biggest hydrogen bomb known to man: Tsar Bomba. However, who knows what effect all those atoms being blasted into the sky have had on the local space-time continuum?
In 1997, when rookie Gregori is stationed in this godforsaken outpost, he and his comrades receive a strange signal from another outpost that should have been abandoned since the 1960s, and soon become entangled in a mystery involving time travel, zombie soldiers with hollow eyes, classified experiments and obsessed surgeons.
Part of publisher Lombard's Signé (signature) series of books, Station 16 is a beautifully crafted hardcover album executed in Hermann's trademark watercolour style, which lends itself perfectly to the icy wastes and desolate environment of the Barents Sea. This lack of background also allows Hermann to focus on the characters – a part of the comics craft at which he has always excelled.
So why is Station 16 less than compelling, with a particularly cliched resolution?
First of all, Station 16 suffers from the Star Trek syndrome: as the characters are developed, you soon know which ones are going to bite the dust. Secondly, time-travel stories are a dime a dozen these days, and the final page very much reads like the ending of a typical 1960s EC Comics story.
In fact, the whole album has the sensibility of The Twilight Zone and horror classics like John Carpenters's The Thing or The Fog, with a dash of The Blair Witch Project for that extra tension. But for its 64 pages, it is a surprisingly light read. Yves Huppe leaves the cast severely underdeveloped, and if there's one thing that separates a good horror story from a bad one, it's the cast. You just can't get by on mystery and terror alone.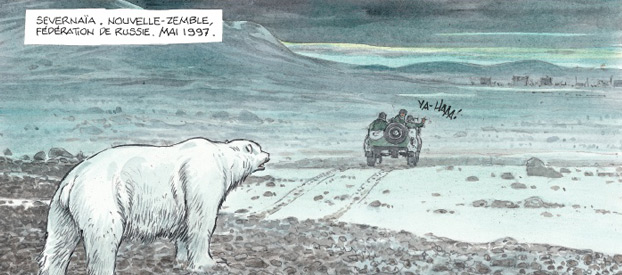 As for the time-travel aspect, it's fun to read, but shifting the time zones in the Antarctic means that there's not much going on in terms of different localities or backgrounds. One could argue that it's not that type of story; Station 16 tries to be a more psychological horror drama, but in order to make this work, the writer needs to invest more time in his protagonists.
The shifting time frames are an interesting element in themselves, but beyond confrontations with the vivisected soldiers, they don't add much in terms of layering the story. Yves could just as well have introduced two jumps, one into the past and one into the future, and arrive at the same outcome.
For now, the multiple shifts seem created in order make the story work as opposed to being introduced in an organic way.  In the end, Station 16 reeks of abandoned promise and is the type of story that William Gaines would have done in 10 pages or less  – and probably to greater effect than is showcased here.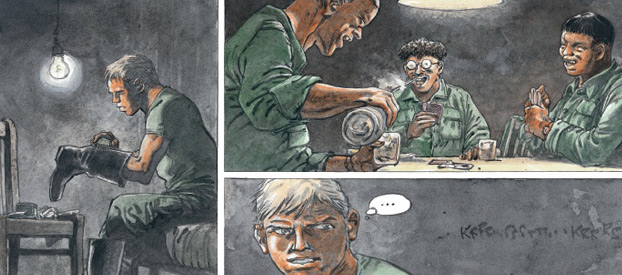 Station 16 by Hermann & Yves Huppe is best read as an exercise in atmosphere and a showcase for the glorious art of Hermann, who gets to draw beautiful vistas of the arctic wastes, sparsely populated by soldiers who feel frosty blasts of air stinging their faces while facing an unknown terror amid their lonely barracks.
Station 16 by Hermann & Yves Huppe is published by in French by Lombard. It is a full-colour hardcover counting 64 pages and retails for $14.45. This review was based on the Dutch version published by Ballon Media. An English version is published by Dark Horse Comics in collaboration with SAF Comics.