It's almost Wednesday, and you know what that means: a fresh load of comics and graphic novels! With so many publications hitting your local comics store or digital storefront, BF is here to lead you through the woods. These are the books that need to be on your pull list this week.
Comic of the Week
This One Summer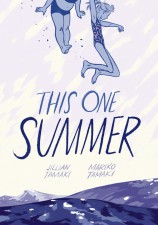 Every summer, Rose and her family go to a lake house in Awago Beach. It's her summer getaway, and her friend Windy is always there too. But this summer is different. Her parents won't stop fighting and Rose and Windy find themselves tangled in a local tragedy. It's a summer of secrets and sorrow, and it's a good thing Rose and Windy have each other.
This One Summer reunites the creative team of cousins, Jillian and Mariko Tamaki, who first collaborated on the Ignatz winning and Eisner nominated graphic novel, Skim. With this second work of theirs they focus on the social structure of a small town beach community, and not just for the kids, but the parents too. As Mariko puts it, "The book is an anthropological study of adults from the perspective of these two kids. I think a lot of books about kids give them their own, separate, hermetically sealed world, especially books about teenagers."
You won't want to miss this poignant YA graphic novel, available in both a hardcover and paperback editions.
Mariko Tamaki (W), Jillian Tamaki (A) • First Second, $21.99/$17.99
– Tyler Chin-Tanner
Trees #1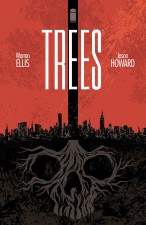 What if the aliens landed on earth but instead of wreaking havoc they decided to do… nothing?
In Warren Ellis and Jason Howard's Trees, that's exactly what happens. When their future-set story opens, it's been ten years since the trees landed on our planet, but apart from releasing 'waste' – a deadly liquid that consumes everything, much like lava during a volcanic eruption – they stand there, roots in the soil, tops high in the sky. No communication, nothing coming out of it, just sheer silence.
Trees mixes a dash of Planetary sci-fi with some politics and global angst and looks to keep readers eating out of Ellis' hand for as long as he takes to unfold his latest mystery. It's great to have him back in comics.
Warren Ellis (W), Jason Howard (A) • Image Comics, $3.99
– Frederik Hautain
Brass Sun #1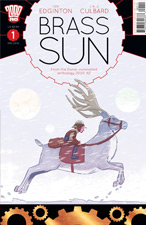 In their first US comics series since the year 2000, 2000 AD immediately pulls out all the stops. Brass Sun is a six issue miniseries mashing up fantasy, steampunk and realistic fiction where writer Ian Edginton and artist N.J. Culbard treat us to a vast dying universe literally in the shape of a clock mechanism.
Religious zealots threaten the fate of all as they continue to deny the decaying state of the solar system. Surrounded by despair, death and destruction, main protagonist Wren is on the run from these clerical zealots and will discover the inner workings and many mysteries of the clockwork solar universe.
Edginton and Culbard give us a spunky protagonist and plenty of mystery in the first issue. Their mystery world has echoes of Umberto Eco and Ursula K. LeGuin with a dash of Miyazaki thrown in. You can read the full review on Broken Frontier right here.
Ian Edginton (W), N.J. Culbard (A) • 2000 AD, $3.99
– Bart Croonenborghs

Interesting Drug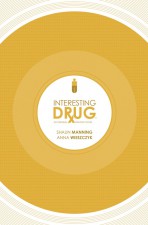 Canny publishers are waking up to the fact that the easiest way to get the attention of a jaded 40-something reviewer is a Morrissey reference. Interesting Drug, intriguingly pitched as a mash-up of Richard Linklater, Breaking Bad and JJ Abrams, is the tale of Andrew Smith, a shop assistant who becomes caught up in the production of Chro-Noz – a drug that enables time travel. However, when the lure of revisiting the past proves addictive and the drug becomes wildly popular, life gets complicated for Andrew.
Archaia are making a Thing of picking up emerging talents and giving them the opportunity to tell strongly authored stories in a lovely print format. And while the price point on this one might be a bit prohibitive for a speculative buy, Scott Newman's design guarantees that it's going to be a quality product.
I, for one, will be very disappointed if we don't see follow-ups entitled You're the One for Me, Fatty and We Hate It When Our Friends Become Successful.
Shaun Manning (W), Anna Wieszczyk (A) • BOOM! Studios/Archaia Entertainment, $24.99
– Tom Murphy
Fantastic Four #5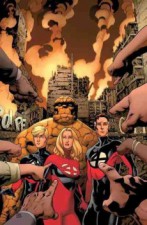 The deconstruction of Marvel's first family unfolds further as "The Fall of the Fantastic Four" continues this month. The Human Torch has burned out his powers, the team is shut out of the Baxter Building, and now they must face a civil suit for the destruction in Manhattan as S.H.I.E.L.D. takes the team to court.
Thus far, Robinson's interpretation of the iconic superteam has been fresh and exciting, striking a strong balance between large-scale action and interpersonal conflict – two hallmarks of the Fantastic Four. This month's super-sized issue promises the same and more, recruiting a large ensemble of artists to contribute their own flavours to what is starting to feel like a definitive Fantastic Four story.
James Robinson (W), Leonard Kirk, Jerry Ordway, Dean Haspiel, Chris Samnee, Paul Rivoche, James Starlin, June Brigman, Michael Allred, Paul Smith (A) • Marvel Comics, $3.99
– Reid Vanier
Aquaman #31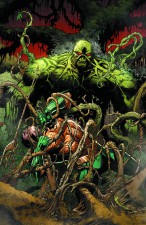 It's an epic clash of DC's titans of the natural world – Aquaman vs Swamp Thing! Why are they on opposite sides of this fight? What are the implications for the world of the New 52?
DC isn't letting much info leak out on this book, which is fine. We do know that the story begun in this issue will be carried into Swamp Thing #32. With a creative team anchored by Jeff Parker and Paul Pelletier, Aquaman is in good hands and I can't wait to see how they interpret Swamp Thing.
Jeff Parker (W), Sean Parsons, Paul Pelletier (A) • DC Comics, $2.99
– Karen O'Brien
C.O.W.L. #1
Meet the world's first Super-Hero Labor Union – the Chicago Organized Workers League. Or C.O.W.L. After the emergence of super-powered individuals in the late day of the Second World War, Geoffrey Warner a.k.a. Grey Raven set about spearheading them under one banner, and contracting their services out to the city of Chicago.
But that was then, and now the union that once stood for hope and heroism against crime and villainy is facing the far more insidious threat of a losing PR battle. C.O.W.L. struggles with the disillusioned public, back room politics and office bureaucracy while they attempt to band together against the last great villain in a comic book set against the vivid yet gloomy scene of 60's Chicago.
Kyle Higgins & Alec Siegel (W), Rod Reis (A) • Image Comics, $3.50
– Conori Bell-Bhuiyan