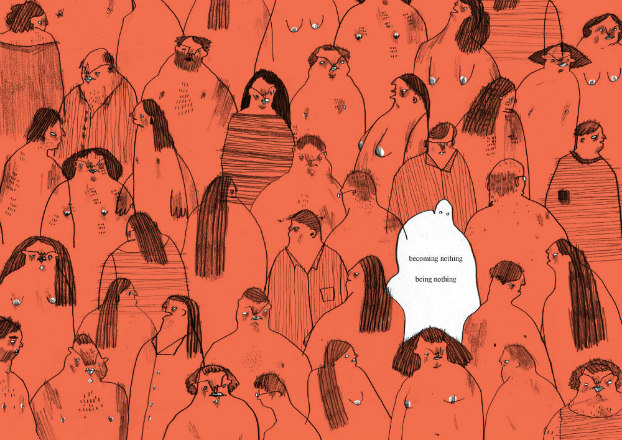 Peony Gent's distinctive form of visual poetry has been one of the true highlights of anthology comic Dirty Rotten Comics over the last year or so. It was on the strength of that evocative work and its singular use of the form that she was one of the first names I had pencilled in for this year's intake of the Broken Frontier 'Six Small Press Creators to Watch'.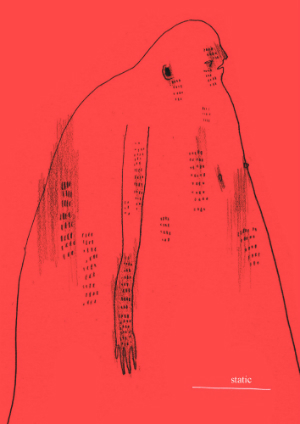 It was when I picked up a number of her comics and zines at last year's Thought Bubble, though, that my choice was confirmed without doubt. It was there that I realised her entries in DRC had been condensed into a more traditional comics format – single images designed to be appreciated in their own space translated to a more conventional multi-panelled presentation.
As I said when I introduced Gent as one of this year's new 'Six to Watch' it was an intriguing reminder of how our interactions with the page change with an alternative storytelling structure.
Static is her 16-page zine-style offering that combines lyrical self-reflection with a series of discrete images, slowly building up into a greater graphic monologue on insecurity, fear of the future and finding one's place in the world.
It's reminiscent in construction to the approach of Kim Clements in Broken Frontier Award-nominated Rabbit Thoughts – a progression of affecting and poignant scenarios that instantly connect with the reader by inviting them to apply them to their own personal histories.
In that regard Gent's layered use of visual metaphor is simply sublime. Sometimes that can take the form of oft-explored but no less powerful notions of being alone in a crowd (top banner image) while on others it can be far more complex in structure like the incapacitating aura of anxiety as it gradually consumes its host in the image below.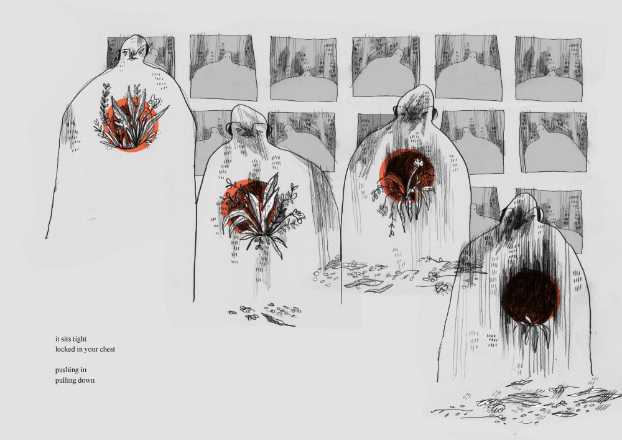 The world Gent creates here is one that is isolating and grotesque – a claustrophobic environment that through our link to its narrator somehow manages to leave us feeling both imprisoned and cast adrift at the same time. It's stark and oppressive and yet by Static's end there's a reminder of hope in adversity and that maybe, just maybe, the terror can be escaped.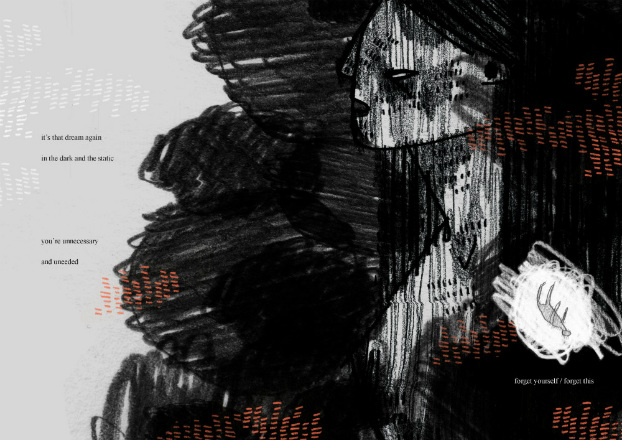 In Static the sequential can be embodied in a single spread while the seemingly disparate merges into a deeper whole. A potent visual essay on trepidation, self-image and purpose, this is the perfect entry point to the work of a genuinely original new voice in UK comics.
For more on Peony Gent's work visit her site here and follow her on Twitter here. Visit her online store here where you can buy Static priced £3.50. 
For regular updates on all things small press follow Andy Oliver on Twitter here.