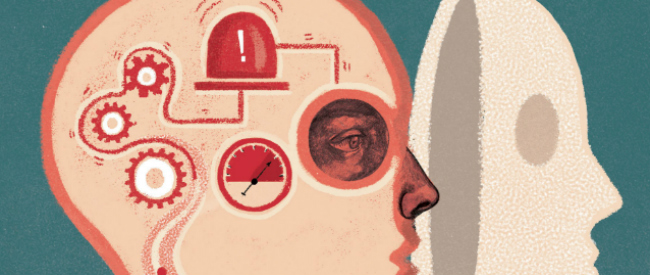 Author Steve Haines and illustrator Sophie Standing talk about their collaborative process to convert therapeutic concepts into engaging visual language.
As part of our series on the "graphic medicine" books of Singing Dragon, an imprint of Jessica Kingsley Publishers, we spoke to Steve Haines and Sophie Standing, the creators of Pain is Really Strange and Trauma is Really Strange.
Steve Haines has been working in healthcare for more than 25 years. Living and working between London and Geneva, he is a UK-registered chiropractor and teaches trauma-releasing exercises and cranial work all over the world.
Sophie Standing is a graduate of Kingston University (UK), and has worked as a freelance illustrator and designer for a variety of clients, including the Royal Opera House.
Their most recent title, Trauma is Really Strange, looks at how traumatic experiences can overwhelm us and disable our bodies' normal processes, leading to a state of dissociation. Through a mix of scientific research and visual metaphor, its authors suggest that changes to the body's physiology can resolve the deep muscular patterns of stress and trauma.
How did your collaboration come about?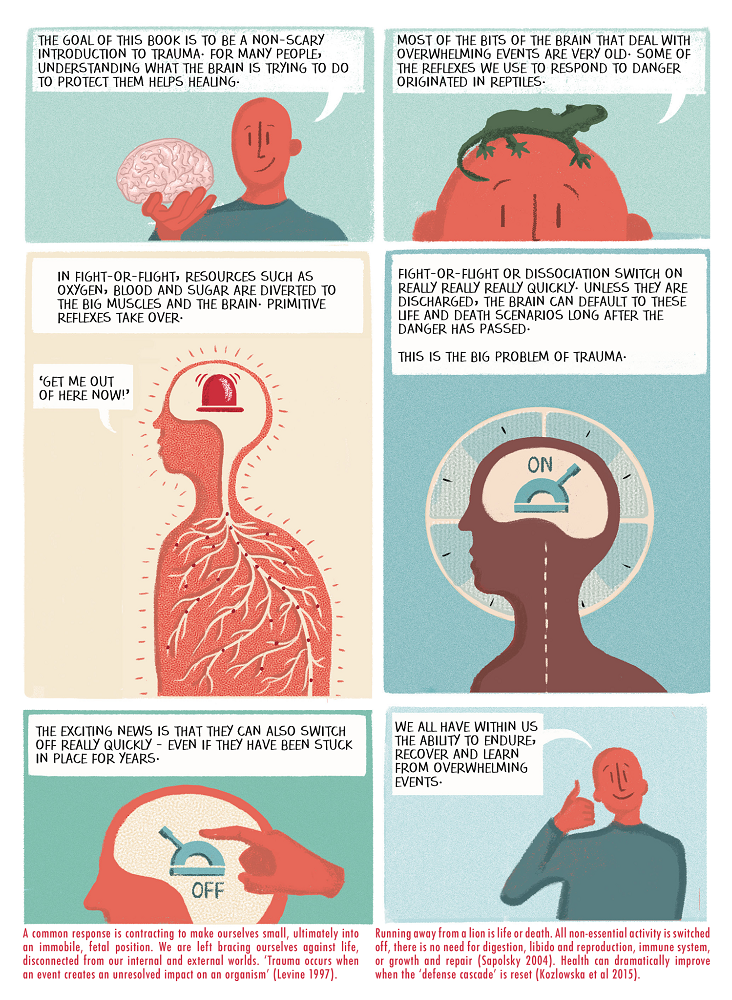 Steve: Pain is Really Strange emerged from lots of lectures and talks I've given over the years. I have been endlessly trying to find creative ways of explaining how pain works to my clients and students.
I was deeply impressed by research saying education on the nature of pain is better than focusing on the tissues. I wanted to create something for my clients; a slide show turned into a leaflet, turned into a comic book. Short and sweet was the goal.
I was lucky enough to talk about the idea to the multi-talented Fred Deakin. He used to be a director at Airside design agency and is now a professor teaching design. He was very influential in giving shape to the early stages of the project and helping to find Sophie. He saw her work at her final show. When she pitched for the project I was overjoyed at the first glimpse of the images.
I co-authored a "normal" book in 2010 that was published by Jessica Kingsley Publishers. Jessica was really enthusiastic from the start. That was nice, as I thought I would have to self-publish.
Sophie: Soon after my final degree show, I got an email from Fred Deakin asking if I was interested in working with Steve on a graphic novel about pain. I was immediately interested and had to pitch an overall style based on Steve's words. I was so happy that Steve chose my pitch!
I was then put in touch with Mike Medaglia from Jessica Kingsley Publishers, who published the books, and he was fantastic in helping with layout and text. After the success of the first book, Pain is Really Strange, Steve wanted to create another comic, on the topic of trauma.
Had you come across the notion of 'graphic medicine' or using comics as a communication tool before?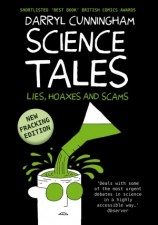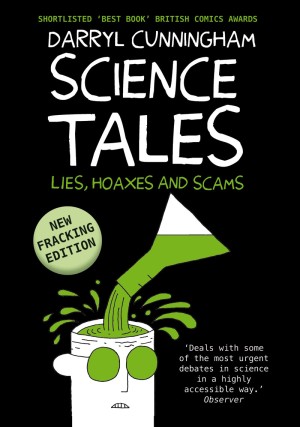 Steve: I remember being really challenged by a Darryl Cunningham strip about chiropractic in 2011. Even though I did not fully agree with the message, the argument was really honed down and precise and all the more powerful because of that. It really stuck with me.
However, I did not learn about all the great graphic medicine books available until late in the project. I was glad, actually, as I would have been intimidated by the quality of the work.
Did you take any convincing that comics would be a good fit for your therapeutic approach?
Steve: No, I love the model of TED talks where people solve the problems of the world in 20 minutes.
I have been lecturing for a long time and have really learnt that less is more. Great images make your point for you and hold people's attention. I have put a lot of effort into making my slide shows look sharp – Presentation Zen was my bible.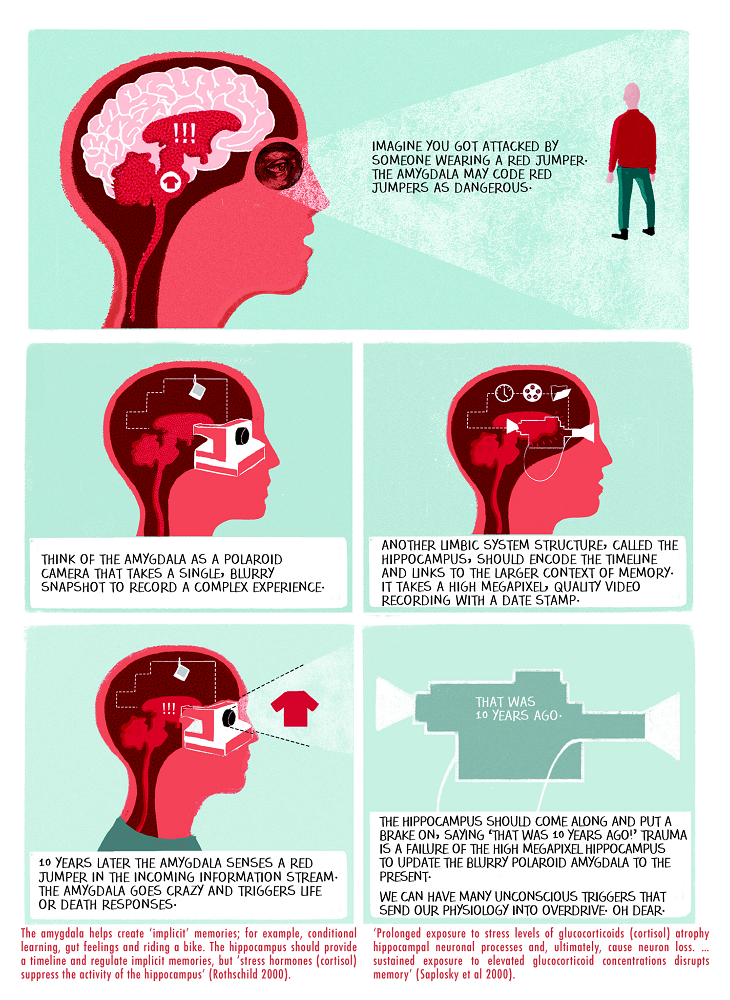 I have always liked drawing and doodling; I used to get bored easily in lectures. Even though my attempts to draw are very limited, I had already experienced that light-hearted images sometimes worked a treat.
I also really got into mind maps some time ago, and the comics are an extension of what I learnt creating mind maps.
Mike Medaglia's idea to include the footnotes and references at the bottom of each page was very helpful. The references really ground the ideas expressed in the book. Part of the success of the book is that it can be read quickly for the main ideas, and then there are layers in the drawing and in the notes at the bottom that repay more focused attention.
Sophie, you describe yourself as specialising in human and medical science in your work. How did that come about? What do you think this kind of graphic treatment can bring to the field?
Sophie: I've always been fascinated by the way people function. In my final year of studying Illustration and Animation at Kingston University, I focused on the topic of human attraction. I became intrigued by the science behind something which is instinctive in all of us. This inspired me to create an animation displaying, through metaphorical imagery, what happens in the human body when we become attracted to another person.
The project really opened up my eyes to the possibility of using illustration and animation in combination with science to convey complex concepts in visually engaging ways. Sometimes scientific information can be quite daunting to get stuck into. I believe that using striking visuals can concisely describe something that would otherwise be hard to digest as text.
How did you work together to come up with a look for the book and a visual treatment of Steve's concepts.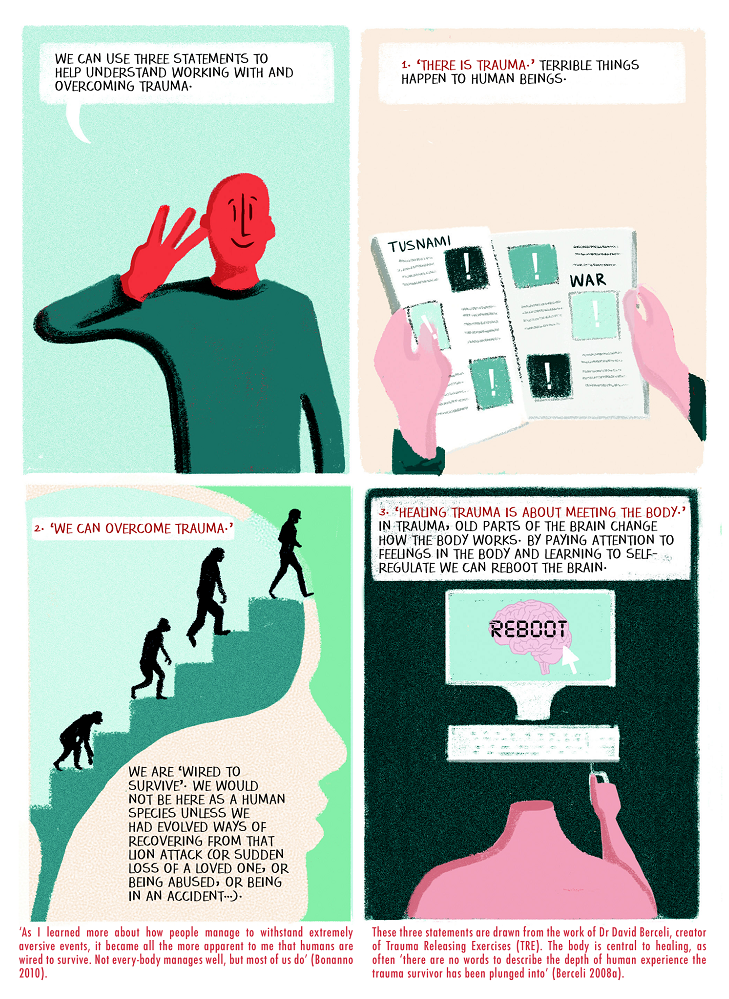 Sophie: The style for the first book, Pain is Really Strange, came quite quickly. As an illustrator I enjoy creating mixed-media work, using a combination of digital and hand-drawn elements.
With both books I wanted to create a style which was reminiscent of vintage medical books but in a modern context. Steve actually gave me lots of images that he liked and found inspiring, and so I knew what kind of thing that he was looking for.
For Trauma is Really Strange we took the style from Pain is Really Strange and made it a bit clearer, stripped back and fresher. We discussed how we could play around with visual metaphors to work with Steve's concepts. Steve actually uses quite a lot of metaphors in his work already, so it was just a matter of combining my ideas and his ideas into one clear visual that worked.
Steve was really brilliant to work with as he gave me the freedom to experiment with loads of ideas I initially had. It was really exciting when we could both appreciate a visual metaphor and could run with it.
Steve, has seeing your threapeutic ideas realised in comics form made you look at them any differently?
Steve: I was amazed at how Sophie took some of the ideas and then put her spin on them. She asked loads and loads and loads of really smart questions – sharper than many of my students!
One of my favourite images is page 6 of Pain Is Really Strange. There is a hand pulling on connected strands in the brain. The image beautifully covers so many principles of movement and self-exploration changing a complex network in the brain.
Sophie would pick up on certain words I was not expecting to be highlighted – eg 'danger signals hijack the brain' being shown by an old-fashioned bomb.
Seeing the stories I wanted to communicate around pain being realised in comic-book form certainly enhanced and deepened my understanding of the therapeutic ideas. Maybe it developed the ideas, rather than made me look at them in a radically different way.
Do you think comics can develop as a more widespread tool for this kind of therapy, among practitioners and publishers?
Steve: I think so. The combination of images and story works so well across so many subjects. It was a little daunting trying to cover trauma in a comic-book form. I was worried that it might feel we were trivialising very powerful experiences. But it hasn't turned out like that at all. I guess Maus was the granddaddy of showing painful stories could be done in a comic-book form.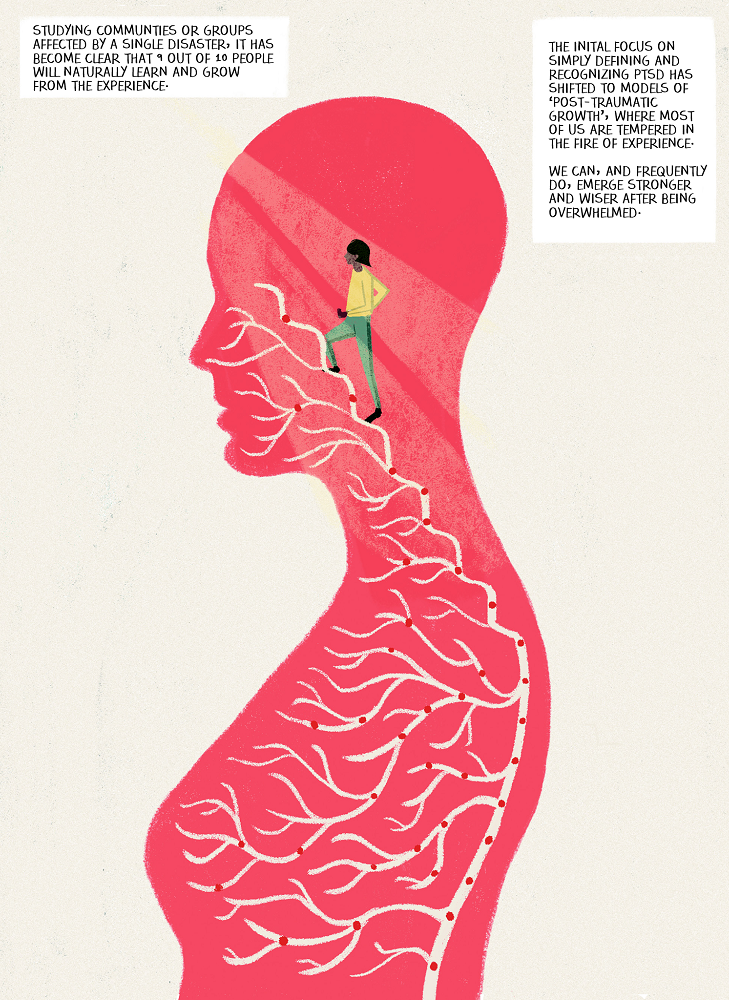 Sophie: Absolutely. I feel like most people are more inclined to pick up something that looks beautiful as well as helpful and interesting. Comics are fun and an accessible format for all ages and audiences.
As well as comics, I strongly feel we should be including striking visuals and design into all therapeutic and medical books. With illustration and design we can take concepts, ideas and stories that exist as words and visualise them, enabling people to perceive ideas better.
Do you have plans for any further titles beyond Trauma and Pain?
Steve: Intuition is Really Strange – maybe; I need a rest right now. I would love to explore how we know things – consciousness and feeling as the basis of knowing.
Intuition is not something picked from the ether; it is a skill that can be learnt. Decisions are made when something feels right, and that feeling is our guts and our hearts talking to the brain. That's strange in a culture that often thinks we should be rational.
Steve Haines (W), Sophie Standing (A) • Singing Dragon, £7.99
The Singing Dragon launch is at London's Gosh! Comics this Friday February 5th. Details below.