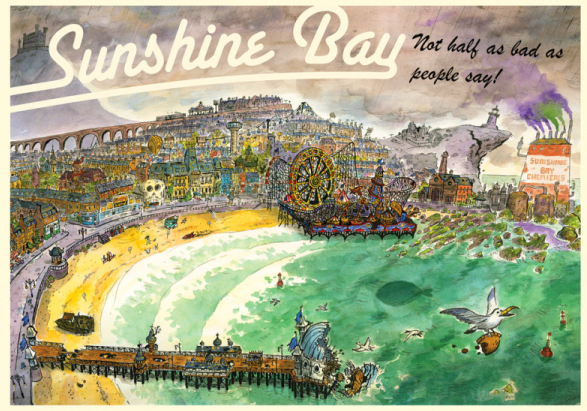 There are few things as peculiarly British as rainy seaside resorts. Tom Plant's Sunshine Bay perfectly evokes that world of deserted beaches, empty deckchairs and dilapidated piers to almost cruelly witty effect. From its detail-laden cover that sense of anachronistic desperation – of a town that's only reason to exist has long since been lost to the sands of time – is immediately self-evident. It's a picture postcard cry for help. A snapshot of coastal decay. An unconvincing elegy to an age of knotted handkerchiefs as holiday headwear.
Welcome to Sunshine Bay, indeed…
Sunshine Bay comprises two landscape format short stories set in the eponymous town from cartoonist Tom Plant whose fluid caricatured style has echoes of a looser Donald McGill, but without the bawdiness of the master illustrator of the saucy seaside postcard. The starting point for the first tale 'The Legend of Big Jim' is, admittedly, a rather unadventurous sounding encounter between local fisherman Dredger Dave and the monstrous piscine beast Big Jim, said to roam the waters of the bay. But the strength of Plant's storytelling is in the execution rather than the premise and the dark slapstick that permeates this account of man versus nature comes with a rather unexpected twist to it…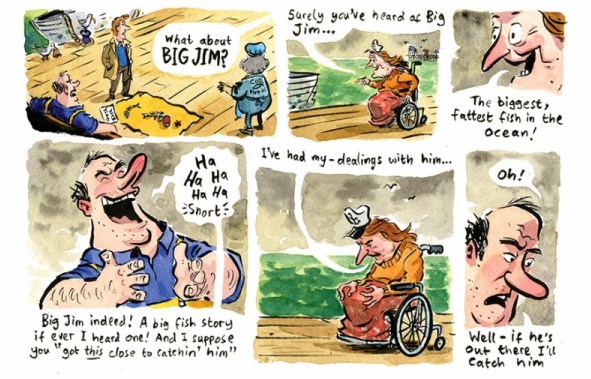 Without wanting to give too much away, there's something very Eerie, Indiana about Sunshine Bay. For all its traditional Brit trappings it's also a locale where the fantastic and the mundane collide in spectacular fashion to notable comic effect. That is very much in evidence in the second offering 'The Metal Detector' where a young lad stumbles across a diminutive alien incursion while searching, no doubt, for "buried treasure" on the beach. It's a departure from the sea yarn style of the first story with a largely wordless narrative but the pacing and the efficiency of the panel-to-panel storytelling is sublime.
Plant's comic timing is impeccable throughout but it's the expressive qualities of his cast of grotesques that adds something very special to the proceedings. The puffed-out arrogance of Dredger Dave, a malevolent grin from Big Jim, a sense of joyous discovery on our metal detecting hero… a sideways look can speak volumes in this comic. The atmospheric watercolour art and the carefully considered use of colour also perfectly capturing a sense of dreary resignation; of a locale that has wearily accepted its own crumbling status as its past glories are consigned to the pages of history.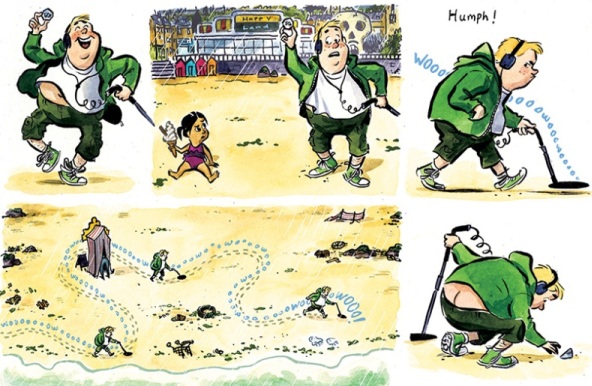 Plant has created a fictional location in Sunshine Bay that is replete with possibilities. That front cover image acts not just as a mood-setting opener but also as a teaser to the extent of the town and the odd inhabitants, businesses and landmarks therein that are just rife for exploiting in (hopefully) future instalments. My only complaint here is that it's such a fleeting introduction to the Bay and its denizens. A terrific piece of cartooning with its roots firmly entrenched in a great tradition of eccentrically British humour.
For more on Tom Plant's work check out his blog here. Sunshine Bay is available priced £4.50 from his online store here.  You can follow Tom on Twitter here.