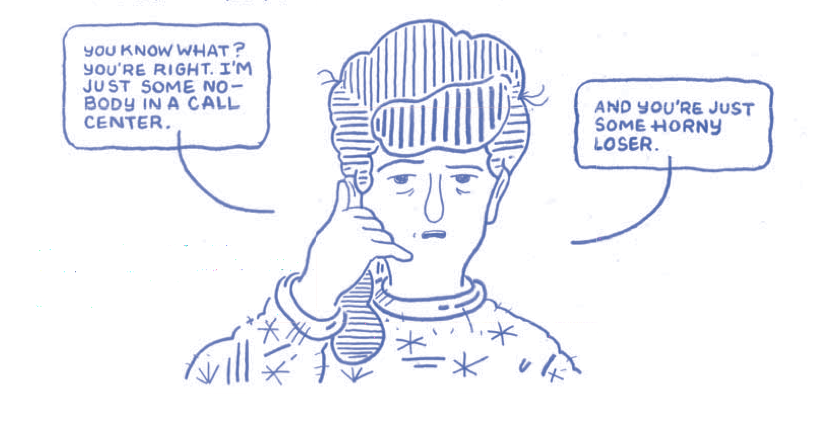 The story of a woman who takes up a job at a phone-sex call centre, Talk Dirty To Me is a maudlin but meaningful story of modern life, love (and, of course, lust) and one woman's search for something to inspire her amid a sense of both monotony and uncertainty.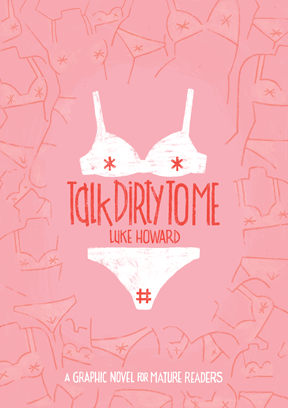 This book has the sort of humour that's funny because it's so straight-faced. Luke Howard's examination of modern female sexuality can turn from Saturday Night Live daydreams to stroking shafts to bagels and frozen yogurt to hentai in a couple of pages.
Sex here is treated as something very unglamourous, and it's refreshing, if – in a few places – eyebrow-raising. Howard neither glorifies or condemns a sex hotline career, but instead turns it into something commonplace and routine.
Talk Dirty To Me is drawn deceptively simply, all flat blue lines like a series of doodles neatly drawn in ball-point pen in the front cover of a teenager's exercise book. It adds to the introspective nature of the story (which folds into itself when Emma begins to imagine writing a book of the same name), as if you're looking into not a published graphic novel but rather someone's private notebooks.
The book focuses intently on its main character, Emma, played out mostly inside her own thoughts. Other characters – the slightly dull husband, the cynical call-centre boss, the phone operators so bored of talking all day that they fall silent on the breaks – are sketched out only so far as her plot needs them to be.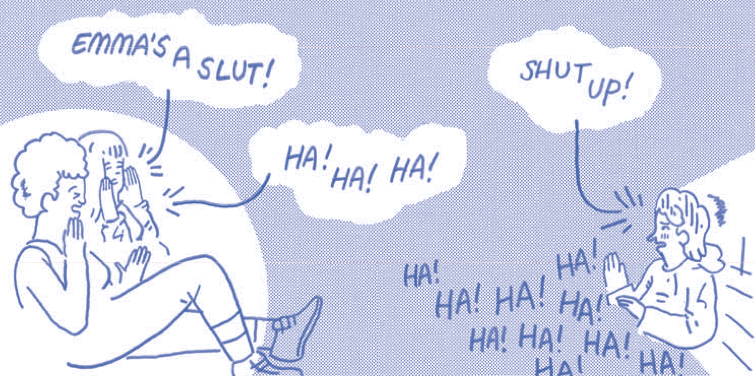 In some ways, the lack of depth in Emma's marriage is a flaw – and leaves the relationship feeling somewhat unrealistic – but in other ways it serves to complete the sense of isolation (and boredom) Emma feels. This is very much her story, and that goes some way towards forgiving the sidelining of other characters.
Emma begins to imagine her future successes – her breakout book, TV appearances, radio discussions, even meeting the Dalai Llama – springing from her audacious career as a sex-line operator. Like an audio-only Belle de Jour, she imagines a future where she is a symbol of female sensuality, admired and iconic, and reveals her childhood fascination with sex and pornography.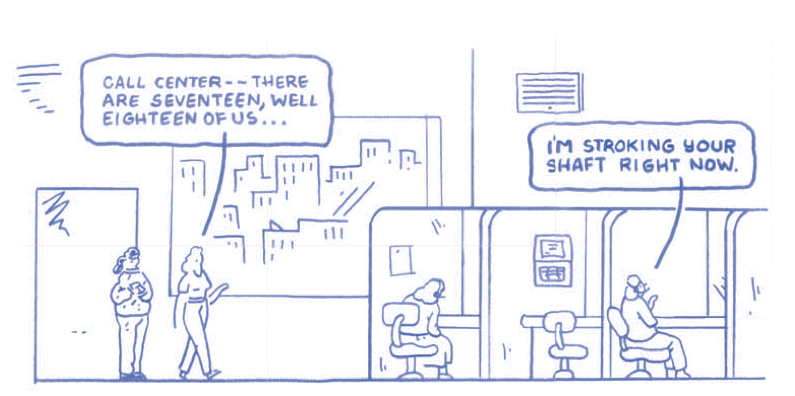 But for all her lofty musings over empowerment and exploitation, when it finally comes to taking on the phone-line, the reality of the job is not exactly as expected, and Emma's grand illusion comes crashing down.
It's funny (in a tragicomic sort of way) to think that Talk Dirty To Me should be touted as a sexual book, because it's probably some of the least sexy material out there. It may be full of fairly explicit language and ideas, but the one genuine sex scene in the book – ie the one that isn't a phone-line fantasy or a teenage recollection – sees Emma husband tiresomely brush off her advances. Even Emma's first sexual experience, as told in the book, is an awkward, clinical thing.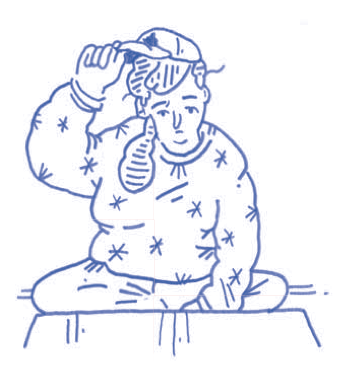 It turns out this isn't really a book about sex, empowerment or adventurousness, but instead a book about human loneliness and a desire to feel purposeful. Emma is bored and feels directionless after moving for her new husband's work, and the man at the end of the phone has lost more than just his direction in life.
Despite Emma's own wondering about the positives and negatives of sex work, it isn't really a topic the book delves deeply into. Instead, Talk Dirty To Me is an understated, tongue-in-cheek book about loneliness, isolation and a young woman, imbued with a familiar sense that she should really be doing something significant and meaningful by now, just trying to find her calling in life in a strange new city.
Luke Howard (W/A) • AdHouse Books, $14.95