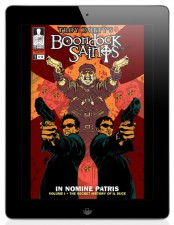 Press release
ComiXology – the revolutionary cloud-based digital comics platform – announced today that the comic book series based on Troy Duffy's cult-hit The Boondock Saints and published by 12-Gauge Comics is now available across comiXology's entire platform via iPhone, iPad, Android, Kindle Fire, Windows 8 and the Web. The digital comic debut coincides with the nationwide Blu-Ray release of The Boondock Saints II: Director's Cut on October 1st.
The franchise continues to thrive worldwide in popularity each year with an ever-growing fan base, so extending the brand into the world of graphic novels was the next logical step.  Fully intertwined with the film series and written by The Boondock Saints creator/writer/director Troy Duffy and comic scribe J.B. Love, the comics follow the further adventures of the MacManus Brothers and their mysterious father and "Original Saint," Il Duce.
"I'm thrilled to have The Boondock Saints comics come to comiXology because they capture all of the exciting, intense, and poignant moments of The Boondock Saints with their cool Guided View reading experience," said Saints creator, Troy Duffy.  "ComiXology really has a cinematic way of presenting comics."
With stunning art by Toby Cypress (Batman: Bloodborne, Rodd Racer), Guus Floor, and Chris Brunner (Batman: Legends of the Dark Knight, Loose Ends), the comics have been met with universal praise by the fans, and 12-Gauge publisher Keven Gardner is ready to take the series to a wider audience than ever before.
"Working with Troy Duffy and this great group of creators has been an amazing experience," said 12-Gauge publisher Keven Gardner, "and by partnering with comiXology we'll be able to get these new stories in front of Boondock fans all over the world."
"We're really excited to have comics from the original creator of the cult-classic movie The Boondock Saints on comiXology and this speaks volumes about the eclectic and ever-growing library of comics available all-day everyday on our platform," said Chip Mosher comiXology's VP of Communication & Marketing. "Now The Boondock Saints fans worldwide will be able read these new adventures on comiXology's platform."
Comics already available include "The Lost Gig," starring the beloved character Rocco and the MacManus brothers in a lost scene from the original The Boondock Saints film, as well as the 6-issue "In Nomine Patris" saga, which is the perfect companion to The Boondock Saints II: All Saints Day film. Conceived as a "deleted and extended sequence," the comic series expands on the story and characters from the sequel and delves deeper into the secret origin of Il Duce.
With over 40,000 comics and graphic novels from more than 75 publishers, comiXology offers the widest selection of English language digital comics in the world. ComiXology's availability across the iPhone, iPad, Android, Kindle Fire, Windows 8 and the Web makes it the best digital platform for newly interested, current and lapsed comic and graphic novel fans worldwide.