Back in the summer, as part of the online Small Press Day events programming I spent many hours giving SPD "one-tweet reviews" to anyone who posted four pages from their self-published comics and zines on Twitter. One of the artists to take part was Jessika Green with a selection of images from her short comics zine The Catalogue of Tiredness, examining the experience of living with insomnia and all the different ways in which it can affect us. It was one of six projects out of the dozens that were submitted to be featured in a special round-up the next week at BF spotlighting just a handful of those #SPDBFREVIEW comics on Twitter.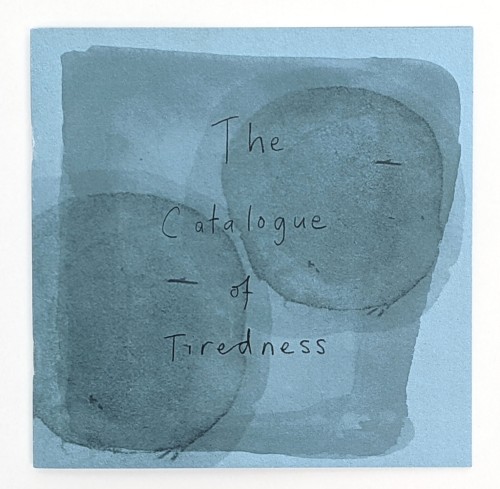 Fitting into the graphic medicine category of graphic narrative, The Catalogue of Tiredness presents a series of images that may feel familiar to anyone who has ever spent hours unable to doze off into much needed slumber at night. Leading in with a reflection on how difficult it is for those for whom a good night's sleep is not a near unattainable dream it then presents a series of visual depictions of the many types of sleeplessness that may afflict the insomniac, from 'The Tiredness of Stories' to 'The Sleeplessness of Love'.
Each entry uses visual metaphor to symbolise the particular constraints and challenges of that form of insomnia. 'The Sleeplessness of Shame', for example, "that knots around my tongue" embodies a sense of tortured self-reflection, or 'The Tiredness of a Heavy Heart' that creates a sense of external forces pulling on our emotions and creating a void within. There's a simplicity to each illustration that ensures the reader will connect with them on a far more immediate level than any more involved piece may do, heightening their emotional intensity as a result.
The Catalogue of Tiredness is another example of the burgeoning graphic poetry strand of visual narrative. It feels eminently relatable with entire narratives embedded in each single image, just waiting to be teased out. It's available in print but can also be read online here on Jessika Green's website.
Jessika Green (W/A) • Self-published, £5.00
Buy online here.
Review by Andy Oliver